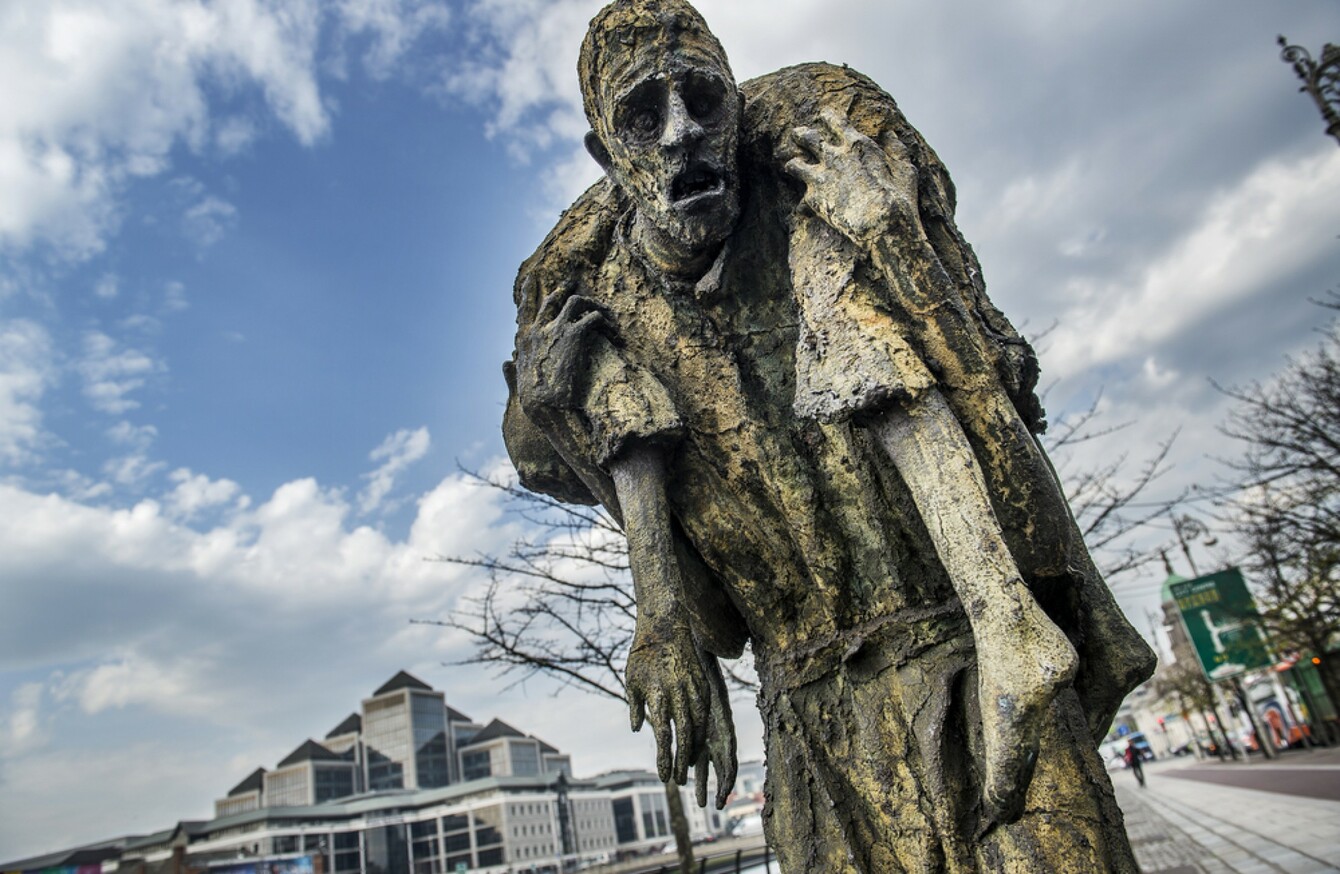 Famine sculpture in Dublin.
Image: Shutterstock/Giannis Papanikos
Famine sculpture in Dublin.
Image: Shutterstock/Giannis Papanikos
IRELAND IS SET to introduce a national commemoration day to remember the Great Irish Famine.
A bill, set to recognise a formal commemoration date in legislation, was noted by Minister for Arts, Heritage, Regional, Rural and Gaeltacht Affairs Heather Humphreys at Cabinet today.
The day put forward is the second Sunday in May every year.
"We have a fixed date to commemorate Easter 1916 and one to commemorate all those who died in other wars on behalf of our county. However, when it comes to what is, perhaps, our country's greatest tragedy; it is somehow deemed not important enough to be marked by a permanent date in our calendar. This is no longer acceptable," said Fine Gael TD Colm Brophy who has proposed the bill.
We need a fixed date for a number of reasons. It will allow everyone to work towards the commemoration, on a yearly basis, and allows schools to make it part of the school curriculum.
Over one million people died of hunger and related diseases during the famine, while two million fled the country.
Brophy said a permanent date, to which people could plan ahead, would also allow more of the Irish diaspora to visit Ireland and attend the commemoration each year.
"I feel that setting a fixed and permanent date in our diaries to remember and honour all those lost their lives would be a very positive step," he said.
The bill, due to be discussed in the chamber on Thursday, "will enshrine the remembrance of this heart-breaking era in Irish history into law," said Brophy.
Last month, another national day of commemoration was proposed.
The idea of formally recognising 21 January (the date the first Dáil sat in 1919) as Ireland's Independence Day was suggested by Fianna Fáil Senator Dr Keith Swanick.
Similar to the day being put forward to mark the Great Famine, it was not proposed the Irish Independence Day would be marked as another public holiday.
While there is government support for a fixed date to mark the Great Famine, the Taoiseach Enda Kenny ruled out the possibility of having an independence day, stating that Ireland already has its own day – on 17 March.