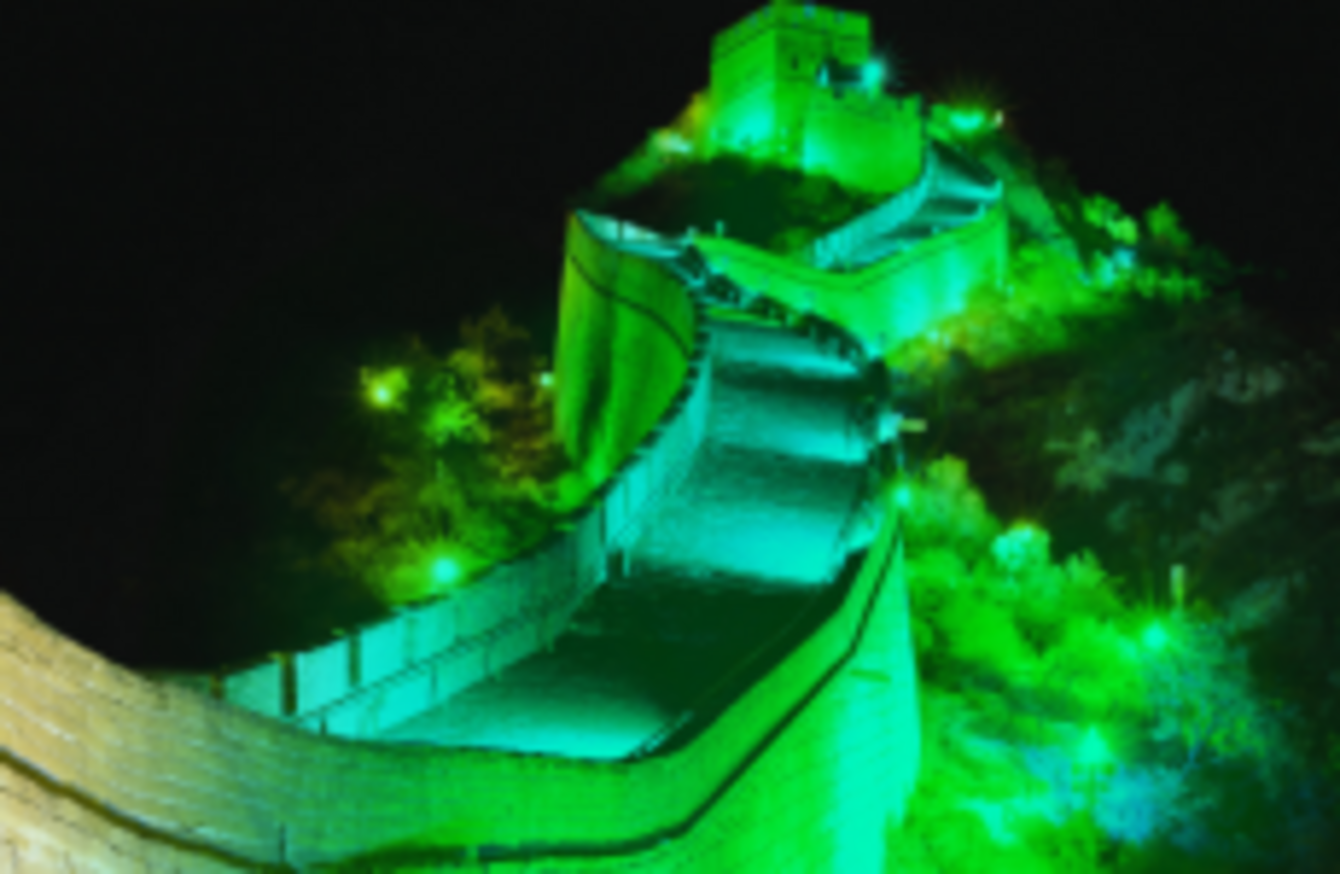 Here's what great wall of China will look like next week!
Here's what great wall of China will look like next week!
THE GREAT WALL of China will become the 'Green Wall of China' this weekend.
It will turn green for the first time to celebrate St Patrick's Day as part of Tourism Ireland's Global Greening 2014.
It will join 100 landmark buildings and iconic sites around the world signed up to take part this year.
Tánaiste and Minister for Foreign Affairs Eamon Gilmore said,
The Great Wall of China is joining the biggest Global Greening to date, involving iconic sites in countries around the world. It is, like all the best ideas, simple, inspiring and infectious.
Minister for Tourism Leo Varadkar said, "The aim of the Global Greening is to get the world talking about Ireland on St Patrick's Day, and then persuade them to visit.
It's probably the most effective marketing tool for Ireland ever developed, it costs almost nothing and works incredibly well.
"We aim to boost visitor numbers by a further 4 per cent this year and the greening of landmark buildings will certainly help us to do that".
Chief executive of Tourism Ireland Niall Gibbons said, "St Patrick's Day traditionally marks the real start of the tourism season for us; our aim is to bring a smile to the faces of people around the world, while also showcasing our wonderful tourism offering to a huge global audience.
Our message is that there has never been a better time to plan a visit to the island of Ireland.
Here's a list of just some of the landmarks around the world that are turning green for St Patrick's Day this year:
Great Britain; London Eye
United States; Niagara Falls (on both the Canadian and US sides), 'Welcome' sign, Las Vegas and Empire State Building, New York
France; Sleeping Beauty's castle at Disneyland® Paris
Germany; Olympic Tower in the Olympic Park, Munich
Italy; Leaning Tower of Pisa
Monaco; Prince's Palace
Australia; Sydney Opera House
And now The Great Wall of China