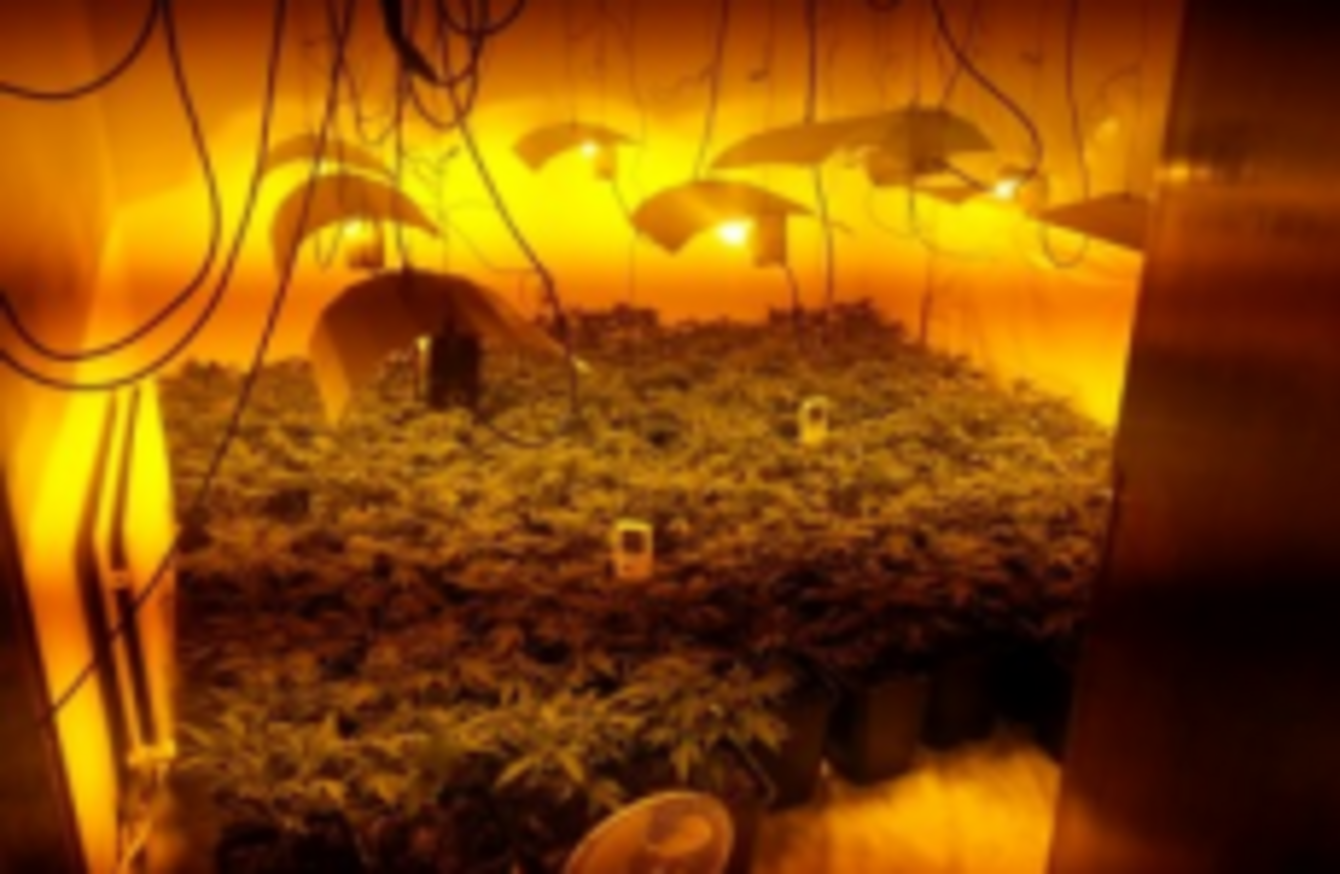 File photo
Image: Garda Press Office
File photo
Image: Garda Press Office
THREE YEARS AGO, Q left Vietnam to work in the United Kingdom. Struggling with debts, the mother of two – married to a heavy drinker – felt it was a necessary risk in order to provide for her family.
Accumulating enough money to cover a transporter's fee, she departed with her 13-year-old son. Travelling via Russia to Poland, they waited two months before continuing on through France to eventually reach Britain.
Upon arriving in England, the first days she spent approaching various people, hoping to acquire temporary residence, which led to a Vietnamese woman taking sympathy with her story. Agreeing to put the pair up, she helped Q secure work in a Chinese restaurant. However, soon after, Q's son vanished.
Fearful of reporting his disappearance to the authorities, Q conducted the search alone instead. She gathered any details on his potential whereabouts, equipped only with a photograph to show passers-by.
After several months, a Chinese man who frequented the restaurant presented her a lead saying he might have seen the boy in Ireland. Willing to aid in the search, he offered to handle her travel expenses, albeit on the condition that she would work for him once there.
He didn't tell me what the work was. He and his people just said 'we need you to cook and clean in a workplace'. If I agreed, they would promise to find him. They were not offering payment, it was simply an exchange, and I felt I needed to take that chance.
Transported to Dublin's outskirts, they placed her in a cannabis grow-house, valued at over €1 million. Recalling her first impression of the facility, she said, "There were lots of lights and the place was very hot.
"I saw those trees, but had no idea what they were. I asked the men, but they just told me that it was for medicinal purposes."
Then, given her tasks and a bedroom, which she believes slept two women previously, she set to work, alongside another Vietnamese man, under the instructions simply to "stay inside" although neither possessed a key to exit the building.
Work began at 5am and ended at 9pm, and for three days, this remained their routine. However, on the fourth day, at 8am, Gardaí raided the premises and arrested the two, placing them in custody.
"I was completely terrified," she said.
"I had no idea who these people were. I didn't know they were police until I had the interpreter. Only then, I found out why I was arrested. I couldn't believe what was happening. I cried a lot and tried telling the Gardaí my story, but they didn't trust me.
They just said 'you were doing something illegal'. I didn't know what would happen. The next day we went to court, but were only there about 15 minutes. They read us our crimes and then I was sent to Mountjoy Prison.
She spent one year there awaiting her trial. "Mostly it was okay," she recalls. "I was able to work in the prison kitchen and much of the time I was in my own head missing my son."
Later, she learned of her son's location. As it transpired, he was still in the UK and had not, at any stage, been in Ireland. Subsequently taken in by a friend, eventually he returned to Vietnam.
Meanwhile, when Q's case came to trial, she and her co-worker received six-year sentences. "It was very upsetting. I felt I had done nothing wrong, I was a victim."
They remained imprisoned until late 2014 when she learned that a judge was giving them an opportunity to appear before the High Court of Appeals. Following the hearing, they both received three-year sentences with the balances suspended unconditionally.
Granted a six-month visa, she left Mountjoy unable to reclaim her belongings. Furthermore, without the €15 prison wage, any documentation, and little English, her situation remained bleak.
Only thanks to the goodwill of a Dublin couple who took her under their wing has she been able to survive outside prison. Yet, she stresses, "I can't live like this much longer."
In Vietnam, I am in danger, because I owe too much. If I go back, these people will either kill me, or I will have to kill myself.
Her story is not a standalone case. Today, an estimated 70 persons, largely of Vietnamese, Chinese and Polish descent, have been criminalised for similar reasons, according to Gráinne O'Toole of the Migrant Rights Centre Ireland.
With 30 cases in the pre-trial stage and another 40 post-trial, O'Toole is calling for an independent review of each case to identify victims of trafficking properly.
"These people are in limbo with no recourse to state support, because there are difficulties in securing documentation. While the Department of Justice is currently reviewing its mechanism for identification, this key issue needs to be addressed.
Any plans?
"Presently, they can only get direct provisions but they need stamps to access vital services. They are vulnerable to re-trafficking and Ireland is not acting correctly in terms of its duty under EU and national law.
"The Department have produced their national action plan to combat human trafficking but it lacks any timeframe. It commits to the view of our mechanism for identification, but there is no urgency in the plan."
Noting though that there has been a "sea-change" in terms of Ireland's attitude towards human trafficking, she says there are signs of progress, largely created following the civil action suit brought against the state by Mrs. P, a 52-year-old Vietnamese woman, found locked in a Glasnevin grow-house and subsequently handed a two-and-a-half year prison sentence.
However, in O'Toole's view, an ideal legal system sensitive to and receptive of human trafficking remains elusive, citing issues around the 2011 EU Directives provision ("where criminal exploitation is acknowledged as a form of forced labour") as a significant area of concern.
"If you are forced to commit a crime, that must be considered forced labour and should be taken into consideration for sentencing. The directive stating this came into our legislative system during 2013 but it has not gone far enough. When the directive was transposed, it should have become a non-punishment for those forced to commit crimes."
"Now these cases must be reviewed independently. We have heard that the police are reviewing them but the pace is too slow and the trouble is the police are not a human rights/victims centred organisation. The duty of formally identifying victims should instead be handed to the appropriate agencies."
Going back 
Sharing her view, but with a different approach to providing solutions is Fr Sean Cassin, a member of the Franciscan church, whose objective is to tackle migrant exploitation at its source. As the founder of DASATT (Dat and Sean Anti-Trafficking Training), an NGO which aims to set up education and work schemes in areas vulnerable to trafficking, his chief focus at present are the ethnic tribespeople of Vietnam.
"We must create awareness in these destitute areas because trafficking is often fed by the people themselves, desperate to survive. If traffickers visit such places offering money for people, the purchased might often feel they've sacrificed themselves for the family's benefit."
Even if exploited, this mentality persists, obstructing them from reporting any injustices they might endure. "They are often of the view that they need to pay off the debts to the people who trafficked them here. We need to disabuse them of that notion."
"If they are released, they'll oftentimes go into direct provision but they have no papers, money, or identity cards, nor are they entitled to the allowance that others in these centres receive."
In such cases, he says, one of his projects is to venture out into the far-reaches of rural Vietnam, to obtain confirmation of victims' identities and acquire official police stamps.
However, this is a race against the clock because victims may attempt to re-traffic themselves in the meantime. "You see, they want to be able to tell their family that they are still working. Family is more important than individuality in these cultures. They just want to help at any cost and being back in a grow house feels better than being in direct provisions."
In reality, he says, "What we need are fast-track assessments of trafficked statuses, the moment they are apprehended. It is not difficult. The criteria are there from the EU to establish it rapidly."
Although, his main priorities are education and training, and currently, he is looking for victims willing to return home and inform those susceptible to trafficking.
"If I can persuade someone to go back and build awareness, giving them proper training and funding, then we may have one solution. Unfortunately, though, their familiarity with the trafficking process means they might be inclined to return as traffickers themselves. We need to subvert that, and counter the process, informing those in vulnerable areas on how trafficking happens and how to resist it."
However, he concludes, in most cases "what they want is to stay here and work".
"These are very hard, industrious workers, who want some improvement on their lives and, if we've locked them up for extended periods of time, then we really owe it to them."