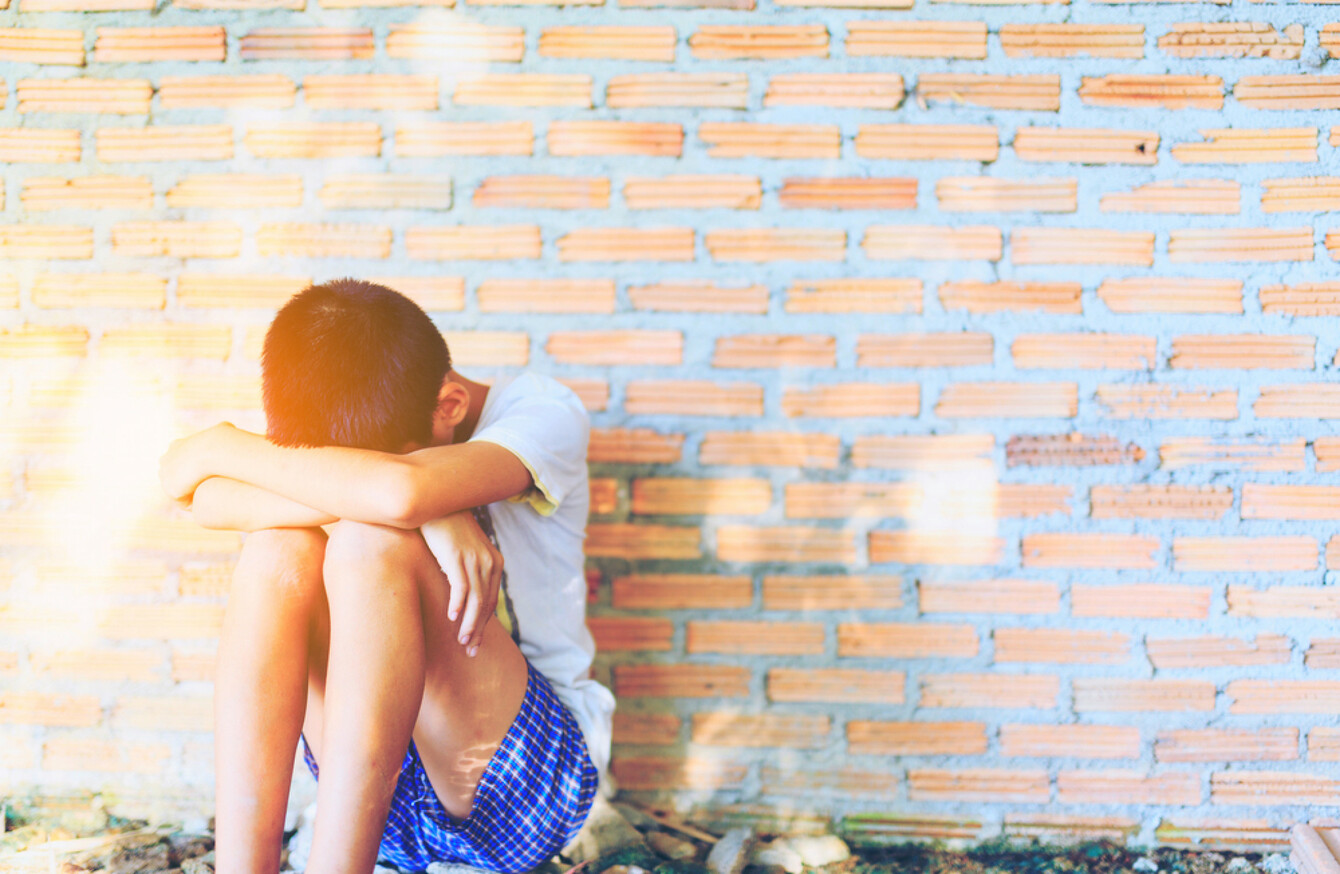 Image: Shutterstock/271 EAK MOTO
Image: Shutterstock/271 EAK MOTO
Each child responds differently. A lot of them are so humorous. They're trying their best. Children can be so resilient. They have to deal with so much change.
WHEN A CHILD is placed into State care, they come into contact with a number of adults they normally wouldn't.
Social workers get involved. Foster carers. Residential carers. Solicitors. So too psychologists, therapists and guardians ad litem.
The last on that list are assigned by a judge to the role of representing the child's voice in court proceedings, advocating for them and therefore takes a very active role in what is happening to them.
One guardian told us: "For a child to live a rounded life, you want to get guardians, courts out of their lives. There are all these unnatural things that shouldn't be in their lives. We want to get them out of their lives."
Acting independently, they frequently come into contact with the Child and Family Agency Tusla – which is ultimately responsible for children in State care – and make submissions on what they think the child needs based on interactions with them.
But that isn't always an easy task.
TheJournal.ie spoke to some of these guardians, and a solicitor who frequently deals with cases of children in care, to find out what trends they've seen for children recently and the problems they've identified through their close contact in these instances.
"Cases dragged out"
An interim care order is usually granted in the first instance by the courts. This places the child in State care but allows parents to return to court in a month's time to make submissions if they want children returned to them.
A full care order, meanwhile, permanently moves a child into State care. Solicitor Gareth Noble, from KOD Lyons, told TheJournal.ie that outside of Dublin, cases can often stay in the courts a lot longer.
"We have a practice direction," he said. "If a child has been in care in excess of nine months, we'd move towards a full care order.
But this direction is not used as effectively outside of Dublin. Court proceedings are often much lengthier. It's not uncommon to have a child on an interim care order in excess of two years.
And, as well as the cost of having these cases dragged out, the child suffers from uncertainty in their lives as they don't know where they'll be living from one month to the next for years at a time.
Guardian ad litem Claire Quinn told TheJournal.ie that she had no doubt that it impacts significantly on children in their long-term well-being.
She said: "As adults, how could we settle if we're told 'live here but don't unpack'. How could you live your life in that kind of accommodation, either practically or emotionally?"
So why does this happen?
Both Quinn and Noble highlighted a lack of proper assessments – for either the child or the parents – by the time a case reaches court. Noble said that he had found, in a number of cases, parental capacity assessments – used to help determine if a child should be returned home – are not done.
"It seems to be a lack of resources, on occasion," he said. "And a lack of assessors to meet demand. Courts are adjourned then because these assessments aren't ready.
The cost of keeping these proceedings going is probably higher than it would cost to just do the assessments quicker.
Quinn said that cases can be often be delayed for complex reasons, such as when a criminal case is ongoing and the gardaí do not want any evidence given in a child care case.
"But it can also be about delays in assessment," she said. "Nine months in, it could be argued that a child could need a psychological assessment or another assessment.
A guardian may have recommended such an assessment to Tusla from the beginning. It's not about guardians dictating. It's about trying to do the right thing in consultation with everybody. That's something that frustrates me. Children remain in this limbo and that's just wrong.
"Lack of forward planning"
Guardian Eugene Bigley told TheJournal.ie that another trend that has become "quite obvious" is the breakdown in placements for children that they are appointed to.
"We used to see that a lot for children aged 11 and over," he said. "But we're now seeing it in children as young as six and seven years of age.
It appears it's very difficult for families to look after these children. They're just so traumatised by their experiences.
He said that because guardians get a "360″ view of a child's life through their interaction with parents, children, social workers, professionals and educators, it had become clear to them that they would "wonder what forward planning is being done within service provision for children with complex needs".
This was echoed by fellow guardian Val Kerr.
She said: "We've seen that heavy caseloads can lead to a lot of crisis-driven decisions. You make a decision today to solve the problem today, but it doesn't look to the future.
I often find when a crisis decision is made, there's no parallel plan. There's no safety net for this child. We need a parallel plan if plan A doesn't work out. I think that's an issue for older teenagers especially. It can be hard for them to get a placement and settle.
Guardian Mieke Ryan added that alternative placements found are often chosen because they're available rather than other factors being taken into account.
"Placements are being identified for children just anywhere in the country," she said.
"A placement could be in Cork for a while, but if that breaks down it's highly likely a child could be placed very far from their community. It's just a matter of a placement that meets their immediate needs."
"Last resort"
As TheJournal.ie reported earlier this year, when cases involving children on care orders come before the court, there can be often be disagreements between counsel for Tusla and counsel for guardians on what's best for the child.
A case can be escalated to the High Court if the guardian feels like Tusla is not taking the appropriate action to take care of a child.
In June, we brought you the story of a case taken by a guardian on behalf of a self-harming teenager who was sitting in a hospital bed because a suitable placement could not be found by Tusla.
Noble said that, from court cases he's handled, guardians are in a good place to have an authoritative say on what should happen next for the child.
"Taking it this far can be often be seen as a last resort," he said. "They come to me having already had extensive contact with the social work department."
Guardians from independent agency Tigala told TheJournal.ie that it's one of the most difficult aspects of the job and a route which they said they unfortunately have to take from time to time.
Eugene Bigley said: "That gives you sleepless nights."
Val Kerr said: "You only do that when you've advocated and taken every measure possible. It's a horrible feeling."
Claire Quinn: "It really is a last resort."
Kerr said that guardians would really rather not take this course of action, and that it can complicate the process and delay it for the child involved too. She said: "We don't want to complicate things. We don't want to complicate the court process. By bringing in another layer, it makes it more complicated for children."
Constitutional right
In 2012, a referendum on the rights of the child was passed by 58%. It added the following lines to the constitution in respect of action taken by the State when parents fail to properly take care of their children:
Provision shall be made by law for securing, as far as practicable, that in all proceedings referred to in subsection 1° of this section in respect of any child who is capable of forming his or her own views, the views of the child shall be ascertained and given due weight having regard to the age and maturity of the child.
Solicitor Gareth Noble told TheJournal.ie that the constitution guarantees the right of a child to have that voice in court, which comes in the form of a guardian ad litem.
"The guardian is really important in that sense," he said. "Having an independent voice expressing the wishes of a child is enshrined in the constitution.
My own legal view is that it's a constitutional imperative going forward that any reforms of the guardian system does not allow any dilution of the child's voice. It won't work if you reduce a guardian's role to that of a witness.
The guardians we spoke to want their role formalised and regulated in legislation, and said they were working by a code of standards that they felt best served the children assigned to them.