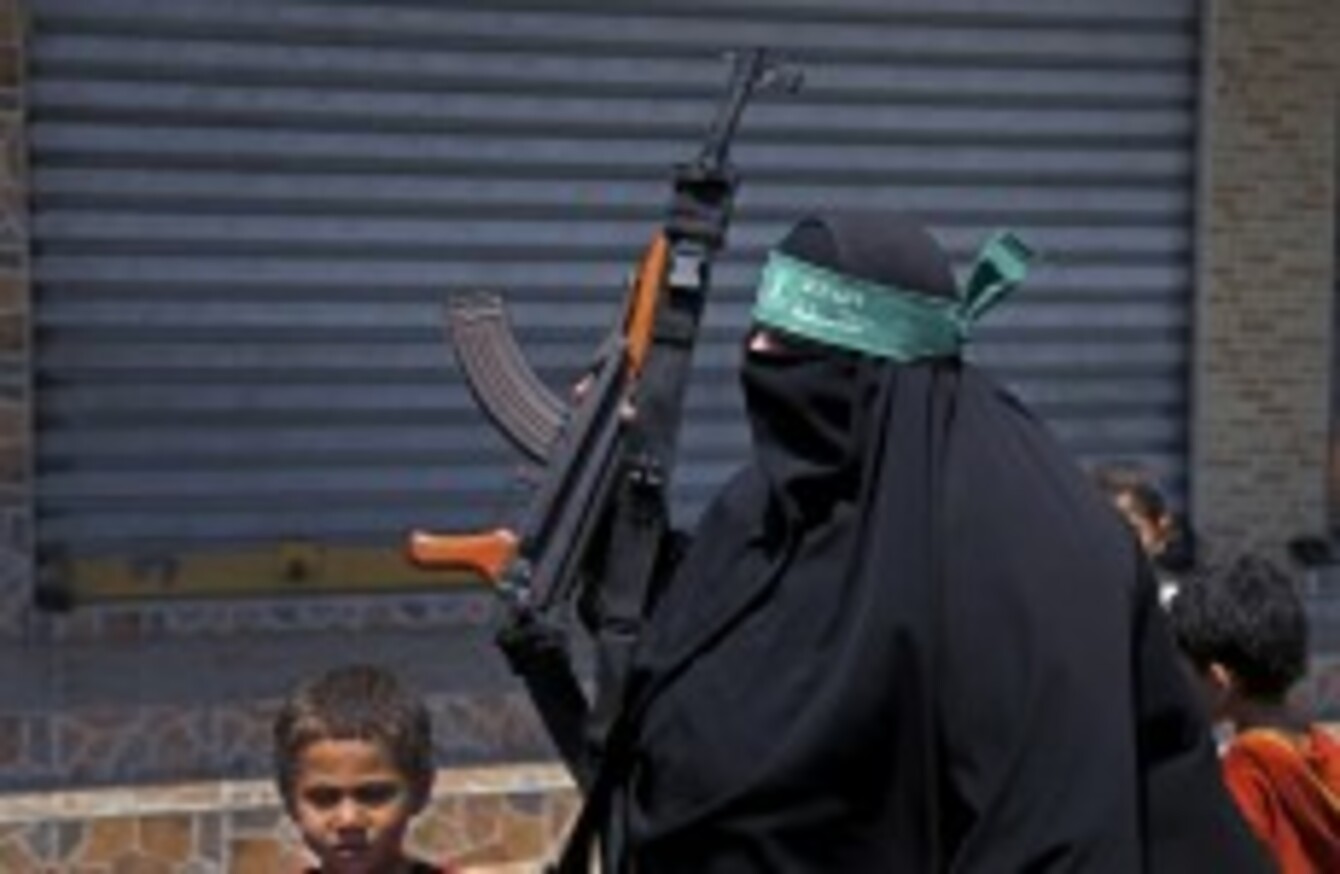 A Hamas supporter holds an AK-47 as she attends a demonstration against the Israeli military operations in the West Bank.
Image: AP/Press Association Images
A Hamas supporter holds an AK-47 as she attends a demonstration against the Israeli military operations in the West Bank.
Image: AP/Press Association Images
THE ISLAMIST MILITANT group Hamas has vowed revenge on Israel after an early morning airstrike allegedly killed seven of its members.
Referring to Israel, Hamas said: "The enemy will pay a tremendous price."
The group said that its men were killed by an Israeli airstrike on a tunnel.
Two militants from a different group were also killed in a separate strike. The men were involved in rocket attacks on southern Israeli communities.
Israel confirmed that it carried out airstrikes on at least "14 terror sites" including "concealed rocket launchers" in Gaza overnight in retaliation to a recent spike in attacks from Gaza.
About a dozen rockets were fired at Israel from Gaza overnight the military said. One injured a soldier. Gaza militants fired 25 rockets at Israel on Sunday.
Lt Col Peter Lerner, a military spokesman, said the rocket attacks are "unbearable and unacceptable."
"We will continue to act in order to debilitate and incapacitate the Hamas terror infrastructure striking its warehouses, rocket manufacturing capabilities and those that endanger the well-being of the Israelis in the south of the country," he said.
Gaza militants have been bombarding Israel with daily rocket fire for weeks, drawing Israeli airstrikes in retaliation. The nine militants killed overnight made it the deadliest day of fighting so far.
An Israeli army patrol was attacked on Monday morning along the Gaza border fence, the military said. No one was injured in the attack, which may have included a rocket-propelled grenade.
Teenagers murdered
Tensions have soared in Israel and Palestinian territories since three Israeli teens — one of them a US citizen — were kidnapped while hitchhiking in the West Bank last month.
Last week, the teens' bodies were found in a West Bank field in a gruesome crime Israel blamed on the militant group Hamas which controls the Gaza Strip. Hamas, which has kidnapped Israelis before, praised the kidnappings and deaths of the teenagers but did not take responsibility for it.
Just hours after the youths were buried, Mohammed Abu Khdeir, a 16-year-old Palestinian-American from east Jerusalem, was abducted near his home and his charred remains were found shortly afterward in a Jerusalem forest. Preliminary autopsy results found he had been burned to death.
Israel arrested six Jewish suspects Sunday in relations to the slaying, and has appealed for calm amid signs the death was revenge for the recent killings of the three Israeli teens.
His killing set off a wave of violent Palestinian protests in and around Jerusalem that later spread to Arab towns in the north.
Israeli leaders including Prime Minister Benjamin Netanyahu condemned the murder of the Palestinian teen. He promised to prosecute those responsible to the full extent of the law.
"We will not allow extremists, it doesn't matter from which side, to inflame the region and cause bloodshed," Netanyahu said in a nationally televised statement soon after it was announced that the suspects were Israeli.
"Murder is murder, incitement is incitement, and we will respond aggressively to both," he said.