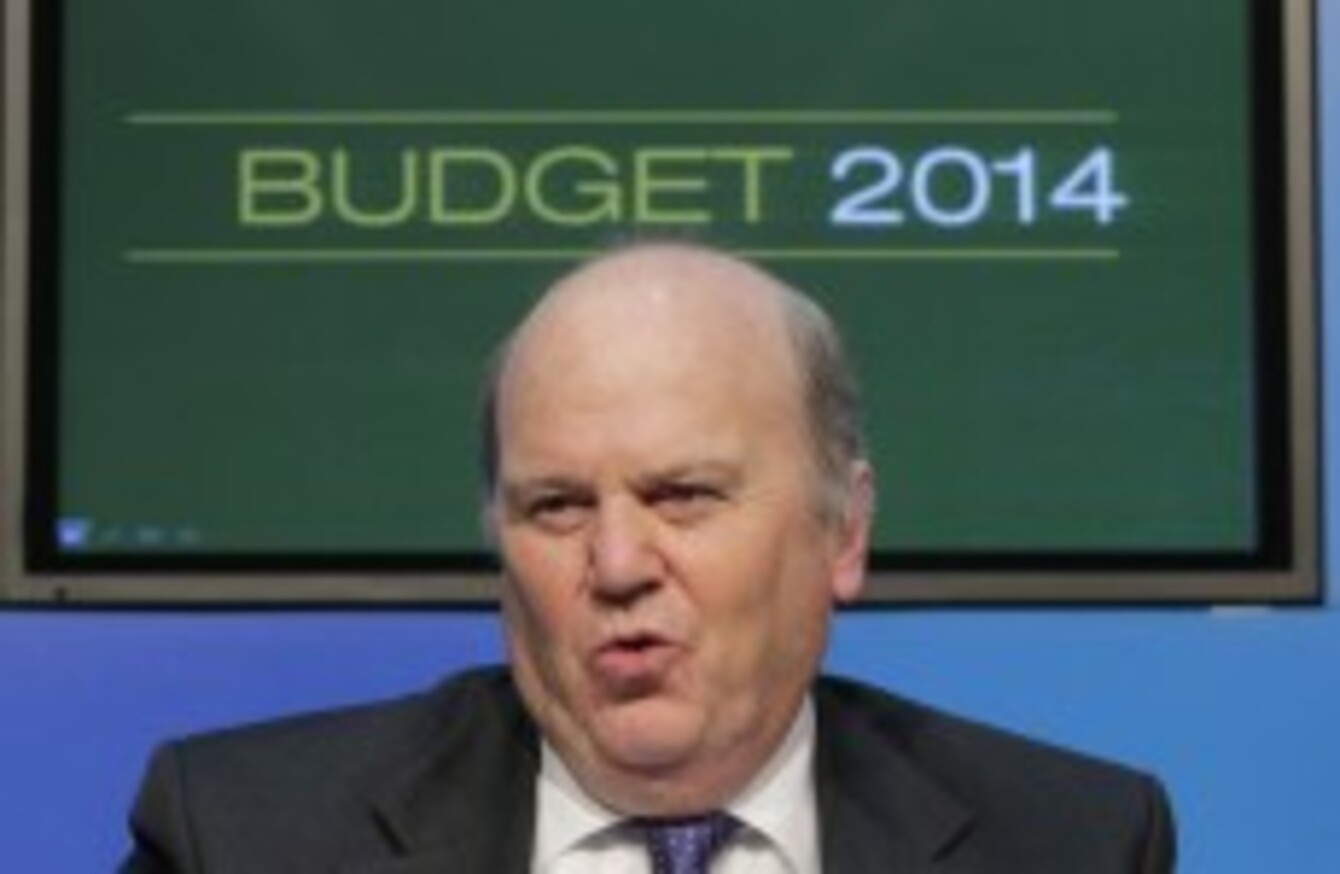 Minister for Finance Michael Noonan TD
Image: Mark Stedman/Photocall Ireland
Minister for Finance Michael Noonan TD
Image: Mark Stedman/Photocall Ireland
THE BUDGET ANNOUNCEMENT can be a time of worry and stress, with people anticipating the worst.
This year there were a number of groups who were relieved at what they heard when Ministers Michael Noonan and Brendan Howlin detailed the changes under Budget 2014. Though they were not unanimously delighted with the overall Budget, they felt that there were many positives to be found.
They spoke to TheJournal.ie immediately after the Budget announcement was made.
"Positive"
Joe Moran, IFG Pension, Investments and Advisory Services
Moran described the Budget as "positive enough".
There was no realistic expectation that the pension levy was going to be abolished completely. To be moved from 0.6 per cent to 0.15 per cent was positive. Overall I think Mr Noonan was being practical with his approach to this.
He said that his organisation would "hope that we are coming to a new phase in Ireland".
The reality of what's facing Irish individuals and Irish people is we need to save, we need to be saving for our pension, we need to be saving for our retirements – because this State is not going to be able to afford paying people the State pension down the line.
"Pro-jobs, pro-tourism"
Adrian Cummins, CEO Restaurant Association of Ireland
Cummins joined all of those in the hospitality sector in welcoming the retention of the 9 per cent VAT rate, describing it as "a huge success".
We launched a campaign to show that it has worked to create 15,200 jobs, we dropped our prices, made ourselves more competitive, made eating out good for the economy and the Minister has given confidence to our sector by keeping [the VAT rate] in place in Budget 2014.
He said that the abolition of the travel tax is "another plus" and that we are "now well on the road for growth in the tourist industry".
The only "sting" in the Budget was the increase in excise duty on a bottle of wine, said Cummins, adding that it could affect tourists.
Cummins described Budget 2014 as "very much pro-jobs but also a pro-tourism budget".
"Very welcome"
Irene Gunning, Early Childhood Ireland

(Video TheJournal.ie/YouTube)
Gunning said that there is money available for mentoring, the inspectorate and training.  "It's very welcome," she said, describing it as "an investment in people which is different to what's happened in the past where you had investment only in bricks and mortar".
However, she said that they are disappointed with the amount of money made available, "because when that money is stretched out among the sector it will be stretched thinly".
She also welcomed extra staff in the garda vetting unit, which will help childcare providers. Gunning said that the sick pay reduction "is going to be problematic" as their sector is "very underpaid and under resourced".
"Broadly welcoming"
Catherine Joyce, Barnardos
Joyce said that Barnardos is "broadly welcoming the Budget".
In some ways after several years of really, really tough budgets where families were targeted and children particularly targeted with cuts to child benefit, I think it's a massive relief to many of us that this year child benefit is protected, social welfare payments are being protected.

I know from families in our services that a lot of families were really dreading today and really fearful of what was coming so I think there is some respite for families in that.
She said that Barnardos has been calling for free GP care for under fives for many years, so this is positive news.
"No surprises"
AJ Noonan, Small Firms Association chairman
Noonan said that there are a lot of positive things in the Budget to be welcomed, and that the construction announcements have to be teased out but sound positive.
He felt that negative elements included the increase in excise duties, and the continuation of the pension levy.
There were "no big surprises", said Noonan, but "there's a lot of hidden bits and pieces in there that will affect consumers more than businesses".
I think the fact there was no increase on taxation on work was the most positive thing – that will allow people to regroup and go forward – if we had increases in that it would have been a bad day for the fragile recovery that is taking place.
The capital gains tax exemption for properties sold next year was also positive, said Noonan.
"Welcome"
Caroline Fahey, St Vincent de Paul
Fahey said that they welcomed the fact there was no cut to child benefit or core social welfare. "We ran a campaign in the run-up to the Budget and it seems that the Government was listening to us when we said that families couldn't take any more cuts to those payments".
She questioned whether the medical card changes could see cards taken from those who need them.
"Small measures that seem small can really make a huge difference to a person who is struggling," said Fahey.
"An easier budget"
Danny McCoy, CEO IBEC


(Video TheJournal.ie/YouTube)
McCoy said that he thinks the Budget is "providing a bit of a stimulus to the economy", and it reflects where the economy is going.
The unfortunate thing is the government's learned the lesson: when it cuts taxes more activity takes place like in the hospitality sector, that's a welcome move, but then simultaneously it goes and increases excise taxes and the problem there is it may not get the revenue it requires.
He said that despite some new taxes, "overall it's quite a positive Budget because it reflects where the economy is going, and that's into a better place".
"Happy with the outcome"
Tom Parlon, Construction Industry Federation

(Video TheJournal.ie/YouTube)
There was much talk of the construction industry in the Budget, and Parlon said that they were happy with the outcome, as "there is an opportunity to now grow the industry".
"We've already created an extra 6,000 jobs in construction already this year," said Parlon, nothing that a number of construction projects were mentioned in the Budget.
He praised the incentive for householders to renovate their property, as well as the investment of €30 million for the national housing scheme, €10 million for housing estates, a €200 million for a general package for roads, for energy efficiency, and for a venue centre in Cork.
"Clearly the big thing that we can bring to the table is that as soon as there are job opportunities for us, we will be hiring people," said Parlon.
"Pretty good for business"
Ian Talbot, Chambers Ireland
Talbot's immediate reaction was "it's pretty good for business".
There are quite a few more measures we had been calling for which were delivered. Things like the retention of the 9 per cent VAT rate for hospitality, very positive, the introduction of a scheme for home repairs, maintenance, and so on, again very encouraged by that, particularly phrased as a tax rebate, which means that construction work will be done by companies and individuals who are within the tax system complaint, so that's very positive.
He noted that "is funny that in a way that it took an increase in employment [for the government] to realise the need to implement measures to increase employment".
The reduction of the number of sick days the department will pay for "seems like a fairly trivial measure from the government's perspective to save €22 million", he added, "and it can have a real impact on the desire of an individual thinking about employing someone new".
He said the provision to give someone who has been unemployed for 15 months a two-year tax holiday, "is a great idea to just give someone that incentive to get up and do something".
- Additional reporting Nicky Ryan. Filming and editing by Nicky Ryan.