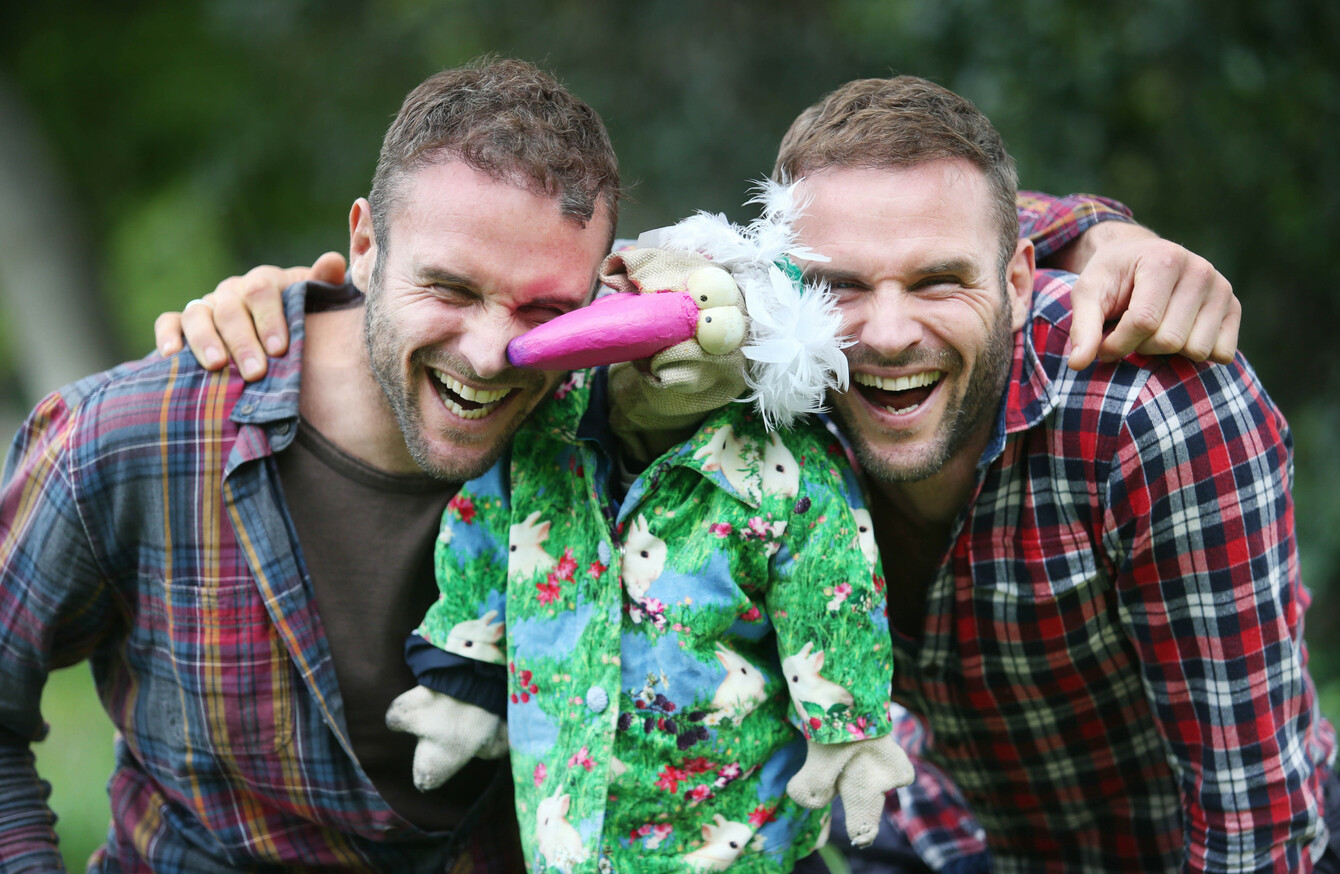 Stephen and David Flynn of the Happy Pear pictured with Dustin the Turkey in 2017.
Image: Leon Farrell/RollingNews,ie
Stephen and David Flynn of the Happy Pear pictured with Dustin the Turkey in 2017.
Image: Leon Farrell/RollingNews,ie
THE FOOD EMPIRE being built by Greystones twins David and Stephen Flynn is to enjoy record revenues of €10 million this year.
The soaring revenues at the twin's Flynn & Flynn Global Trade Ltd compare to revenues of just over €4 million in 2015 as the business has enjoyed exponential growth in the last few years.
The costs of expansion at the business contributed to the Flynn firm recording post-tax losses last year of €578,713 as revenues increased by 49% to around €8 million.
According to a spokeswoman for the Happy Pear: "Throughout 2017 we invested significantly in our business capabilities, which has enabled us to extend our food production and café business and support our further growth.
"We expanded our food production and product portfolio and added the necessary skills and systems to enable us to grow sustainably and to successfully operate in Ireland and in our fledgling export markets, mainly the UK."
The loss at the business – which started back in 2004 as a small vegetable shop – coincided with the business investing in the opening of a new café in Clondalkin, Dublin.
The spokeswoman said: "Additionally, we continued to invest in our brand and our online reach is currently at almost one million."
She said the business enjoyed a 49% jump in revenues in 2017, adding: "We have been performing in line with our expectations to generate earnings in 2018. We have an estimated turnover of around €10 million for 2018."
Increase in staff numbers 
Underlining the expansion of the firm, the number of people employed by the business last year increased from 93 to 137 – with staff costs increasing from €2 million to €3.5 million.
The business has over 30 separate products for sale in shops, including a vegan range in Waitrose & Partners stores. It now operates three Happy Pear outlets – two in Greystones, Co Wicklow and one in Clondalkin. 
The new accounts show that the firm's cash pile last year reduced from €1.33 million to €254,510. The loss last year resulted in the business's shareholder funds reducing from €1.48 million to €903,577.
The Flynn twins sit on the board with Darragh Flynn, Donal Flynn and Paul Murphy – the aggregate pay to directors more than doubled from €95,598 to €216,575.
At the end of last year, the business owed the directors a total of €136,655 in loans.
The loss last year takes account of non-cash depreciation costs of €147,708. The value of the company's tangible assets last year increased from €913,775 to €1.332 million.