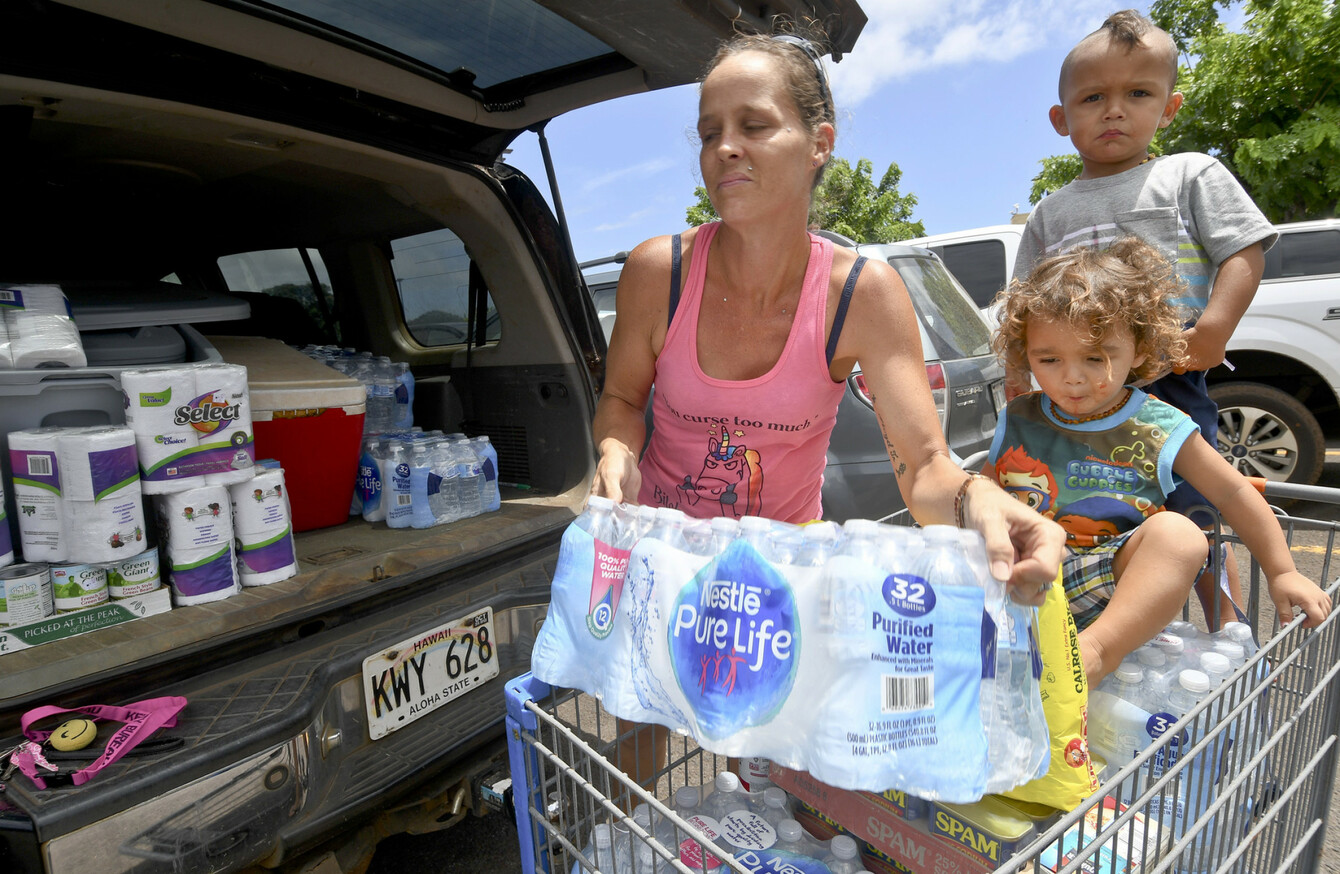 People have been stocking up on supplies
Image: Dennis Fujimoto/AP/PA Images
People have been stocking up on supplies
Image: Dennis Fujimoto/AP/PA Images
RESIDENTS OF HAWAII were bracing for a rare landfall by a powerful hurricane as they stocked up on water, food and emergency supplies.
Hurricane Lane, which weakened slightly to a category 4 storm overnight, is packing 250 kilometre-per-hour winds and was expected to reach the archipelago's Big Island by nightfall last night.
President Donald Trump urged residents to prepare for the storm, which was expected to bring torrential rains, high winds and dangerous surf.
"Everyone in the path of #HurricaneLane please prepare yourselves, heed the advice of State and local officials, and follow @NWSHonolulu for updates. Be safe!" he tweeted.
The National Weather Service said a hurricane warning has been issued for Maui County and Hawaii County while a hurricane watch was in effect in Kauai and Oahu.
"The centre of Lane will track dangerously close to the Hawaiian Islands from Thursday through Saturday," it said.
It added that though Lane is forecast to weaken in the next 48 hours it will remain a dangerous hurricane as it nears the Hawaiian Islands.
"Lane is expected to produce total rain accumulations of 250 to 380 millimetres with isolated amounts greater than 20 inches over the Hawaiian Islands," the NWS said.
It added that regardless of the exact track of the storm, the state should brace for the potentially life-threatening impacts.
Bracing for the worst
"It's not a question of whether they're going to be hit or not," Brock Long, the head of the Federal Emergency Management Agency (FEMA) told a press briefing. "They're going to see impacts from this storm."
He said the priority at this point was to ensure residents were prepared for the storm.
"Right now the priority that we have is life safety," he said. "We are asking citizens to proactively heed all of the warning order information coming from the governor and the local county emergency management agencies within the state."
Hurricanes rarely make landfall in Hawaii and the last major storm to strike the state was nearly three decades ago, when Hurricane Iniki barrelled into the island of Kauai, leaving six people dead and causing billions of dollars in damage.
In preparation for the latest storm, state officials have closed schools and public offices in the counties affected while residents rushed to stores to stock up on water, food and other supplies. Many were also boarding up their houses.
Governor David Ige on Tuesday declared a state of emergency on Big Island to help provide relief for damage from the hurricane.
"Hurricane Lane is not a well-behaved hurricane," he said in a statement. "I've not seen such dramatic changes in the forecast track as I've seen with this storm.
"I urge our residents and visitors to take this threat seriously and prepare for a significant impact."
FEMA associate administrator Jeff Byard said authorities were bracing for the worst, stocking up on emergency food and water and readying shelters.
"We have emergency food in the form of MREs (Meals Ready-to-Eat) and water that are currently on all four counties of the state," he said.
#Open journalism No news is bad news Support The Journal

Your contributions will help us continue to deliver the stories that are important to you

Support us now
"And we're also working with the private sector, with the grocery retailers, to make sure that we are working in a coordinated fashion to provide food for a number of days should we lose power in a catastrophic manner."
He said FEMA was also working with utility companies to co-ordinate the repair of any damaged power infrastructure.
Ige also urged President Donald Trump to declare a federal state emergency and approve immediate US federal military help.
Hawaii "requires immediate support from Department of Defense assets for strategic airlift between the islands," Ige said
And Hawaii "anticipates the need for immediate access to federal resources for search and rescue, mass care and sheltering commodities, and temporary power generation," he warned.
Meanwhile the US Navy said some of its ships and submarines based in Hawaii had begun to deploy to avoid getting caught in the storm.
"Based on the current track of the storm, we made the decision to begin to sortie the Pearl Harbor-based ships," said Rear Adm. Brian Fort, commander of the Naval Surface Group Middle Pacific. "This allows the ships enough time to transit safely out of the path of the storm."