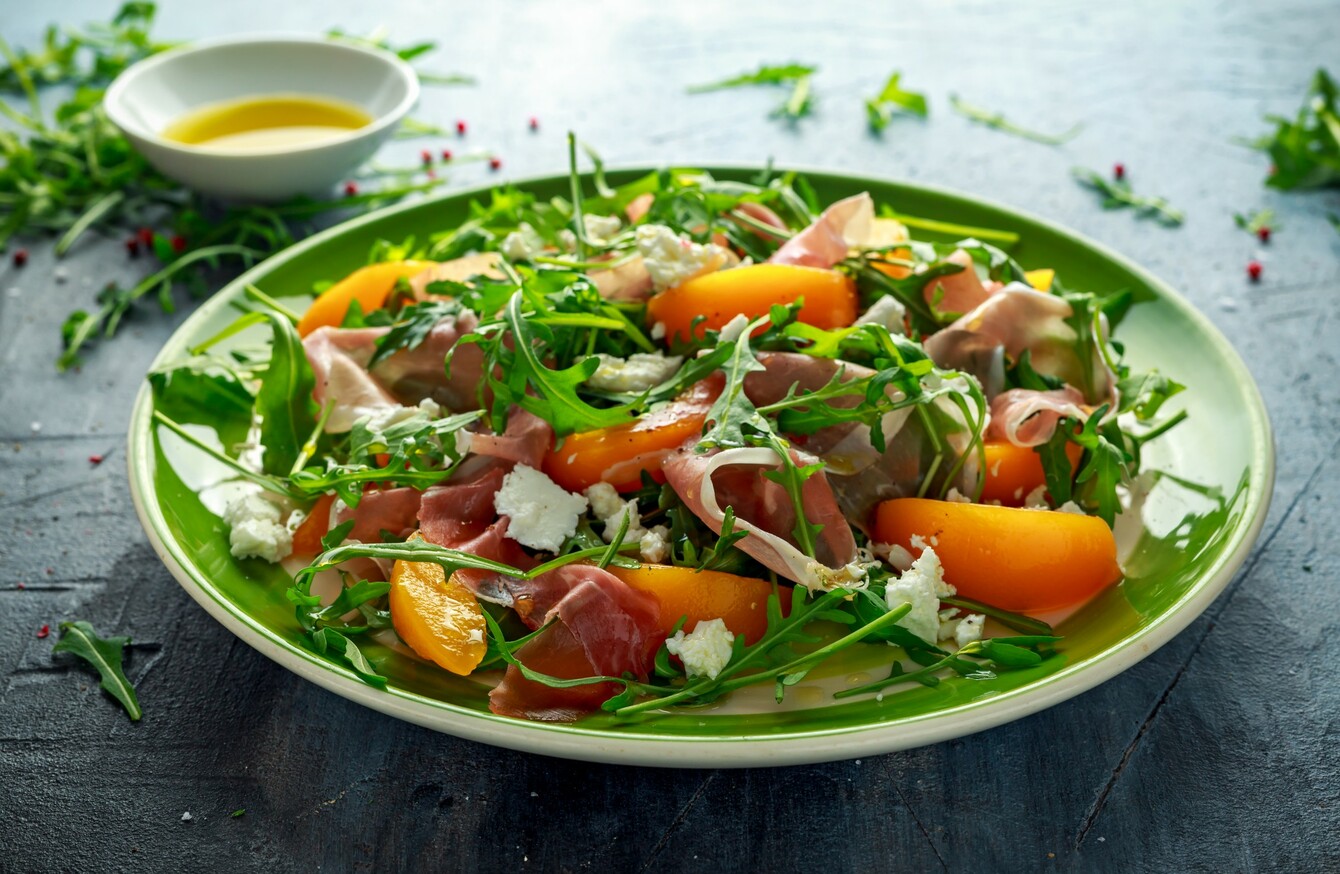 Image: Shutterstock/DronG
Image: Shutterstock/DronG
WITH SUMMER BEHIND us, salad has been bumped off the menu in favour of warming soups and stews. Even in the midst of all things comfort food, cravings for something fresh and crisp often kick in – and that is when a hearty salad is just what's needed. 
We tend to think of salad as a bowl consisting mainly of leaves, but there is so much more to salads than just that. Grains like lentils or barley make an excellent salad base, and more robust cheeses like haloumi or gorgonzola also make a hearty addition. Salads can also be served warm, like the lentil and salmon salad below.
Why not keep salads on the menu through autumn and straight into winter, taking inspiration from some of my favourites below.
1. Chicken noodle salad: Chicken noodle salad is a great recipe for using up leftover chicken, and can be made in advance to eat for lunch the next day. Cook the noodles according to pack instructions, then drain in cold water and place in a bowl. To make the dressing, mix together sesame oil, soy sauce, a pinch of sugar and lime juice, and set aside. For something different, I love the addition of orange in this noodle salad recipe from Everyday Cooking with Mira. Using a peeler, shave some carrots and add to the noodles, along with sliced red onion and finely sliced red pepper. Add the dressing to the bowl along with the cooked chicken, toss everything together, and then top with some toasted sesame seeds to serve. 
2. Parma ham, mozzarella and peach salad: The contrast of sweet peaches and salty Parma ham works really well in this recipe, and is an ideal match for the creamy buffalo mozzarella. This is a very simple salad to put together and great for entertaining – once you have the ingredients, it's really just a matter of assembly. Make the dressing by mixing together equal parts of olive oil and balsamic vinegar, along with a squeeze of honey and seasoning. Toss some mixed leaf salad in the dressing, then assemble on plates and top with slices of Parma ham, thinly sliced peaches and torn mozzarella. Serve with some fresh ciabatta for a deliciously fresh salad that's full of flavour. 
3. Haloumi and grilled vegetable salad: Haloumi is hearty and mild, making it a really great addition to any type of salad, but I think it works particularly well with Mediterranean flavours. The first step to this salad can be done in advance – roughly chop some peppers, red onion, courgette and asparagus and coat in olive oil. Season, and bake in a hot oven for 20 minutes, until they are cooked but still have some bite. Once they're cool, you can start to assemble the salad by combining the roasted vegetables with some mixed greens, along with a drizzle of balsamic vinegar. Heat a griddle pan and fry some sliced haloumi for a minute on each side, then place it on top of the salad and serve. 
4. Lentil and salmon salad: Lentils are a really filling and nutritious staple to have in the cupboard, and they can be used in a range of meals – from stews to salads. Start by making the dressing by mixing together lemon juice, olive oil, salt and pepper, and a heaped spoonful of natural yoghurt. For the salad, drain a tin of lentils in cold water, and add them to a bowl. Mix in some finely chopped red onion, chopped tomatoes and cooked salmon. Stir through the dressing, then add a handful of rocket for an extra flavour kick. For an even heartier option, top individual portions with a poached egg. Looking for a vegetarian alternative? Why not take inspiration from this recipe and switch salmon for Portobello mushrooms. 
5. Spiced chickpea, feta and red pepper salad: This salad is packed with flavour and can be made in just ten minutes! Make the dressing by mixing together olive oil, lemon, cumin, paprika and seasoning. If you like a bit of spice, add some chili flakes or finely chopped red chili to the dressing. Finely chop some red onion and add this to a bowl, followed by chopped roasted red peppers (from a jar) and a tin of drained and rinsed chickpeas. Add in a handful of baby spinach leaves and toss everything in the dressing. Finally, top with crumbled feta cheese and serve.