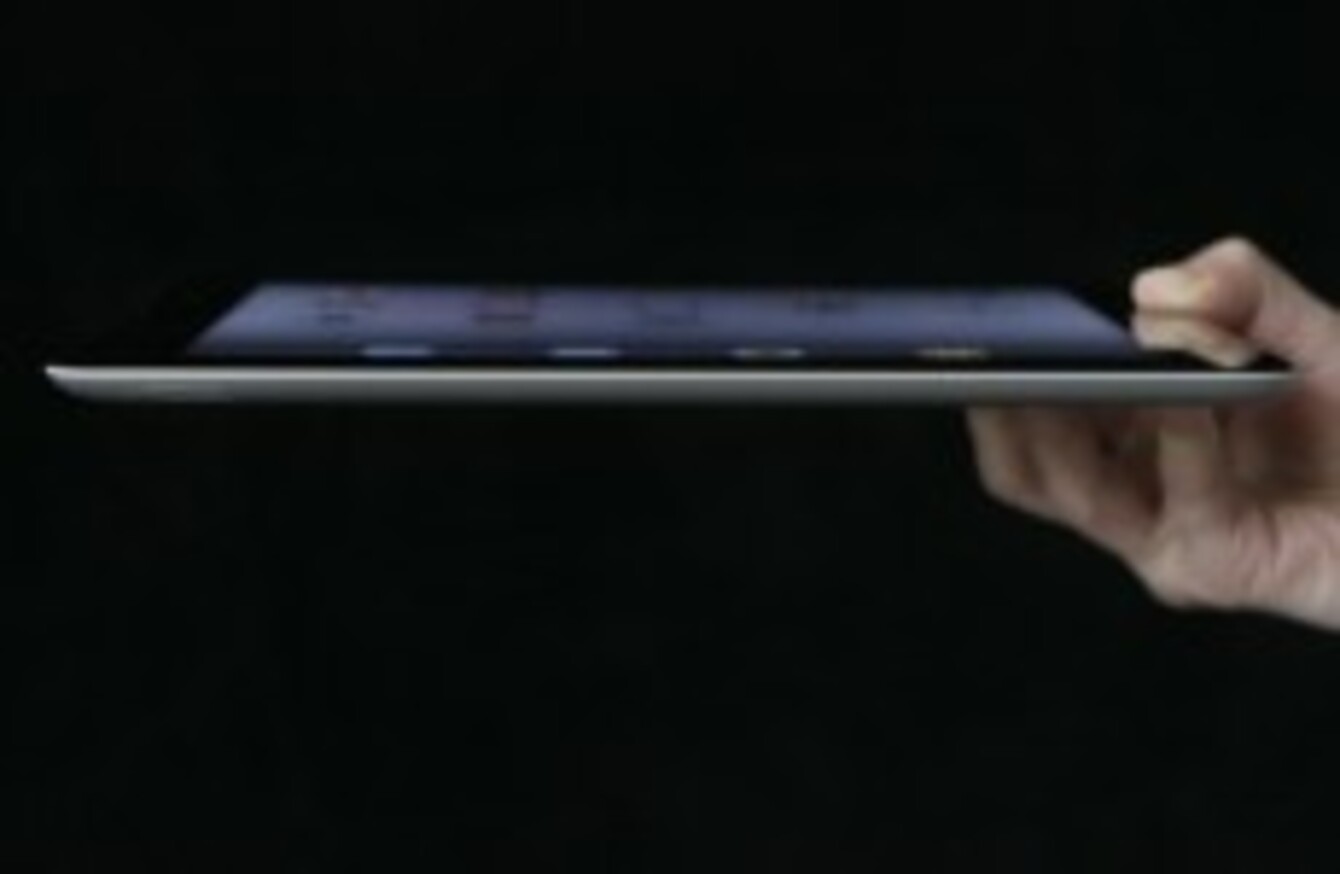 Will the iPad 3 be thicker than its predecessor?
Image: Jeff Chiu/AP/Press Association Images
Will the iPad 3 be thicker than its predecessor?
Image: Jeff Chiu/AP/Press Association Images
If we're to believe the chatter, Apple's iPad 3 could be here in a matter of weeks.
So naturally the rumors about Apple's new device are starting to heat up.
Details and leaks are still pretty scarce, likely meaning this upgrade will be a modest one. (Think iPhone 4 to iPhone 4s.) But here's everything we know about the iPad 3:
The iPad 3 will be slightly thicker than the iPad 2 (Maybe) Apple is said to be making the the iPad 3 slightly thicker (about 1 mm) than the iPad 2. While this breaks with Apple's tradition of releasing thinner and lighter devices, it likely had to make some concessions so it could add new guts for a better screen and a 4G antenna.
There will be a chip for faster apps and graphics (Likely) Apple will most likely introduce a new processor for the iPad 3, just like it did last year and the year before. The new "A6″ processor is said to be a quad-core chip, which means it will be a lot faster than the iPad 2. The processor will make apps load faster, graphics look better, and increase the overall performance of the device.
The front-facing FaceTime camera will now be HD (Likely) The iPad 3′s FaceTime camera will probably get a boost that allows it to take HD video for the first time. This will make video chatting a lot better considering FaceTime tends to look a bit grainy now. (Don't let those commercials fool you!)
The iPad 3 will look nearly identical to the iPad 2 (Likely) Aside from the rumour that it'll be 1 mm thicker, it'll be nearly impossible to tell the difference between the iPad 2 and iPad 3 from the outside. It looks like Apple will be making mostly internal upgrades for better performance this time around. So far, we haven't seen any leaked parts or cases that hint at a redesign for the iPad 3.
Higher resolution screen (Likely) While it may not be a true "Retina Display" like the one on the iPhone 4 and 4S, the iPad 3′s display will probably get a boost in resolution. That means sharper images and graphics. Thanks to the new processor, there's also a good chance the iPad 3 will be able to display HD video too. We've already seen upcoming Android tablets that can play HD video, so it's not a stretch.
It's thought the iPad 2 will remain on sale even after the release of its successor (Mark Lennihan/AP/Press Association Images)
The iPad 2 won't die this year! Apple will sell it at a cheaper price instead (Likely) One thing we learned last year is that many people have no problems skipping over the iPad for a bargain tablet from a big brand.  In response, Apple may keep the iPad 2 around for another year, according to the latest report. It's not unprecedented. With each new iPhone release, Apple keeps the previous model around at a cheaper price too.
There'll be a new battery with insanely great battery life (Maybe) The iPad 3 may have a huge new battery that can last twice as long as the iPad 2. How long is that? Possibly up to 20 hours when only using Wi-Fi. Keep in mind this rumor comes from DigiTimes, which isn't always right about future Apple products.
What about a 7-inch iPad? (Unlikely) Doesn't it feel like we go through this with every new iDevice? Even though Steve Jobs himself ranted against 7-inch tablets, rumours still persist that Apple wants to make one. We doubt it. If Apple is going to make a cheaper iPad, it's much more likely to reduce the price of the iPad 2 when the iPad 3 launches.
Will there be 3D? (Definitely not happening) According to one of our sources close to Apple, the company was working on a 3D version of the next iPad. In fact, early prototypes were called the "iPad 3D." But Apple decided to scrap the idea because it didn't find 3D very useful. (We agree!)
Apple may shrink the dock connector (Maybe) Ever since the original iPod, most iDevices have used the same iconic dock connector for syncing to your computer and charging. Some reports last year, based on images of leaked parts, suggest that Apple may shrink the iPad 3′s dock connector to make room for more parts inside.
The iPad 3 will launch in March (Likely) Reports on when the iPad 3 will launch vary. If you average it all together though, it looks like the new tablet will launch in March, with an announcement in late February.
#Open journalism No news is bad news Support The Journal

Your contributions will help us continue to deliver the stories that are important to you

Support us now