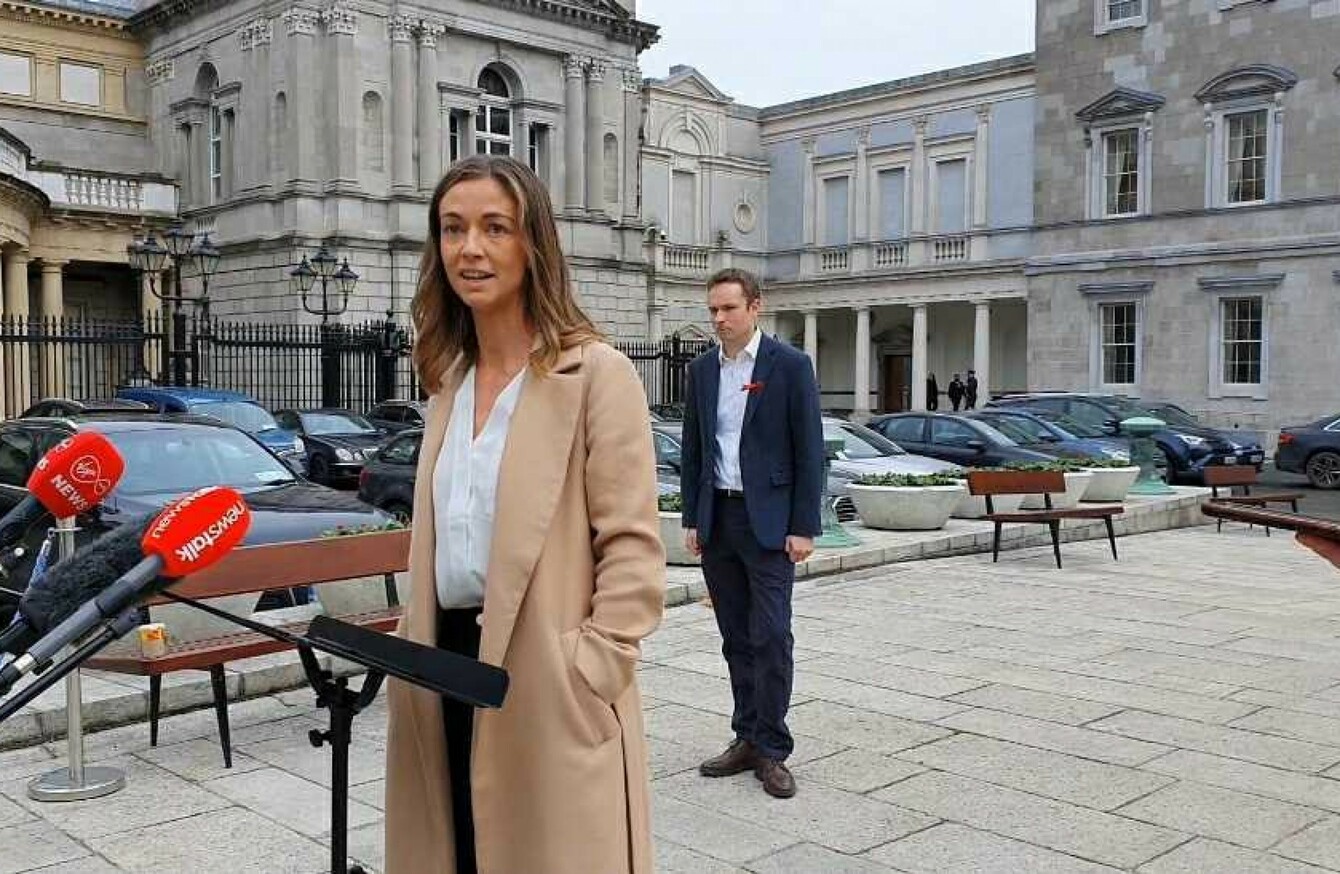 West Cork TD Holly Cairns.
Image: TheJournal.ie
West Cork TD Holly Cairns.
Image: TheJournal.ie
Updated Dec 1st 2020, 7:05 PM
SOCIAL DEMOCRATS TD Holly Cairns has invited the board member from Greyhound Racing Ireland who wrote online that she was "an ignorant little girl" to a broadcast debate about the industry. 
Speaking in the Dáil today, Cairns said she wanted to place on the record of the house that there is "no excuse" for such comments. 
Wayne McCarthy, who sent the tweet, is a board member of the state organisation and has since apologised for his comments. 
Fine Gael TD Joe Carey liked the tweet and has also offered his "sincere apologies" to Cairns for doing so. 
Speaking in the Dáil today, Cairns she didn't want to "use her speaking time" in the Dáil to address "this everyday sexism" but that it cannot be ignored.
"As the only female TD in all of Cork City and county, I feel the need to address the sexism that we're all used to. I feel the need to put it on the Dáil record that a board member of a state organisation, in 2020, spoke about an elected woman in that way. And I feel the need to say that there can be no excuse for this because there is no excuse," she said.
This house needs to send a clear message to everybody that there needs to be zero tolerance for sexism. The member of the Irish Greyhound Board also claimed my remarks were 'waffle'. I would like to put on the record that none of my remarks were waffle, the opposite.
"So I'd like to take this opportunity to invite this member of the Irish Greyhound Board to take part in a debate about the facts that I have raised in relation to the greyhound racing industry. The viability of the industry, the animal welfare issues associated with the industry, the public disquiet about its State funding. I'm sure a national broadcaster will be happy to facilitate it and I'd be happy to arrange that." 
Speaking to reporters earlier today, Cairns said she accepted the apology from the Fine Gael TD who liked the tweet. 
"I do accept the apology but we do need this to be denormalised, it's dehumanising and absolutely not acceptable," she said, adding:
The reality is that women in Ireland have got used to these kind of gendered comments and sometimes find it easy to ignore it, however if we continue to ignore it we allow a culture that facilitates this kind of commentary, which is absolutely unacceptable.
I liked a tweet that was disrespectful to one of my fellow TDs. I should not have done so. It was wrong and I offer my sincere apologises to @HollyCairnsTD

— Joe Carey TD (@joecareytd) November 30, 2020
Last week, a Private Members' Motion by the Social Democrats TD that sought to prevent an increase in funding of €2.4 million to the greyhound industry was defeated. 
Today, the Dáil again debate funding for the greyhound industry as part of the Horse and Greyhound Racing Fund. The government's proposal would see just over €76 million going Horse Racing Ireland and €19.2 million going to Rásaíocht Con Éireann (Greyhound Racing Ireland). 
Beginning the debate today, Agriculture Minister Charlie McConalogue said both industries "make a significant and valuable contribution to our economy".
"It is estimated that the thoroughbred industry has an annual economic impact of €1.9 billion, with direct and indirect employment of 29,000 people, while the greyhound sector provides an estimated 12,000 people with economic benefit," the minister said.
Successive governments have acknowledged the importance of these industries and have supported them through legislation and policy initiatives. The support provided by public funds through investment in these industries has enabled Ireland to develop a world class reputation for excellence in horse racing, greyhound racing and breeding.
Speaking in response to the minister, Cairns said there was "extraordinary public support" for an end to state funding of the industry, 
"The industry receives extraordinary sums of money from the public purse while breeding 6,000 dogs annually to kill them. The vast majority of the general public cannot understand why government continues to blatantly ignore common sense on this issue," she said.   
#Open journalism No news is bad news Support The Journal

Your contributions will help us continue to deliver the stories that are important to you

Support us now
In a statement to TheJournal.ie last week ahead of the Dáil debate, Rásíocht Con Éireann (RCÉ) said the care and welfare of greyhounds is its priority focus. 
"Poor welfare standards have no place within the greyhound industry. The targeting of resources in this area has been reflected in the increasing number of welfare inspections with 615 inspections being undertaken in 2019 resulting in 16 fixed payment notices and 6 welfare notices under the Welfare of Greyhounds Act 2011," it said. 
"Doping and misuse of medication are an unacceptable practice which unfortunately has been evident in most sporting codes. RCÉ processed 5,702 samples from greyhounds at the national greyhound laboratory during 2019. 
"These samples were taken on a random basis at race meetings, sales events, owners' and trainers' kennels and out of competition testing. 15 samples returned an adverse analytical finding representing a rate of 0.3%."
It said the estimated spend on "integrity, regulation and welfare" in 2020 will be about €3.2 million. 
"Greyhound racing has been part of Irish culture and heritage for over 90 years and we look forward to this national sport continuing to be part of activity in rural and urban Ireland for many years to come," the statement concluded.