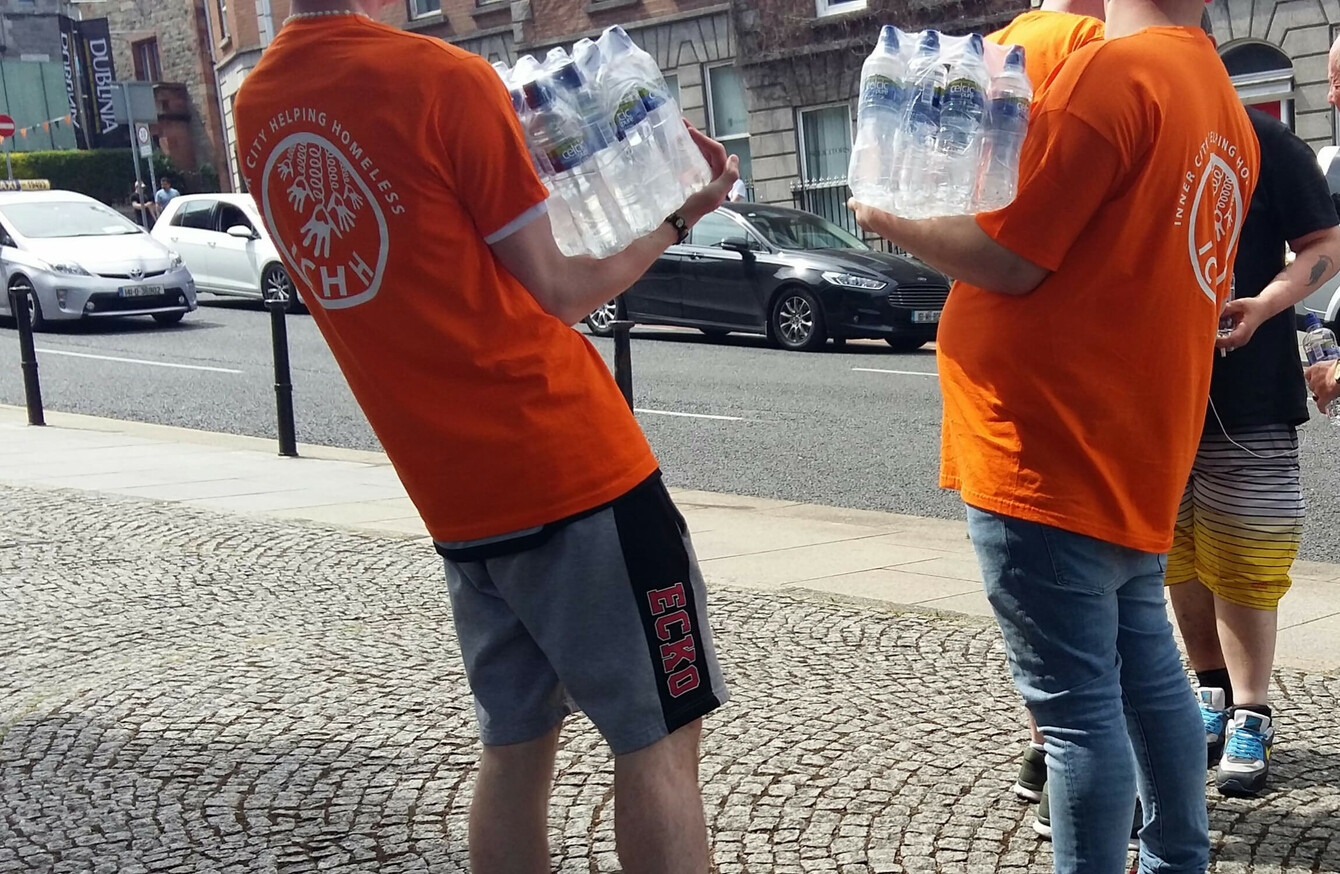 Volunteers provide water to homeless in Dublin
Image: Cathy Lee
Volunteers provide water to homeless in Dublin
Image: Cathy Lee
AS AFTERNOON TEMPERATURES hit 24 degrees today, TheJournal.ie joined the Inner City Helping Homeless (ICHH) group on the streets providing water to homeless people.
The new project #HomelessHydration this week sees 40-50 volunteers take to the streets of Dublin to provide bottles of water and sunscreen to homeless people at risk during the spell of hot weather.
Director of the charity Anthony Flynn told TheJournal.ie that "there are concerns around dehydration and the access people have to facilities such as homeless shelters throughout the day".
As temperatures rise the charity is looking out for those at risk of sunstroke, as Flynn said that there is "nowhere for people who haven't got money in their pockets to go get a drink if needs be", such as public water fountains.
The team set out at 10am today on the streets of the city centre and along the banks of the Liffey.
There have been volunteers giving out supplies on the street, working in warehouses and driving delivery vans to get the much-appreciated supplies where they need to be.
Flynn said that this initiative is a contingency measure and that the government needs to extend services such as rehabilitation and social housing.
We should not have homeless people wandering around our streets for 12-15 hours a day.
He added that "people should have access to shade from the sun" such as a safe space to avoid complete exposure to harmful sun-rays.
Flynn said these people are not used to these temperatures with many having "never seen weather like this before".
During the sunny days ahead the teams will be engaging with people on the streets to "make things a little bit more comfortable" for people, said Flynn.
The charity received help this week from groups such as Youthreach and Foodcloud as well as online volunteering and donation.
Set up in 2013, ICHH provides services to people in homeless situations and is completely run by volunteers.
The charity holds night walks from 11pm until the early hours of the morning on routes in the north and south side of the city bringing supplies of food, drink and clothes to those sleeping rough.
The charity is urging more volunteers to donate supplies this week and for more information on its work you can visit the website.