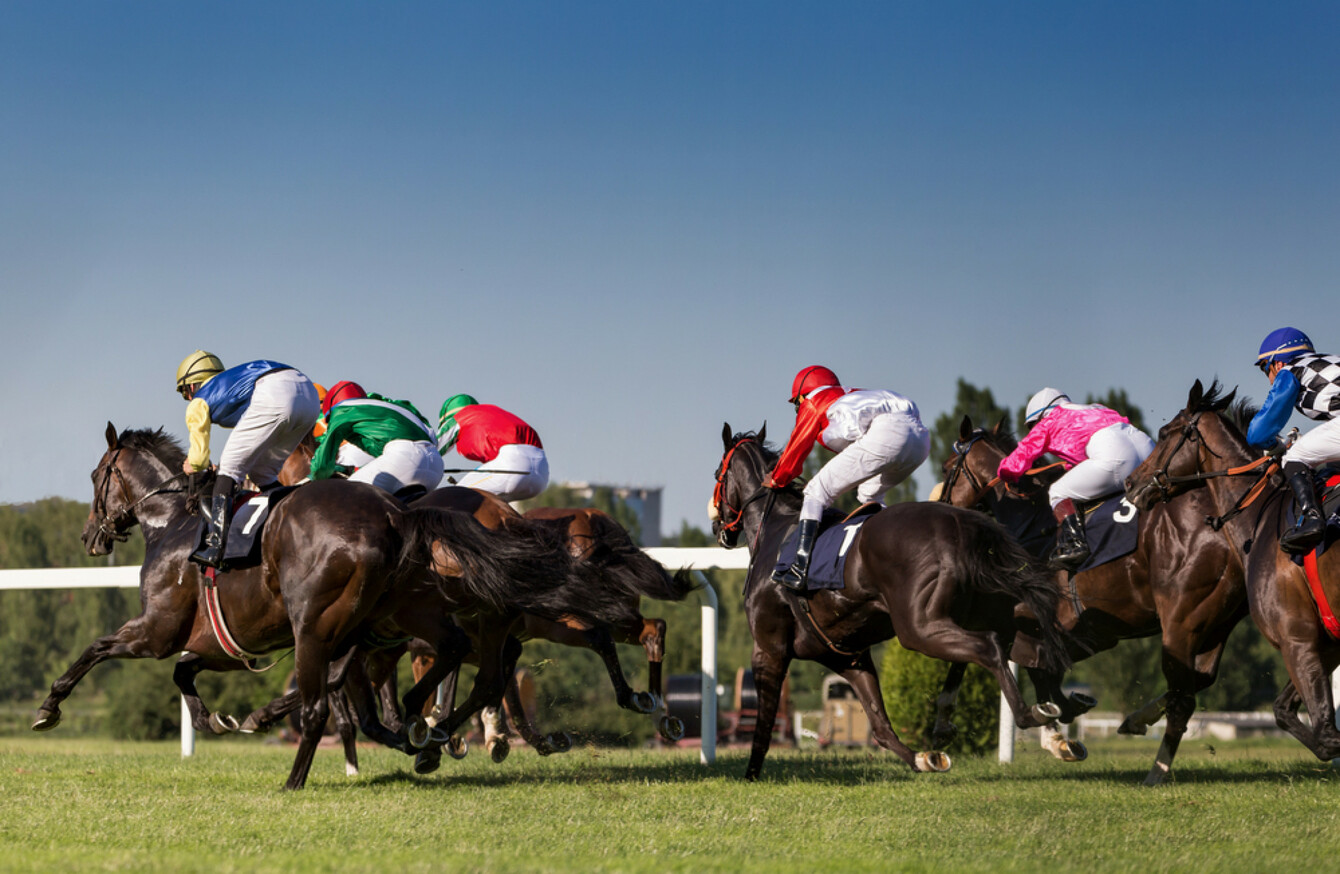 Stock photograph of a horse race.
Image: Shutterstock/Vladimir Hodac
Stock photograph of a horse race.
Image: Shutterstock/Vladimir Hodac
CRIMINALS BELONGING TO a number of Dublin gangs are attempting to use the horse racing industry to move and launder money generated by weapons and drugs sales, the TheJournal.ie has learned.
Over the last three months, officers for the Criminal Assets Bureau (CAB) acting on specific intelligence have launched investigations against a number of men who either part-own horses or have been known to try to intimidate jockeys and trainers.
While one of these is solely a CAB investigation, the other involves detective units and revolves around a horse-training facility whose grounds, gardaí believe, are being used to either stash vacuum-packed bales of money or hide guns.
The man who owns this centre is part of a criminal outfit which runs an intimidatory protection business in Dublin city. (In many cases, when a business sets up in certain pockets of the city, criminal gangs will ask that money be handed over as 'protection'. If the owner refuses, then their new business could be under threat from local gangs.)
In two cases this year, officers stopped horses from being moved to other jurisdictions where they were to be sold. They managed to halt the sale of the horses using Criminal Assets Bureau legislation.
Officers based in anti-gang units are also aware of the activities of some men linked to a west Dublin gang. These men are now attempting to move into the horse racing industry by using people with clean records to purchase horses and become their registered owners.
Earlier this week, CAB carried out a number of searches in Dublin and Wexford, seizing an assortment of items including jewellery, documents and a horse-box.
The searches took place in the Ballyfermot, Finglas and Ballyboughal areas of Dublin and also in Courtown, Wexford.
CAB said it also issued a freezing order on "a substantial amount of cash in a financial institution".
Gang element
As the horse racing business is an international one, national bodies cannot insulate themselves from problems in other jurisdictions. Issues within the Irish field will be felt by those in Britain, France and elsewhere and vice-versa.
Authorities believe that the Kinahan cartel has long been involved in using the horse racing industry to move money around.
Gardaí are also aware of a race-fixing syndicate based in the British West Midlands which is being run by close associates of the Kinahan cartel. The enterprise stopped after a large-scale UK police operation in 2010. However, as the cartel's drug seizures are being caught more frequently due to intelligence, it has now resorted to attempting to fix races in the UK to keep themselves in cash.
Back in November 2007, Daniel Kinahan's name was mentioned in a trial related to alleged race-fixing. Kinahan was not accused of being involved in the alleged fixing and was just brought up during witness testimony.
Former horse owner Miles Rodgers was among six people put on trial for the alleged race-fixing. Footage of Kinahan meeting with Rodgers, who had previously been declared a disqualified person by the English Jockey Club in 2004, was shown during the trial.
All those charged at the UK court walked free after the trial collapsed.
Speaking to TheJournal.ie, Robin Mounsey, spokesman for the British Horseracing Authority (BHA), said that it has dealt with issues arising out of Irish horse racing. He added that there are sophisticated technologies in place to catch those involved in race-fixing or money laundering.
"What we're doing now is moving towards a strategy of education and the attitude that prevention is better than a cure," he said.
"Right now, we have an integrity department which uses very sophisticated methods to flag up potential problems. There is also betting surveillance. These machines can flag up suspicious betting patterns by using sophisticated algorithms. We are alerted if there are concerns."
What can be done
There is also a type of 'fit and proper person' credential for those who have a horse racing license. According to Mounsey, this can be revoked if the person brings the sport into disrepute.
While he could not officially confirm if those with violent or gang-related convictions would fall into the latter category, it is understood that if certain behaviours were brought to the attention of the BHA, then it would have to investigate.
The Turf Club, which is the Irish regulatory body for horse racing, said it liaises with a number of international organisations in a bid to protect its integrity.
In a statement released to TheJournal.ie, a spokeswoman said the club is "very conscious of the protection of the industry" and that it has "developed strong working relationships with other racing authorities to ensure the sharing of information which can help us identify possible threats".
#Open journalism No news is bad news Support The Journal

Your contributions will help us continue to deliver the stories that are important to you

Support us now
However, it did say it had limitations about which it could only do so much.
The spokeswoman added: "We cannot control the actions of those outside the sport. However, all trainers, handlers and jockeys are licensed and subject to the rules of racing. Owners must register with Horse Racing Ireland and are subject to the rules of racing by virtue of their registration.
"As a regulatory body our investigative powers are limited. While we can require production of documents including telephone records and bank account records under our rules, it is limited to specific circumstances and to those who are subject to our jurisdiction and we do not have the powers to seize documentation.
"We are also aware that we have limitations to our jurisdiction and powers. As with other sporting bodies, we need government and gardaí support in order to be able protect the integrity of the sport.
We are also considering further steps that can be taken to protect the sport and will continue to work with all stakeholders to implement best practice.
The syndicate
Horses with multiple owners also throw up a number of problems for the authorities.
According to the Irish Horse Society, syndicates can consist of between two and 20 members. All members of the syndicate must sign the registration form. The horse is leased to one member of the syndicate who must be a registered owner. That person is then known as the 'registered agent' and is regarded as the sole owner for racing purposes.
According to the Turf Club and the BHA, there are teams of people whose job it is to act as the eyes and ears around stables and horse racing circles. The intelligence is then passed on to the appropriate agencies, including gardaí.
Mounsey added: "There is extensive intelligence network that include our teams of BHA investigating officers. They go into the field to make random unannounced visits to stables. This happens alongside people who are the eyes and ears of the network who would report back what they hear.
Wherever there is money to be made, you will have an element which does not have this industry's best interest at heart.
The BHA and Turf Club said they deal with members of the police, both in the UK and internationally, but that "fortunately, those sorts of incidents are rare".