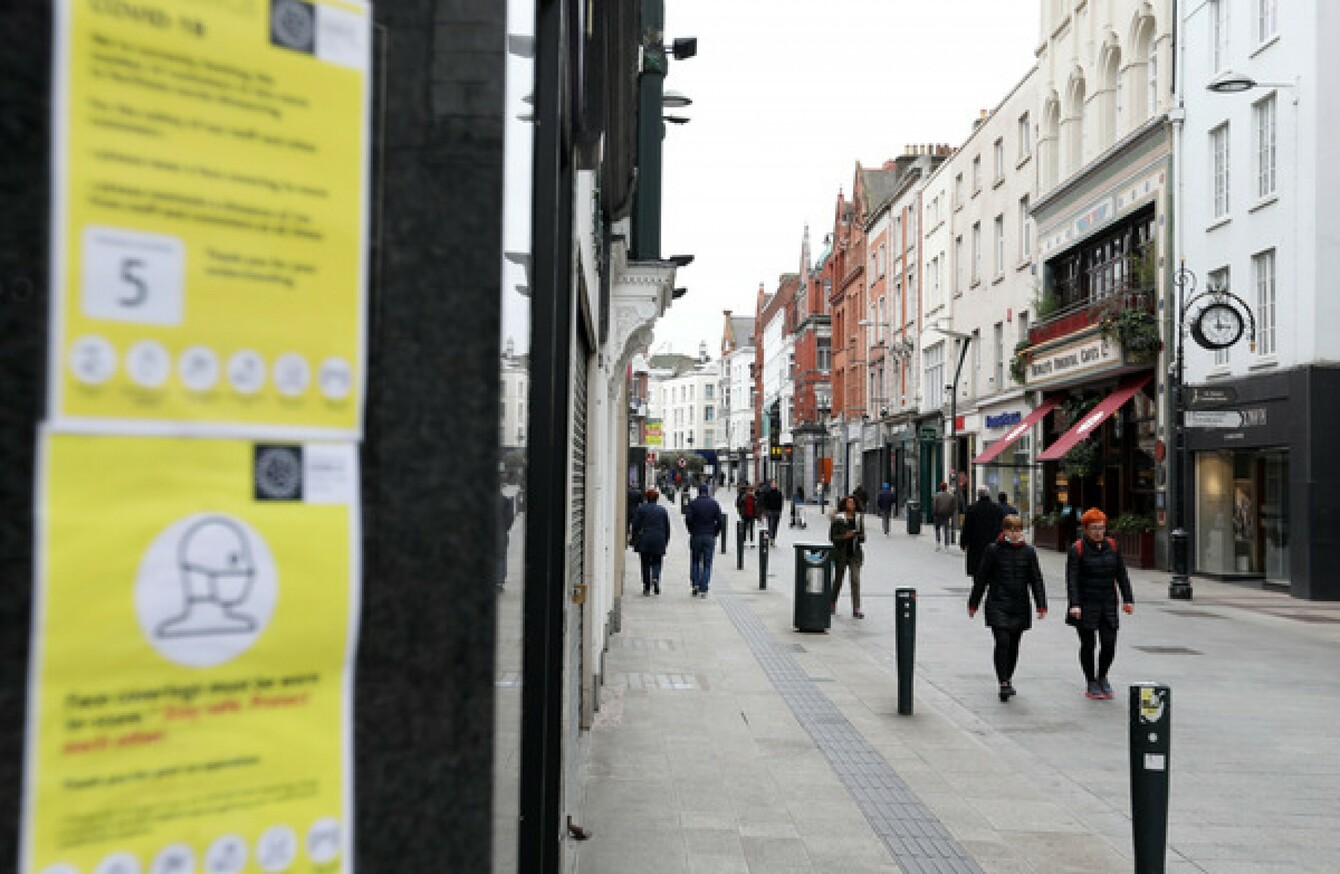 Image: RollingNews.ie
Image: RollingNews.ie
Updated Mar 23rd 2021, 11:10 AM
THERE ARE 342 people in Ireland hospitalised with Covid-19 with 80 currently in ICU. 
The number of patients has reduced by 18 from early yesterday after fluctuating for a number of days. 
The latest figures come after the National Public Health Emergency Team [NPHET] warned the current situation is "volatile" as the Government considers an easing of restrictions from 5 April. 
Health officials last night confirmed 520 new cases of Covid-19 and one death. 
Chair of the Epidemiological Modelling Advisory Group Professor Philip Nolan last night laid out how and where the virus is being transmitted.
"We do know where the majority of transmissions are occurring," Professor Nolan said.
In the week of 8 March, 24% of cases have been attributed to community transmission, meaning that the source of the infection cannot be tracked.
11% of cases in that week are still under investigated. 3% are related to a healthcare setting and 2% are related to travel.
In the remaining 60% of cases, the virus was transmitted through close contact with a confirmed case. Of those, about one-third of the close contacts were associated with a wider outbreak.
"Our picture is dominated by a large number of cases within households," Professor Nolan said.
Deputy Chief Medical Officer Dr Ronan Glynn said there are reasons to be optimistic about having an enjoyable summer.
Restrictions won't have gone away completely, but as more people are vaccinated, it is hoped that cases will decline.
Health officials have set a target of giving over 80% of people a first dose by the end of June, as well as fully protecting people aged over 70 and those at a high risk of severe disease.
"Hopefully we will have disease levels at a much lower incidence overall," Glynn said.
However, with vaccinations not due to ramp up until April any easing of restrictions will depend on the coming days as officials closely watch the trajectory of the disease. 
As of Friday, 668,529 vaccines had been administered in Ireland. Of these, 487,466 were first doses with 181,063 people now fully vaccinated. 
The Government is already coming under pressure to offer clarity to certain sectors heading into spring. 
Retail Excellence has called for the "immediate reintroduction" of click-and-collect services, warning that the current classification of essential and non-essential retail goods is "fast becoming obsolete".
 
Duncan Graham, Managing Director of Retail Excellence, said: "Retailers large and small are frustrated and angry at the complete lack of clarity from the Government on a reopening plan for retail.
 
"The length and scale of this lockdown now means that the lines between essential and non-essential retail are completely blurred, and the classification as it currently stands is fast becoming obsolete. Click-and-collect can help solve this issue: it is also safe, does not lead to mass movement of people as it is largely confined to local shopping, and it provides a much-needed lifeline for businesses, particularly SMEs, who are in dire need of assistance."
MHQ
The booking portal for mandatory hotel quarantine in Ireland, meanwhile, went live this morning. 
The portal is available to access here. More information about mandatory quarantine can be found here. 
All passengers arriving into Ireland from designated States after 4am this Friday, 26 March are now required to pre-book accommodation in a designated quarantine facility, and to pre-pay for their stay.
There are currently 33 countries on the government's list of 'high-risk' countries. 
On 26 February, Minister Stephen Donnelly designated an additional 13 countries and territories as "Category 2 Countries and Territories". These countries/territories are: Argentina, Bolivia, Chile, Colombia, Ecuador, French Guiana, Guyana, Paraguay, Panama, Peru, Suriname, Uruguay and Venezuela.
The 20 other currently on the list are: Angola, Austria, Botswana, Brazil, Burundi, Cape Verde, Democratic Republic of the Congo, Eswatini, Lesotho, Malawi, Mauritius, Mozambique, Namibia, Republic of South Africa, Rwanda, Seychelles, Tanzania, United Arab Emirates, Zambia and Zimbabwe.
The first facility that will be available to receive arriving travellers is the Crowne Plaza Dublin Airport Hotel in Santry.
The Tifco Hotel Group has been appointed as the service provider to assist the State in delivering mandatory hotel quarantine.
Tifco Hotel Group will provide full board accommodation services to guests in facilities designated exclusively for the purpose of quarantine.
In addition, the service provider will provide ground transportation and security services, as well as health and wellbeing services for travellers, within their facilities.
Speaking to RTÉ's Morning Ireland, Donnelly said that passengers from the 33 countries will be met by border management and will then be brought by bus to one of the quarantine facilities.
Passengers will be given welcomes packs and a health screening before being brought to the their rooms. 
Defence Force members will be on-site in an operational capacity and will be escorting buses transporting passengers. 
Donnelly said there there will be no private security provided beyond what Tifco will provide itself. "The care of those who go into [quarantine] first of all is supervised by the Defence Forces as the State liaison officer, and then the day-to-day care really is the responsibility of the hotel management."
People will be escorted from their rooms for exercise, said Donnelly, who said that people will be confined to their room until they receive a 'not detected' PCR test. 
#Open journalism No news is bad news Support The Journal

Your contributions will help us continue to deliver the stories that are important to you

Support us now
The Minister said that it will be an offence to leave quarantine and that Gardaí will be called in to assist hotel staff if a person leaves. 
"The understanding is that you would go back to the hotel," said Donnelly. 
Passengers placed in mandatory quarantine will have access to an on-site clinical presence that could be either a doctor or a nurse, he said. 
"The whole purpose of this really is to act as a deterrent because unfortunately given the world we're living in now and given that this quarantine system really is, in the first instance, about protecting against variants obviously we want as little travel from these countries as possible.
"So we've looked at the UK and what England found was, within the first week or two, they saw about an 80% reduction in incoming travel. Now in other parts of the UK they saw after a few weeks in excess of a 90% reduction.
"So obviously we'll have to wait to see what happens here. One of the issues will be Irish citizens, Irish residents who are in these countries or who travelled through these countries wanting to come home," said Donnelly.
"So at some point are we going to have to look at what level of reduction there is."