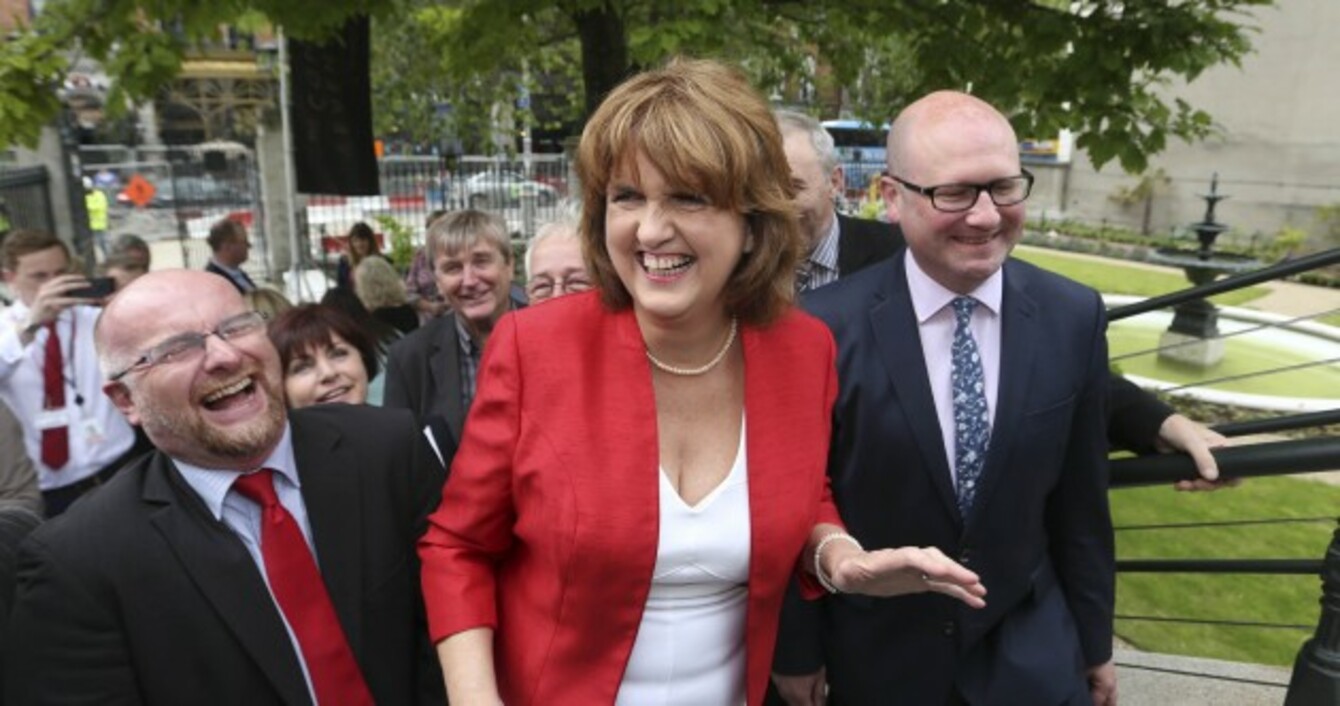 Joan Burton was all smiles all day yesterday
Image: Sam Boal
Joan Burton was all smiles all day yesterday
Image: Sam Boal
THE BOXES HAD only been open for a few minutes but it was already abundantly clear what was happening.
"There's a trend already," was the buzz phrase doing the rounds as Joan Burton was not only ahead of Alex White but ahead by a margin of 3 to 1.
It wasn't even close, it was all over bar the counting but seeing as Labour prides itself on the democratic process we would have to wait for official process to play out.
Party member had begun arriving in the spacious Round Room at the Mansion House – an appropriate location given it was where the first Dáil assembled in 1919 – from just after midday already knowing what was going to happen.
The only surprise of sorts was in the deputy leadership contest where junior minister Alan Kelly was so far ahead it looked like he wouldn't even need to rely on transfers, and so it transpired.
The day moved at a fast pace with all the bricks falling into place neatly for Burton to take her place as the second most powerful politician in the country.
The next big development of the day was the resignation of Eamon Gilmore.
The now ex-Tánaiste has had his clashes with Burton over the past three years but was graciously stepping aside to allow the Taoiseach to appoint his successor "at the earliest possible time".
Arriving at the Mansion House later in the afternoon, Gilmore was grinning from ear to ear.
He has looked genuinely unburdened in recent weeks and was, frankly, in terrific form yesterday afternoon as he hailed the election of Labour's first female leader.
Any regrets?
No, said Gilmore and he was off inside to hold hands with his successor – a sight few could have anticipated given the events and the very obvious strains in the pair's relationship in recent years:
Earlier failed leadership contender Alex White had declared this "Joan's day" accepting defeat in a most gracious manner.
In truth it was a landslide for Burton but White had probably accepted it was going to fall this way sometime ago as hard as he had tried to distinguish himself from the supposedly 'old guard' candidate.
Once inside and the result was declared, Gilmore was up to give a short speech.
Councillor and returning officer Richard Humphreys had introduced him as the Tánaiste before Gilmore playfully corrected him and declared himself "so proud" that Labour has a woman leader – it's first.
He said this would be a difficult job, adding half-jokingly: "I know."
Then it was over to Burton who was as emotional as some of her closest advisors were in the audience below her.
White said his bit and stuck to the theme of this being very much "Joan's Day" by hailing her as a "woman of exceptional ability… she is tenacious, she is a fighter".
Then Labourites decamped to the Royal College of Physicans where for some reason it was decided to hold a press conference, but in truth it was more like a rally.
Journalists were outnumbered by party members and TDs were openly gossiping about what lies ahead for them in the hotly anticipated reshuffle.
Burton arrived to huge applause, cheers and a standing ovation:
She had some news.
In the period between her leaving the Mansion House and arriving at the Royal College she had been appointed Tánaiste. Thunderous applause ensued.
She gave a considered speech and spoke of the party having "governed perhaps too much with the head and not enough with the heart" borrowing a quote from her one-time colleague in Leinster House Michael D Higgins.
Burton outlined her priorities – housing and tackling low pay – and gave typically Burtonesque answers to the media's many questions i.e. lots of words but absolutely no hints as to what lies ahead in the reshuffle negotiations next week.
She said Gilmore was "eminently well-qualified" for the role of European Commissioner but when TheJournal.ie asked her if he was more qualified than the other contender Phil Hogan she joked: "I am sure that there are many people, the length and breadth of Ireland, who would consider themselves eminently qualified."
The Dublin West TD was laughing too when she shrugged off the very notable absence of ministers Ruairí Quinn and Pat Rabbitte from the day's festivities. They were having some down time with their family or maybe even a pint, she said.
She had spoken to Rabbitte at lunchtime and had had a long chat with Quinn earlier in the week. 'No biggie' was the general response to any suggestion of a sinister reason for their absence.
Besides, this was all about celebrating:
Then everyone was back to the Mansion House for Alan Kelly to be crowned deputy leader — and crowned he was, in quick time.
Kelly's victory speech once more contained the line he has used up and down the country at hustings in recent weeks about Labour being in his DNA and about his deep, deep love for the party.
He was, as it is easy to be when you're the winner, full of praise for the losers, saying Labour is "in good hands when you have the calibre of Ciara, Michael and Seán" running for office.
He took auction politics to a new level by pledging "1,000 per cent loyalty" to Burton before he gave way to each of the failed candidates to make short speeches.
Conway pointed out that she would never tire of saying "Tánaiste Joan Burton".
Kelly later spoke to the media and made no bones about the fact he expects to be in Cabinet. He also wants to help rejuvenate the Labour party.
Over the past five weeks Labour has been engaged in a cathartic and therapeutic process of talking about its problems. In the leadership and deputy leadership candidates, these members have found sympathetic ears and lots of reassuring words.
It's over to Burton and Kelly to deliver on those words now and lift the junior coalition party that has been battered so much over the past three years.
But before that there's the great political game that is 'The Reshuffle' or as one ministerial hopeful put it on their way out of the Mansion House last night: "There's a few gaps to fill over the next few days."
They added hopefully: "And I hope to fill one of them." They aren't the only one.