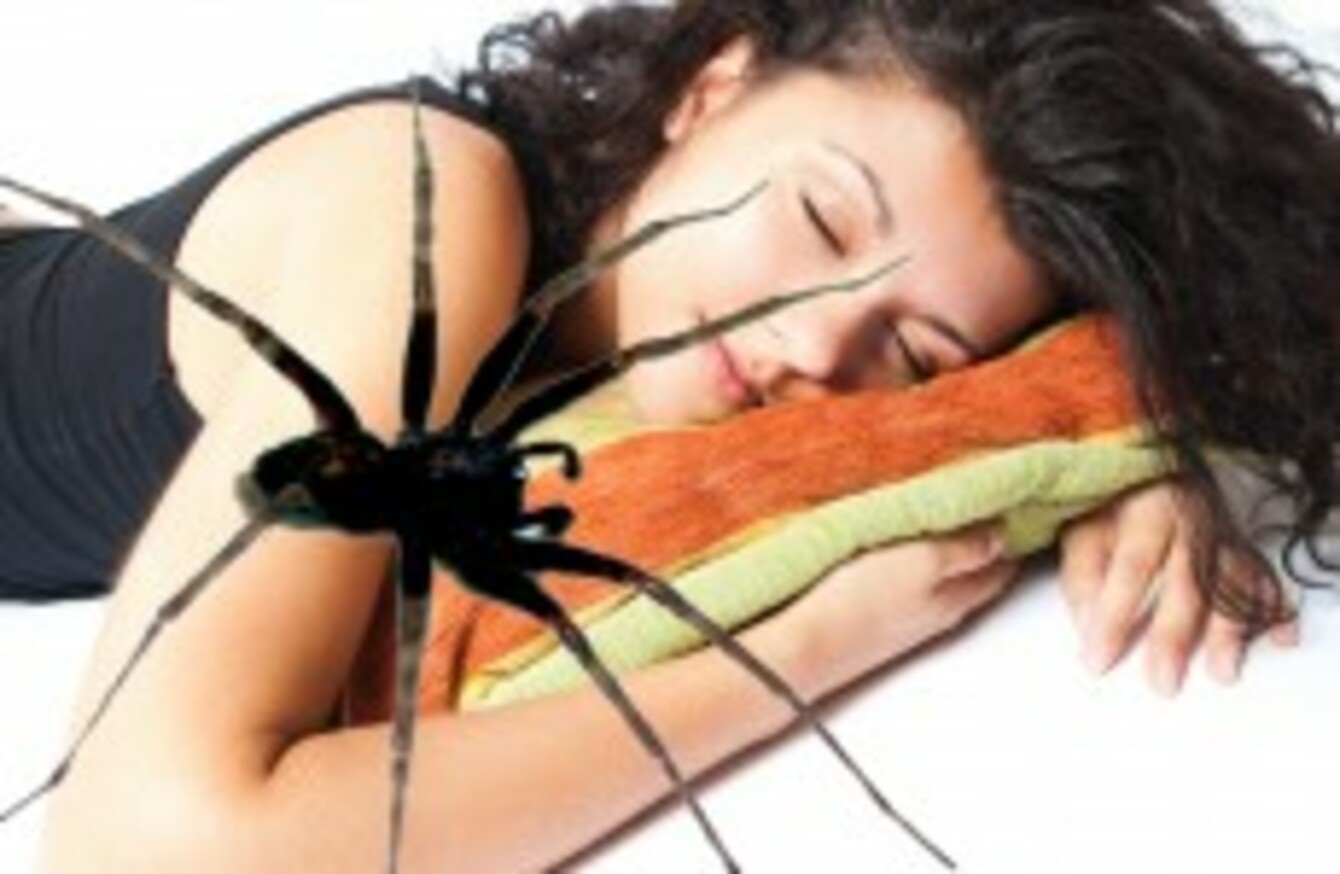 A spider pays a woman an unwelcome midnight visit
Image: RelaxingMusic/chedder via Flickr/Creative Commons
A spider pays a woman an unwelcome midnight visit
Image: RelaxingMusic/chedder via Flickr/Creative Commons
IN A NEW series, TheJournal.ie takes a look at an urban myth, old wives' tale, or something that your mammy told you years ago, to see if there's any truth in it.
When you last had a midnight snack, it was probably a sloppily-made sandwich or some leftover dinner.
While those are consumed voluntarily in an almost conscious state, you might be unwillingly having a few extra snacks every year in the form of stray spiders.
It's a popular myth which seems reasonable enough. Spiders do like to hang around in corners and dark places, like under a bed. One easily could (look away if you're squeamish) crawl onto your bed and end up accidentally falling into your gob.
Snopes.com says that the rumour was published in 1993 in PC Professional magazine, having been taken from a 1954 book on common disbeliefs, although whether or not this magazine actually existed itself is queried.
However, TheJournal.ie spoke to spider expert Myles Nolan, who told us that while not impossible, this is very unlikely.
"Most of the common domestic spiders are web-bound," he explained, "if they are moving around in order to find a better place to set a web the human mouth does not offer the kind of microsite in which they would want to do this.
Some species abseil
"In the very unlikely event that a spider did manage to land directly in your mouth, since some species will abseil from ceiling to floor at night, I think a spider would make a very hurried exit by climbing back up it's abseil line."
"Besides, what's comfortable about a windy, moist cavity that's flooded with carbon dioxide and liable to close on you?"
That's not to say a spider isn't bunking up with you. Some spiders find the creases in your blanket a very appealing place to snuggle up. If your bed is against a wall, spiders such as Steatoda grossa (false widow) or Pholcus phalangioides (the daddy-long-legs spider) are likely to build a web down the side.
A Harvestman, who may or may not be hiding down the side of your bed. (Image Credit: Shutterstock.com)
To avoid this, Myles recommends that "all you have to do is move your bed away from the wall once every couple of months and hoover the carpet, side of bed and wall area".
"This will take care of anything trying to stake a claim."
But would it really be that bad if you did eat a spider? Nutritionist Paula Mee noted that while the nutritional benefits of eating a singular spider would be trivial, insects and arachnids are good for you. They could also benefit the environment.
"Insects can have high levels of protein, and some vitamins and minerals" she told TheJournal.ie, "and commonly bred insects such as locusts, crickets and meal worms emit 10 times less methane than traditional livestock."
It's no secret that people around the world eat insects (turn away, again, if you're squeamish but somehow still reading) where they grow large enough to be harvested easily. Although there are as many as 1,000 varieties on offer, Paula believes it might be a hard sell to Irish audiences.
#Open journalism No news is bad news Support The Journal

Your contributions will help us continue to deliver the stories that are important to you

Support us now
Number of insect species eaten in different countries across the world. Click here to view a larger version of the image. (Image Credit: United Nations Report)
"It's hard enough to get people to try new veggies, not to mind trying out an insect menu. It's very important how they are prepared. Smothering them in a peanut satay sauce might be okay, but there's still the yuk factor.
"For now, putting them on our plates is about as likely as ditching the beef burger for a horse burger."
So while it might be healthy for you, it looks unlikely a spider could end up in your gob at night.
Is there a myth you'd like debunked? Email nicky@thejournal.ie