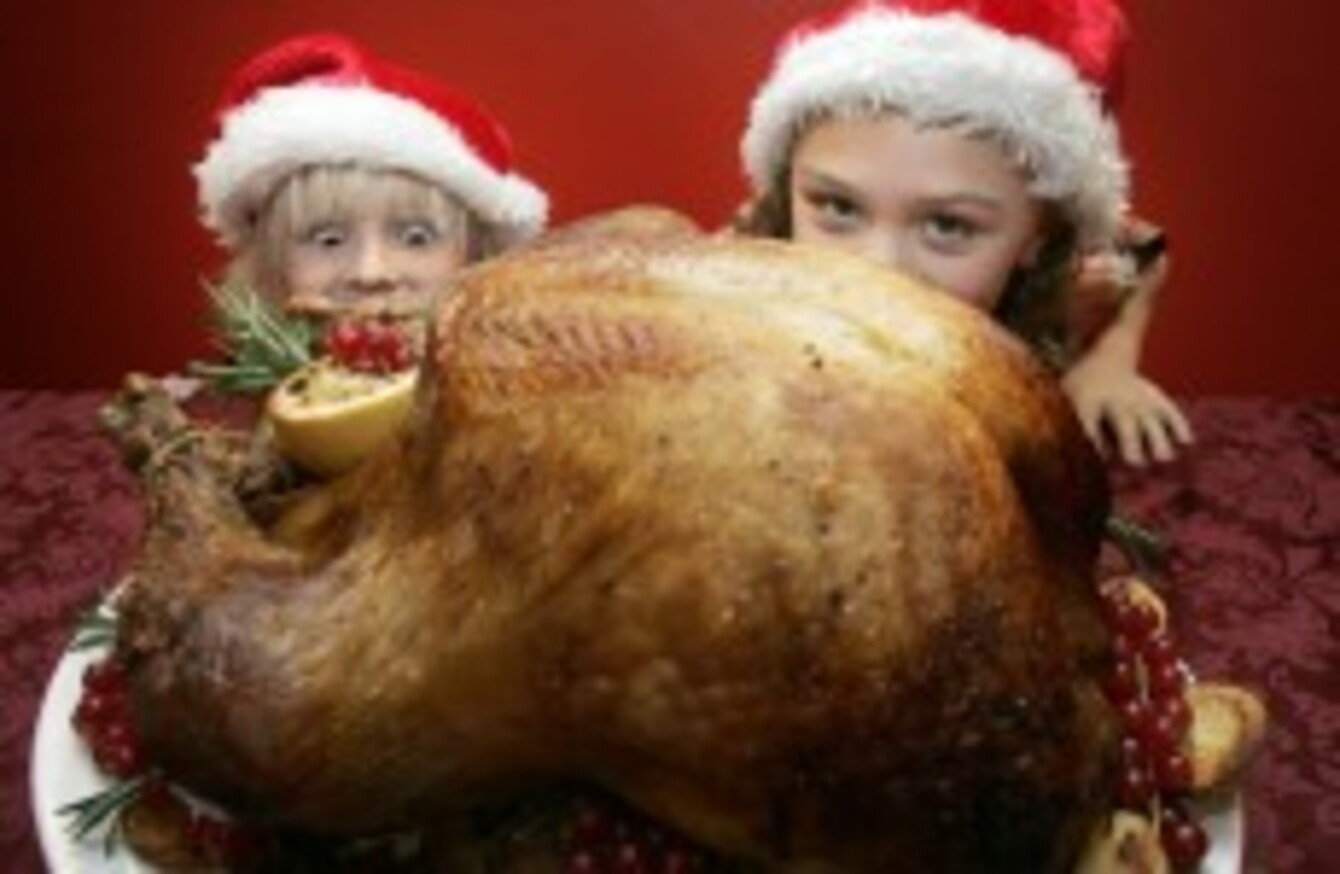 The ideal turkey should be approximately four times the size of a child's head. Maybe.
Image: Mark Stedman/Photocall Ireland
The ideal turkey should be approximately four times the size of a child's head. Maybe.
Image: Mark Stedman/Photocall Ireland
REMEMBER YOUR JUNIOR Cert Home Economics class where you learned how to perfectly cook a turkey?
No, of course you don't. Christmas turkeys are basically a case of trial and error, often dependent on family traditions, quirks and tastes which are handed down through Chinese whispers (or which remain a closely guarded secret, depending on your family).
Whether you like them slathered in cranberry sauce, drowning in gravy, or au naturel with a heap of vegetables, here are some tips from the experts on how to make everything go smoothly and to ensure that the turkey isn't as dry as sawdust on the big day.
The one thing to bear in mind that you can play around with the rules to some extent (although don't go putting it in the microwave to defrost or anything crazy like that).  Everyone has their own way of doing things, whether it involves cooking the stuffing inside or out, having rashers cooking across the turkey as it roasts, or just bashing the bird in the oven for four hours and hoping that everything turns out ok. Hey, whatever works.
Picking the turkey
Ah, the first hurdle. You may have had it sitting in your freezer for weeks, or you may be planning a Christmas Eve dash to the supermarket up the road. Either way, the most important thing to look for is the size.
How many people do you have to feed on Christmas Day? And how willing will they be to eat turkey sandwiches for days afterwards? As a rough guide, here's the size you should be looking out for, according to Bord Bia:
3kg:  Serves 6 – 7 people
4kg: Serves 8 – 9 people
6kg: Serves 12 – 13 people
8kg: Serves 16 – 18 people
10kg: Serves 20 people
The other thing to look out for is how the turkey was reared and whether or not it is organic. This might matter to you. It might not.
Beforehand
Defrost, defrost, defrost. If your turkey is frozen then you need to give it at least 24 hours to defrost slowly and completely. The British Turkey website has a helpful calculator on its website on the right hand side where you put in the weight and it tells you how long it will take.
Pre-heat the oven to 220 degrees Celsius (450 degrees Fahrenheit, Gas Mark 7).
Take the turkey out of the fridge at least an hour before you cook it to allow it come to room temperature. Wash it inside and out, patting it dry with some kitchen roll. Don't leave the plastic bag of giblets lurking inside the bird, warns BBC Good Food. That way bad things lie.
Weigh the turkey after you have stuffed it to work out the cooking time. Bord Bia suggests that for turkeys up to 8kgs you should cook it at 15 – 20 minutes for every 500g. For turkeys over 8kgs, you're looking at 10-15 minutes per 500g.  So basically you're looking at something like this:
2kgs: 1 hour 10 minutes
4kgs: 2 hours 20 minutes
6kgs: 3 hours 30 minutes
8kgs: 4 hours 10 minutes
10 kgs: 4 hours 50 minutes
The stuffing
Either make your own or use shop-bought stuffing, depending on how much time/money/inclination you have.  If you're cooking it inside the bird, loosen the skin at the neck end with your hands and pack the stuffing in (but not too tightly because it will expand as it cooks). Bord Bia suggests tucking the neck flap under the bird's back and securing it with a cocktail stick.
There's always a bit of debate about whether or not to stuff the main body cavity of the bird or not. Delia Smith says that it's only dangerous to stuff the body cavity if either the turkey or the stuffing is not defrosted properly because the heat will not penetrate it quickly enough. As long as both are at room temperature it will be fine, she says.
Got any left over? Cook it in a covered baking dish along with the turkey.
The main event
Season the turkey with some salt and pepper making sure to rub it all over the bird, brush it with a little melted butter, and cover it with tin foil (you can remove this for the final half an hour).
You might want to put a whole lemon, a halved onion or some herbs (such as thyme or rosemary) into the main body cavity to add flavour.
Put the turkey onto a large roasting tray. Add vegetables to the tray if you want them to cook alongside it.
Put it into the pre-heated oven and reduce the heat to 170 degrees Celsius (325 degrees Fahrenheit, Gas Mark 3) after the turkey has been cooking for 30 minutes.
If you want to keep the turkey from drying out, Jamie Oliver recommends basting it with the juices from the bottom of the pan a couple of times every hour. However Delia Smith says you'll only need to do this once after about 3 1/2 hours in.
Is it done? 
When you've cooked it for the recommended amount of time, use a skewer to poke into the thickest part of the bird. The juices should run clear with no pink tinge at all.
Leave the turkey to rest for at least 30 minutes before carving it.
Enjoy… 
Do you have any tips or tricks that you use to make your turkey every year? Let us know in the comments…