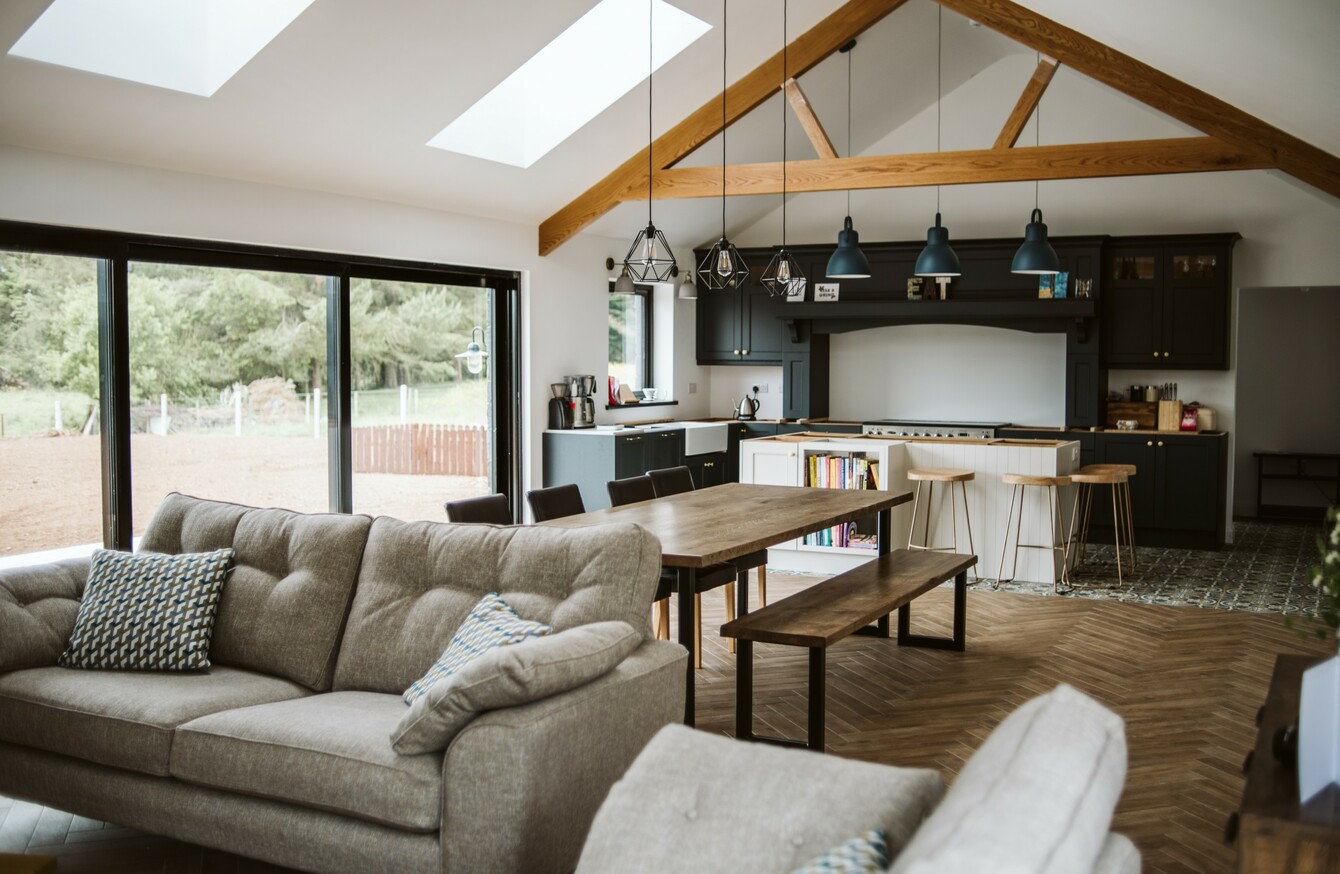 Image: Connor McCullough
Image: Connor McCullough
About you
Name: Connor McCullough (@afieldbetween)
Age: 33
Occupation: Software consultant, and part-time wedding photographer. Lorraine, my wife, is a school office assistant.
About your home
Where is your home located? Just outside Ballymena, County Antrim
What type of house is it? A new self build bungalow
How many bedrooms and bathrooms? Five bedrooms (though we use one as an office and one as a playroom), three bathrooms.
When did you move in? The end of May 2020, after some delays due to the COVID lockdown. The house still isn't quite finished: we still need the kitchen worktops and wood burning stoves installed, and there's some final plumbing to do, but it's finished enough to live in.
Who lives there? Connor and Lorraine, our kids Eva Lily (5) and Caleb (2), and our dog Dexter.
What made you choose this design and location?
The site is family-owned and sits right beside Lorraine's family, so it was a no-brainer to try and build here. As for the design, we always knew we wanted a large open plan living space. We originally wanted the house to go up to a storey and a half, but the local planners imposed a height restriction. Our architects, Big Design Architecture, helped us come up with a great single storey design instead.
What is your favourite place in your home?
The whole design was built around our dream of an open plan kitchen/dining/living space, with a vaulted ceiling, exposed trusses, and doors that open into the garden. We recently found some of our sketches from five or six years ago, and while the rest of the house's design has changed, this space is almost exactly as we planned it then, right down to the layout of the kitchen.
Is there any part of the home/the build you don't like so much?
I don't think so, not yet anyway, hopefully it stays that way!
Is there any part of your home that makes it unique?
The shape and layout of our house is unusual – from above it looks like a H shape. This allowed us to keep all the bedrooms to one side for privacy, and then to have our living/post COVID-19 entertaining space on the other side. The link in the middle has the front and back entrances, including our bright orange front door.
How does an average day start in your home right now?
Due to the pandemic, the situation is a little different right now: our daughter has been off school, I've been working from home and Lorraine is only working two days a week. Generally though, our kids have us up by 7am. We grab breakfast, and usually watch BBC or CBeebies in our open plan space.
#Open journalism No news is bad news Support The Journal

Your contributions will help us continue to deliver the stories that are important to you

Support us now
I start work around 7.30am. We have an office right off the kitchen. Lorraine either heads to work just before 9am, or gets going with some home schooling for Eva Lily, but as she's only 5 we're fairly laid back about it.
How does an average day end in your home right now?
A lot of evenings are spent unpacking boxes, starting to find places to keep our stuff in the new house, or tidying up after our kids. We usually start cooking dinner about 4.30pm. The main evening routine kicks off by getting the kids into bed in their own rooms for 7pm. Usually we have a cup of tea on the sofa, again in the open plan space, or if it's warm and sunny, out on the patio. We try to go to bed early, around 9pm or 10pm.
Is there anything you'd do differently if you were designing/decorating again?
When you're building a house, you have to choose the placement of your plug sockets very early on in the process, so it's a hard one to get right. There are a couple of spots in the house where we got it wrong, but considering it's only a couple, so it's not bad going.