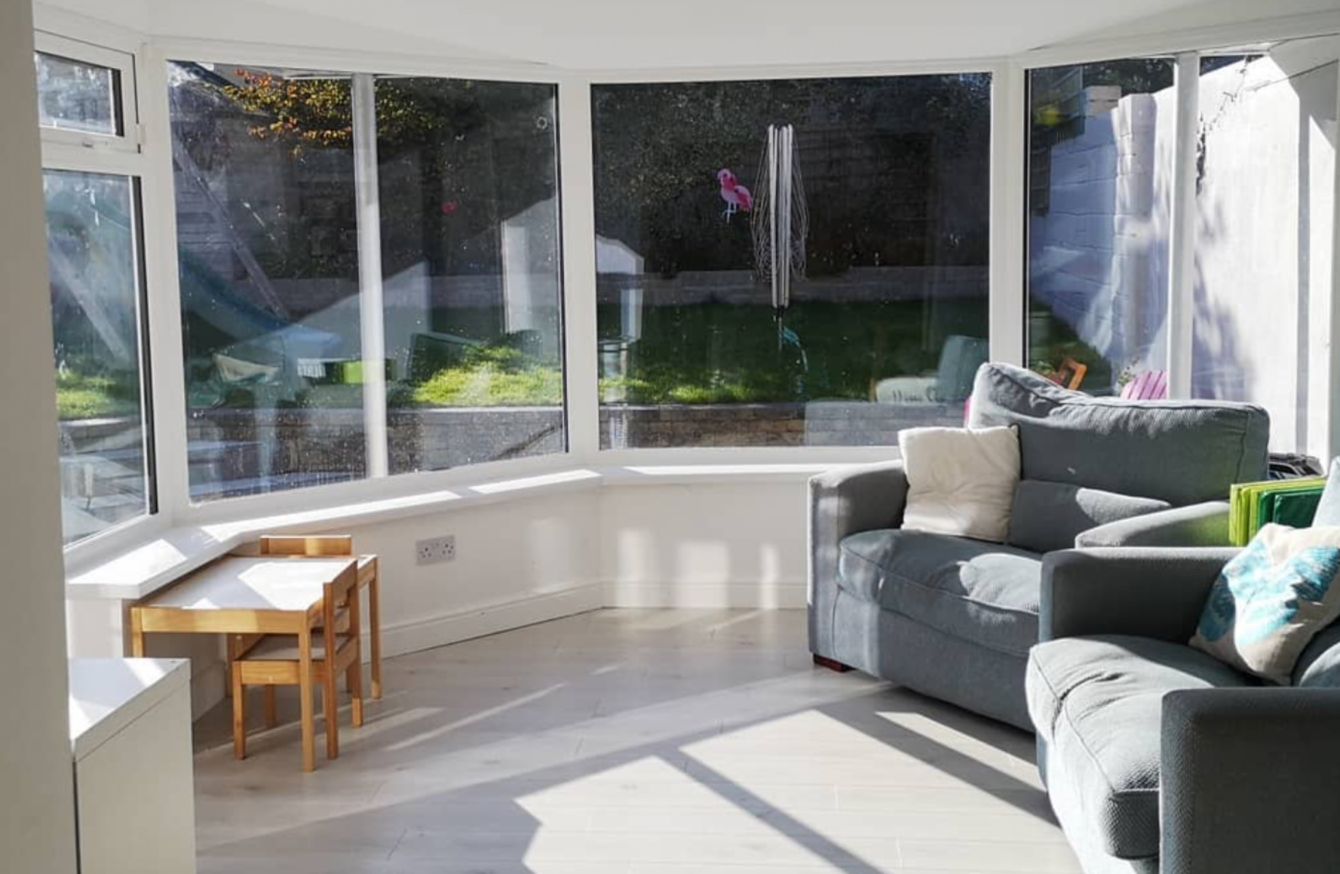 The sun room in Michelle's home.
Image: Michelle Coghlan via Instagram
The sun room in Michelle's home.
Image: Michelle Coghlan via Instagram
About your home
Where is it? Close to the beach in north county Dublin
What type of house is it? Semi-detached with a garden and patio out the back
How many bedrooms and bathrooms? Four bedrooms and two bathrooms
When did you move in? 2009
About you
Name: Michelle Coghlan
Age: 38
Occupation: I previously worked in finance, and I'm currently at home minding the kids.
Who else lives here? My husband and our three children.
What made you choose this home over others? 
My husband grew up around the corner, so we had been looking in the general locality. The area itself ticked all the boxes in terms of amenities, schools, leisure facilities and is near the beach so it was easy to see why he wanted to come back to it.
The houses here are a great size. We started by renting this place from extended relatives of my husband. After renting it for a year, we asked them if we could buy it, and they agreed. 
What is your favourite place in your home? 
My living room for sure. It was the first room we decorated when we bought the house, so it was in need of updating and had been done on a tight budget the first time after using most of our money for the deposit.
We learned from mistakes we made the first time and I really love what we have now. I can sit there in the mid-morning and have my coffee while admiring the garden with the morning sun shining in. Now that it's come into winter, we love to close all the curtains (it has three windows, so there are a lot of curtains) and light the stove. The dark walls make it feel extra cosy. 
Is there any part of the home you don't like? 
I don't like our utility room, or Siberia as we call it. It's under the flat roof that used to be the garage and had already been converted when we bought it and it's just freezing in the winter.
The bathroom is bigger than it needs to be, which means the storage and working space left is quite small. It also has a tiny room on one side that used to be a toilet. A different layout could make much better use of the space. 
Is there any part of your home that makes it unique? 
Our "little house" under the stairs. My husband had something similar in his parents' house growing up, so we designed the space to be a fun little play house for the kids. There's a window looking out into the kitchen which they can peek out of – they often run a café from it…
Take us through an average day in your house, room by room.
7.10am: The alarm goes off in the bedroom. We do a quick check to see which child has joined us in our bed during the night and then snooze for another 10 or 20 minutes. 
7.30am: The eldest will get herself dressed for school and the younger two will head downstairs for breakfast and cartoons in the sunroom.
8.30am: We leave for school.
9am: I drop the middle child at Montessori on the way back from school and head home with the toddler to clean up the kitchen after breakfast and put on some washing in the utility room. 
10.30am: I usually have some coffee in the living room and my youngest has a snack.
11am: Nap time for the toddler, so that means craft or upcycle/DIY time for me in the study. I try to get something creative done during nap time, but those nap days are coming to an end sadly.
1pm: I get the youngest up from her nap and we head out to do Montessori pick up.
2.25pm: I head out with the younger two kids to do the school collection. After that it's lots of snack making, after-school activities, play-dates and homework.
5pm: Back to the kitchen to get making dinner. After dinner the kids will play and watch TV in the sunroom before it's time for bed.
7pm: Bedtime starts for the smaller two. A couple of evenings a week, myself or my husband will head out for an exercise class or sporting activity.
8.30pm: Bedtime starts for the eldest.
9pm: My husband and I sit down in the living room and watch telly with a cuppa and catch up with each other on the day.
10-10.30pm: Time for bed. We get some sleep for a few hours before one of the kids wakes up and comes in.
Is there anything you'd do differently if you were doing it again?
If I had the patience, I'd save for longer in order to do a bigger job at once. It might have been better to reconfigure the layout downstairs as part of one big job instead of doing up one room at a time and staying with the same layout. I'll keep dreaming about my ideal house!