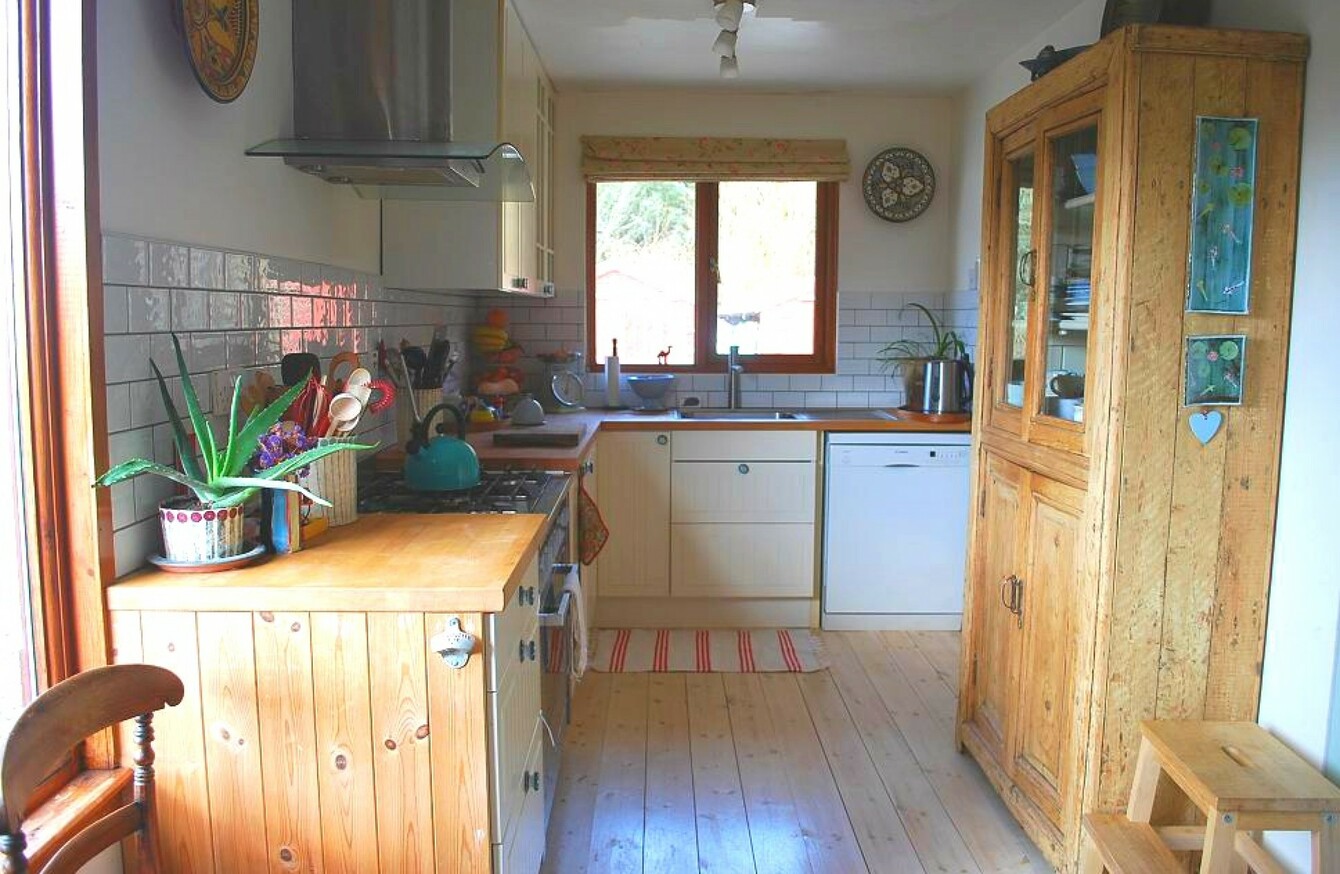 Image: Rosemarie Durr
Image: Rosemarie Durr
About the home
Where? Rural Kilkenny, outside Castlecomer
What type of house? Detached timber-framed bungalow
How many bedrooms and bathrooms? 2 bedrooms, 1 bathroom
When did you move in? 13 years ago
About you
Name: Rosemarie Durr
Age: 45
Occupation: Potter (owner of Rosemarie Durr Pottery)
Who else lives there? My husband Andrew, two kids, two hens and our cat Jabo
1. What made you choose this house over other ones?
This is the only house we ever viewed. We had been saving to buy a house, but it was back in 2006 and houses were a bit mad in price, so we hadn't even gone for mortgage approval. Then I spotted this house in the local paper.
It ticked a lot of boxes for us: south facing, bright, a good view, a large garden with lots of trees and room for expansion, and it was timber framed so it would be well insulated and dry. We had lived in a few old houses and, though we loved them, we were not willing to put the work and money into renovating an old house, so this suited our needs.
It is small and we had intended to build on after a few years, but the recession delayed our plans a bit. We are hoping to extend soon.
2. Which place in your home do you love the most (and why)?
I spend a lot of time in our kitchen but it's the garden I love the most. We did a lot of work in the garden initially, getting rid of lawns and flower beds. We planted more trees and lots of woodland bulbs and flowers, with the hope that it would naturalise somewhat over time, so that's where we're getting to now.
It still takes a lot of work to keep brambles and weeds from creeping in, but I can easily spend hours working away in it, listening to the birds sing and the kids running around.
3. Which place in your home do you love the least?
We have a utility room that everything seems to get dumped in, it's like a black hole for clutter. It has open shelving that is always crammed with stuff, despite my attempts and clearing it out. It could definitely do with some serious storage solutions or else just get rid of half the stuff. Probably a combination of both.
4. Take us through a day in your house, room by room
7:00am: The kids get up, they are usually awake ages by now, but they know not to come out until 7am (we don't even have an alarm clock). Andy gets up and makes breakfast for everyone, which we eat in the kitchen or the picnic bench on the porch, depending on the weather. The sun rises in front of our house, so the front porch is a suntrap in the mornings. The back of our house faces the road which is unusual, in Ireland but it was built to face the view and we love this about the house as it's completely private.
The kids spend a lot of time in the living room. It's the largest room in the house with windows facing in three directions so it gets the sun all day long. They play on the floor a lot and I'm glad we put a carpet in here as it just makes it more comfortable for lying on.
9:00am: I'm back from the school run which is a small country school only a mile away. If I'm working from home I usually head out to the studio in the garden and Andy will take a coffee on the porch followed by a few tunes on the fiddle or banjo before he heads into the studio shop in Castlecomer Discovery Park.
11:00am: I will stop for a coffee, which I will enjoy in the garden, walking around, taking note which areas I need to work on next. If it's raining, I'll just have my coffee while I'm on the wheel.
1:00pm: Back in the kitchen, I'll be fixing lunch, which often includes some fresh eggs from the girls and if it's in any way sunny, I'll eat at the picnic table on the porch. I will use this time to prep dinner and give the house a quick once over, picking up the kids stuff and giving the place a hoover.
2:00pm: I head down to the studio shop in the Discovery Park and Andy comes home for lunch before collecting the kids from school at 2:40.
5:00pm: I get back and get dinner up by 5.30pm. Our kitchen gets the sun in the evening, so Andy and I often linger on to chat after the kids have bolted outside to ride their bikes. In the winter it's a challenge living in a small house with young kids, but this time of year it's great. They are happy to be outside until bedtime.
8:00pm: The kids are usually gone to bed and I either go back to the workshop, out to work in the garden, or catch up with computer work in the living room. We have a stove here, and in the winter it's definitely the heart of the house.
10:30pm: We are usually in bed. I love early nights with a good book. Oh, how times have changed!
5. Is there anything you'd do differently if you were doing it again?
We haven't done any structural work on this house; it works well for us except we need a larger kitchen and one more bedroom. So at this stage we just want to get cracking on that, and all the rest is cosmetic.