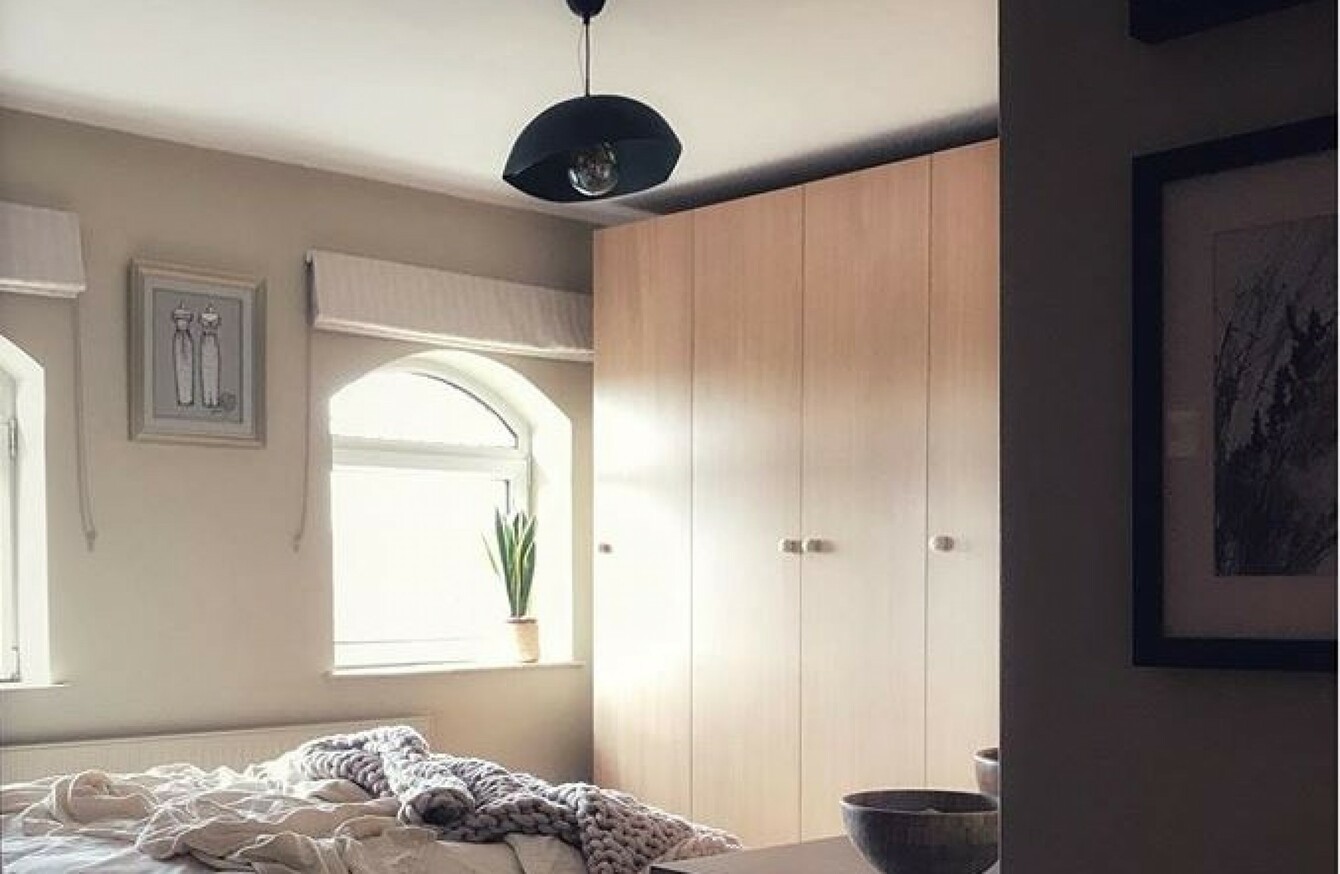 Image: Instagram/Tríona O'Leary
Image: Instagram/Tríona O'Leary
About the home
Where? Rathbarry, West Cork.
Type of house? Bungalow
How many bedrooms and bathrooms? 5 bedrooms, 5 bathrooms
When did you move in? December 2018
About you
Name: Tríona O'Leary
Age: 33
Occupation: Education inspector
Who else lives there? My husband Seamie, pets Berkeley and Fern.
1. What made you choose this house over other ones?
We had been planning the move from Cork city to West Cork for quite a while. Eventually, we placed our home on the market in May 2018 and immediately started viewing in Clonakilty and its surrounding area. The home we are now so in love with was not even on our radar and it was our auctioneer that persuaded us to have a look. The unusual layout, which originally kept us away, quickly became its selling point as well as the one-acre mature garden. Its potential to become our dream home unfolded in front of us.
It is located in a beautiful village, close to woodland and beautiful Long Strand beach, a community of its own but just a 7-minute drive from the town we both love so much and where both our families live.
2. Which place in your home do you love the most (and why)?
I love our bedroom, the unique arched windows and the views are just spectacular. It is a room we have decorated from ceiling to skirting and it really gives me a daily reminder of what we are capable of and motivates me to keep going.
My husband loves the mature one-acre garden, it has become a labour of love and I am amazed at how much time we spend in it. A hammock we bought hangs in the highest part of our plo, and treats you to views of the Long Strand Beach, Galley Head Lighthouse and the Castlefreke Castle. It's a dreamy space that reminds us both how lucky we are.
3. Which place in your home do you love the least (and why)?
Currently, the kitchen is the space that causes me the most frustration. While very functional, it just doesn't depict our personal style and flare.
The layout in our home needs some renovation for it to work with our lifestyle. We plan to knock the wall from our current living room into the current kitchen to make a much larger and light-filled space. We only moved in December 2018 though, so we need to be patient. We plan to live here for a long time so are taking our time in making such drastic changes until we are one hundred percent sure.
4. Take us through a day in your house, room by room.
6am-9am: Alarm goes off (currently a barking puppy). I open the blinds to those beloved arched windows to see what kind of day faces us. Coffee machine is popped on as I bring Fern the puppy out to go to the toilet. Seamie and I then take a few moments enjoying a coffee and chatting about the day's plans. My work routine changes daily, so it's either in my home office for 8am or on the road before 7:30am. Seamie leaves for work around 9am.
10am – 5pm: On days I work from home, I have my breakfast break around 10am and enjoy at the dining table or outside. I take a quick walk through the local woods behind our home to exercise Fern for my lunch break at 1pm.
5pm: My work day finishes between 5-6pm and I begin to prepare dinner.
6pm-9pm: Seamie will arrive home from work and we usually hang around the garden before a walk to local beach or forest with Fern before dinner. Dinner is slow and relaxed, catching up from the day's events; chasing the sun, it will probably be enjoyed in our current living room (soon to be kitchen). Most evenings some DIY is tackled; current projects are constructing a boundary fence or decorating the spare bedroom.
9pm-11pm: We all pile into the living room to enjoy some Netflix. Our eight-year-old cat Berkeley and four-month old puppy Fern will undoubtedly chase one another about. The bats nesting in the wall cavity beside the living room bay window will come out to feed and we will watch this most evenings. The sun sets around 9:30pm and the sky lights up in beautiful hues of orange or pink. The day finishes as it began, in our bedroom closing the blind on those beautiful views through the arched windows.
5. Is there anything you'd do differently if you were doing it again?
We are only at the beginning of our project, of making this house our home. Little has been done, so there is nothing I would change. We are taking our time, and heeding the advice of many to live in it for a year before we make any drastic changes. This advice has been invaluable as our plans before we moved in have changed greatly since living in it.