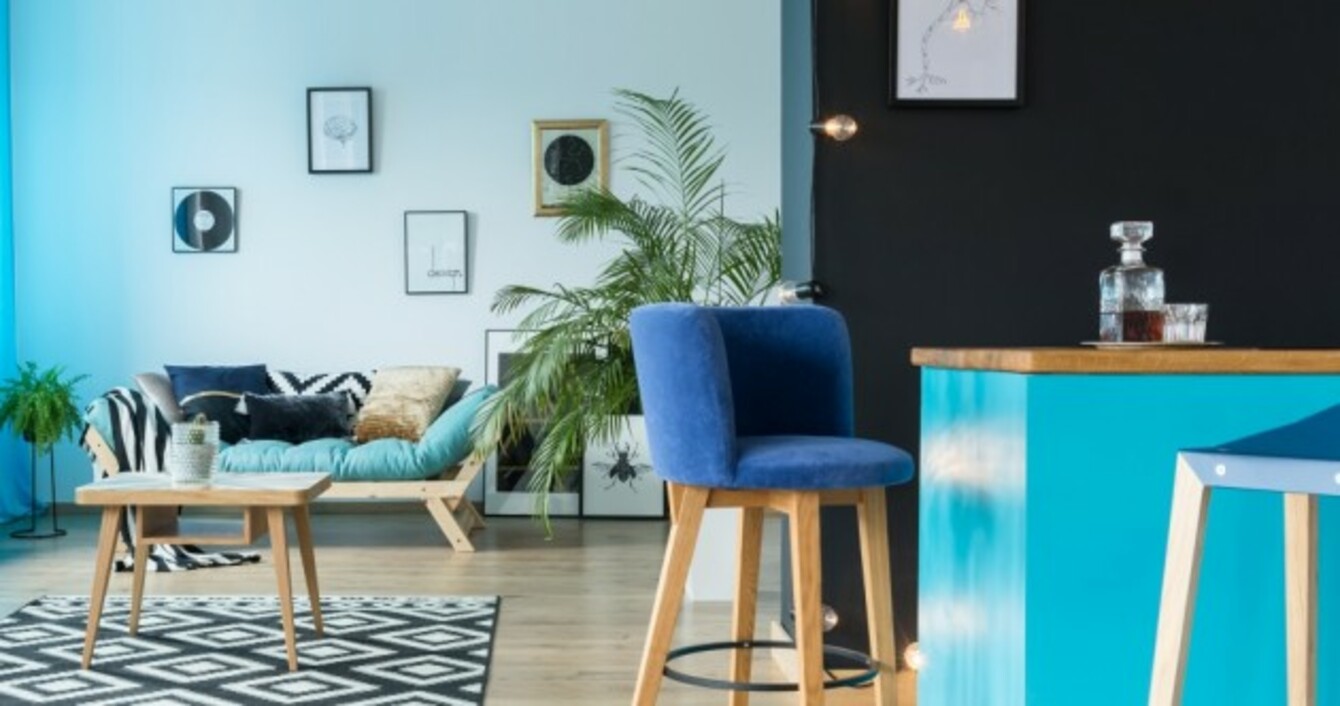 Image: Shutterstock
Image: Shutterstock
OPEN PLAN AREAS are a smart way to bring in more light, airiness and a general sense of space in a modern home.
There are so many benefits to this layout style, but there's one key challenge too: giving that wide-open space the intimacy and sense of purpose that  more traditional, smaller rooms bring to a home.
This need to make open areas feel cosier and more inviting has brought about a new term: "broken plan living". It's a simple approach, says interior designer Jane Higgins, founder of Jane Higgins Home Design:
The idea is to break up each area a bit more, but without using walls. People do want big open spaces, but they want the spaces to be defined in terms of what's happening in each space, whether it's living, kitchen, dining or relaxing.
Have an open-plan space that just doesn't quite feel homely enough? Jane shared some practical layout tricks for broken plan living…
1. Put furniture where you'd usually put a wall
"When it comes to creating distinct spaces, one way you can do it is with the furniture layout, using loose furniture to zone the space," advises Higgins. She offers one example of clever use of furniture to define your living area from, say, your dining area:
An L-shaped sofa is already going to zone the space. At the back of that sofa, you could then put a console table with lamps on it. This means that when you walk in, you're not seeing the back of a sofa, instead you're looking at a console with feature lamps on both ends and some personal items or coffee tables books to bring in some personality, colour and texture. That layering of your personal items is key to making the area feel independent.
2. Use feature lighting to mark out each area
Lighting is one of the subtlest zoning tricks. Not only does it add interest, but it means you can take a "three-dimensional" approach to designing your space, says Higgins:
Drop pendant lights over the dining table or over a kitchen island, as it makes them their own zones, visually. Feature lighting creates that sense of it being a very definite space, rather than a big open space with spotlights dotted all throughout the ceiling.
3. Don't forget to look down
The other subtle zoner is flooring, and particularly, rugs. Changing the flooring finish very definitely marks out a space as being one room versus another. This approach can work particularly well for defining kitchens, according to Higgins:
Tiling your kitchen can ground it as very clearly the kitchen space, with the rest of the space having different flooring. Plus, it makes sense to use tiles in a working space like a kitchen.
Rugs are a less permanent way to get a similar effect, but be mindful of the size you choose "The mistake people often make is to put down a too-small rug in the room and it looks like a postage stamp," says Higgins.
"You should consider that at least the front legs of your sofa are sitting on the rug, and same goes for any armchairs you have. It gives a really luxurious feel so I always say, the bigger the better."
4. Take your cues from hotels, bars and restaurants
Many design trends come from the hospitality industry. A hotel is the perfect example of a large open space that needs to be broken up to feel more cosy. Introducing screens as "mini-walls" is one of the tricks of the trade you can definitely replicate at home, according to Higgins:
Hospitality design does filter down into residential design, and that's happening now with screens, whether they're glass or opaque wood. They just mean you don't feel like you're sitting in this huge basketball field.
5. Use the high-low approach
Introducing different flooring heights helps you subconsciously consider the area on the other level as an independent space. A step up into the dining or living area adds distinction between spaces without the barrier of a wall. This is a bigger job than most on this list, but it doesn't have to involve totally re-designing the space, explains Jane:
You can retro-fit steps into open plan spaces. If you're doing that, it's easier to do steps up rather than steps down because you're adding rather than taking away. Just be mindful of the overall ceiling height. 
6. Don't be afraid to zone each space individually
So you're using an island and tiled floors may zone out a kitchen space, a rug and some drop pendant lights to define a dining area, and a sofa to create barriers for a living space. Is it all too much?
People tend to worry that over-reliance on zoners can make an open space feel cluttered, but Higgins says this is a design myth – and if you're going to zone one element of your space, you should zone the rest too:
If not, your open plan space will end up looking unbalanced. But don't forget that broken plan design can be very subtle – it can just be the use of a rug or some smart lighting over a focal point. You're just trying to define each space's purpose.