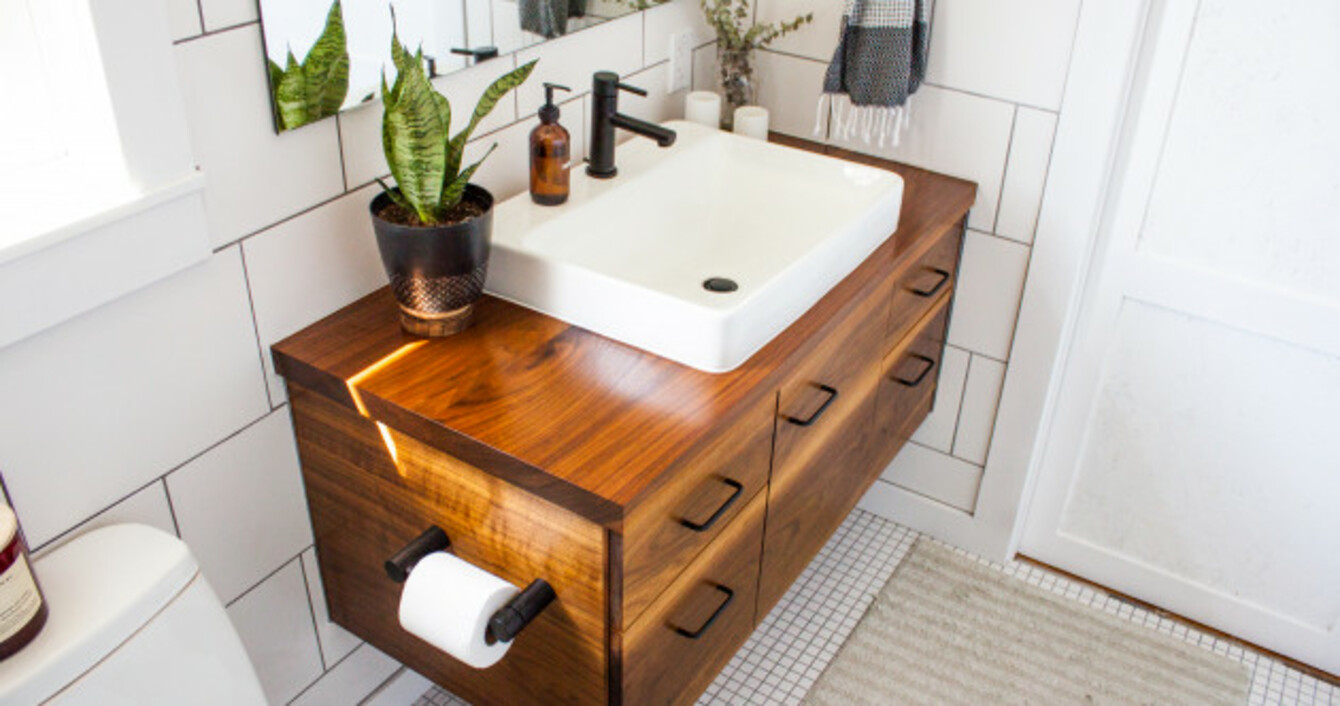 Image: Shutterstock/Clara Doti
Image: Shutterstock/Clara Doti
OF ALL THE rooms in your home, the bathroom typically presents the highest number of design and décor challenges.
The placement of the basics like the toilet, sink and shower all depend on the space available, and on where exactly the pipes are plumbed in, so there's very little wiggle room for changes.
Unless you plan to do major work to rejig where those basic elements will live, you have to work with what you've got.
On top of the layout limitations, the bathroom often gets forgotten simply because it's not a central space in the home. Kitchens, living rooms and bedrooms tend to take décor priority, and it's usually the bathroom that gets pushed down the end of the list – or decorated half-heartedly.
Planning a bathroom facelift? Here are the most commonly made bathroom decor mistakes – and how to rectify them…
1. Thinking copper will be on-trend forever
Interior trends move quickly. Take the copper craze that dominated a few years ago: today, too much of it in one space feels jaded. When it comes to tiles and fittings like taps, pare things back to styles that are simple and timeless. This will also serve you well if you want to sell on, ensuring dated decor won't devalue your home.
Unlike wall art or soft furnishings which can be of the moment and easily swapped out when trends move on, bathroom fittings and accessories tend to be more permanent. You should get at least ten to fifteen years out of your bathroom before a design overhaul will be needed so you need to think long-term.
2. Forgetting that you'll need somewhere for the shampoo bottles
For the smallest space in the house, we spend a lot of time in the bathroom as we move through our daily routines, and as such, we use a lot of stuff, from toiletries to medicines to bathroom cleaning tools to spare toilet rolls.
One of the most commonly made mistakes is to skimp on storage in order to maximise space, and while this certainly looks good in the beginning, the overflow of products with nowhere to live winds up ruining the aesthetic you sought so hard to create in the first place. A mirrored cabinet above the sink will kill two birds with one stone, as will storage below the sink. 
3. And the spare loo rolls, and the towels…
Remember, your bathroom needs to have practicality first on the list, so don't forget about storage for bulkier items like toilet rolls, cleaning items or extra towels. To keep things clutter free, add stylish shelves higher than head height where you can store extra towels, toilet rolls and wicker baskets filled with your bathroom cleaning kit.
4. Laying down wooden flooring
Wooden features in a bathroom can look fantastic, warming up the cooling effect of tiles. That said, wood and water aren't the best of friends, and over time water damage is likely to occur, causing all manner of problems. Wooden floors in the bathroom where there is a shower or bath are a no-no (though you'll probably get away with it in a downstairs loo).
Tiles will always be an infinitely better choice for longevity. If you still want the wooden aesthetic, add it in ways that are less permanent, such as a mirror, a toilet roll holder or a storage shelf. These will tick the aesthetic boxes and can be replaced down the line, should they start to suffer on account of the water.
5. Thinking one lightbulb is enough
Another commonly overlooked feature when it comes to bathroom design is lighting. Poor lighting in a space where you'll be cleansing, shaving, tweezing, applying make-up is a rookie mistake. In this space, you need a combination of lighting types: some aesthetic overhead lighting to cast an attractive glow over a dark or windowless bathroom, as well as some hard working task lighting that's seamlessly integrated into your vanity mirror for when you've got a job to do.
Mirrors with hidden LED lighting are easily available these days and they don't compromise on the overall look. This is particularly important in bathrooms that don't have windows. A pro tip for anyone who loves relaxing in the bath: add a dimmer switch to your overhead light so you can dial down the intensity when it's time to unwind.
6. Playing it too safe with your accessories and art
Yes, you want your tiles and fixtures to endure beyond one season of trends, but when it comes to wall art, hanging planters, shower mats and the like, you've got plenty of room to inject some personality and style.
The bathroom is a space you'll dip in and out of (rather than the living room where you'll spend hours at a time), so you can take more décor risks with quirky prints or a gallery wall. To make the task simpler, decide on what kind of mood you want to create: a downstairs loo can be fun and energetic, but for your main bathroom you may veer towards the tranquility side of things.
7.  Choosing the wrong type of houseplants for your loo
House plants work wonders to complete the look of your bathroom and inject some life into it, but be sure to do your research on the types of plants that live well in humid environments. There can be a big temperature variation too, between mornings when the bathroom is in use, and nighttimes when it's not. Plants like aloe vera, bamboo and begonias all love high-humidity bathrooms. If natural light isn't readily available, go the artificial route (it will still look the part).
More: 7 tips to follow whenever you're choosing paint colours – plus the biggest trend traps to avoid>