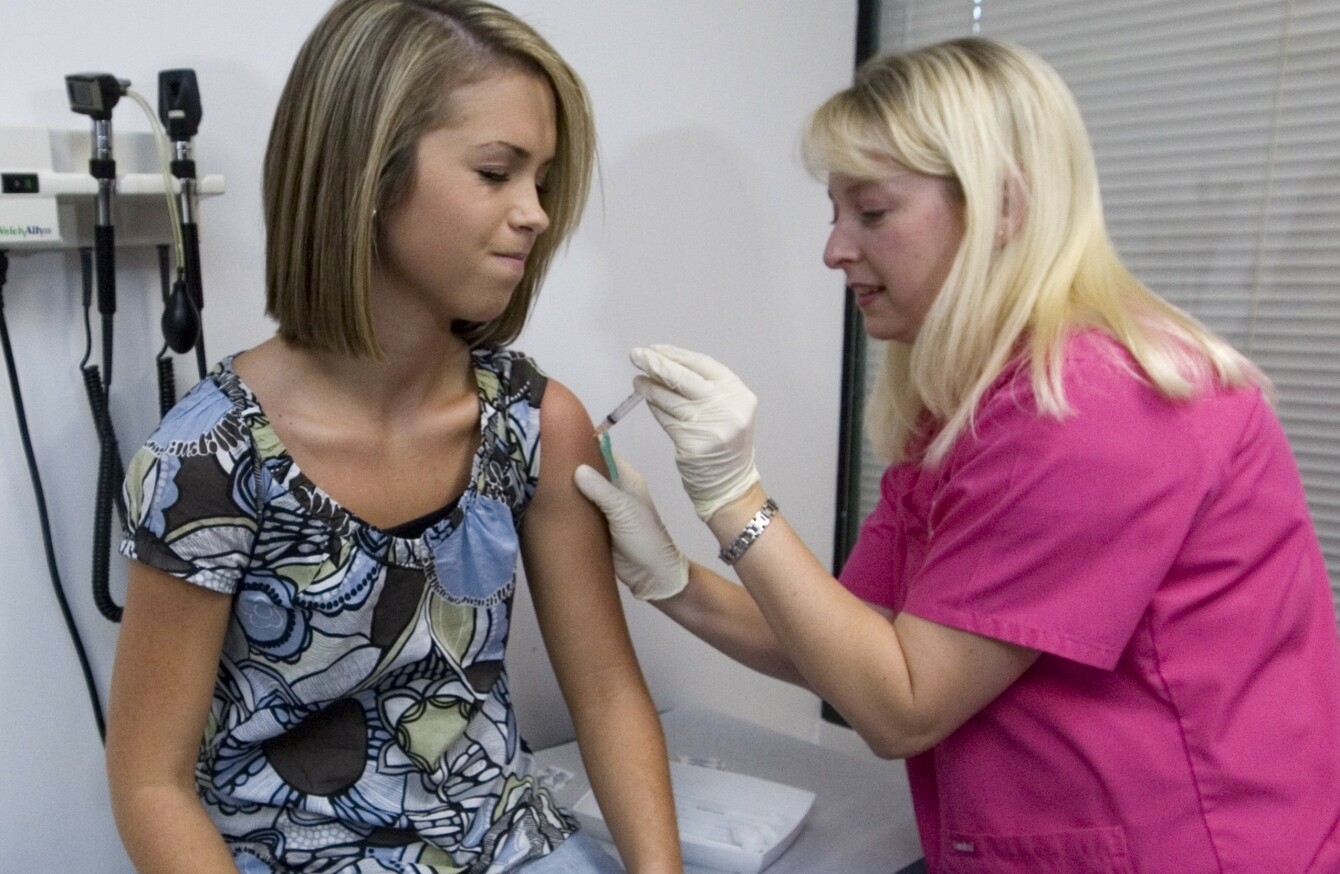 Image: AP/Press Association Images
Image: AP/Press Association Images
THE NUMBER OF young pupils getting the HPV vaccine has decreased by over 10% in the past 12 months, the HSE has said.
The uptake rate for the vaccine stood at approximately 87% back in 2015.
However, the rate of young girls getting the immunisation has dropped to 70%, which is 10% under what the HSE described as the target uptake.
Dr Brenda Corcoran from the HSE's National Immunisation Office described what is happening at the moment.
She told the Medical Independent: "The target uptake is 80%. The most recent published information is for 2014/2015 and the uptake was 87% and some parts of the country actually achieved over 90%, so there was kind of a universal acceptance of the vaccine. That figure was the highest recorded.
Reduction
"The preliminary figures we have for 2015/2016 show that the uptake is about 70%. It has reduced in some areas more than others.
"So that is a huge concern to us, but also to cancer specialists who really are very, very fearful that we won't see the impact of the vaccine programme and women will be left at risk."
The vaccines are available to prevent the human papillomavirus (HPV) types that cause most cervical cancers as well as some cancers of the anus,
In our factcheck, repeated studies and clinical trials have shown HPV vaccines to be very safe, and potential allergic reactions and possible side effects to be extremely rare.
From 2010/2011 to 2014/2015, some 590,694 doses have been administered to first and sixth-year female secondary school students in Ireland, according to the Health Protection Surveillance Centre (HPSC).
The total number of girls who took the full set of vaccine doses available was 201,410.
Between 2010 and 2015, a total of 948 "adverse reactions" to the vaccine were reported to the Health Products Regulatory Authority (HPRA).
Dr Corcoran said the decline in uptake since then is most pronounced in Western and Southern counties.
She added:
This decline may be related to unsubstantiated concerns about HPV vaccine safety which have no scientific basis.
The vaccine is available free of charge from the HSE for all girls in 1st year of second level school.
The vaccine is given through a school based programme, to ensure high vaccine uptake. However, in specific instances some girls will be invited to special HSE clinics for their vaccines.
The HSE will let you know the date the school immunisation team will attend your daughter's school to give the HPV vaccine. If a student misses the vaccine in school, the HSE will arrange for the student to be vaccinated at a HSE clinic.