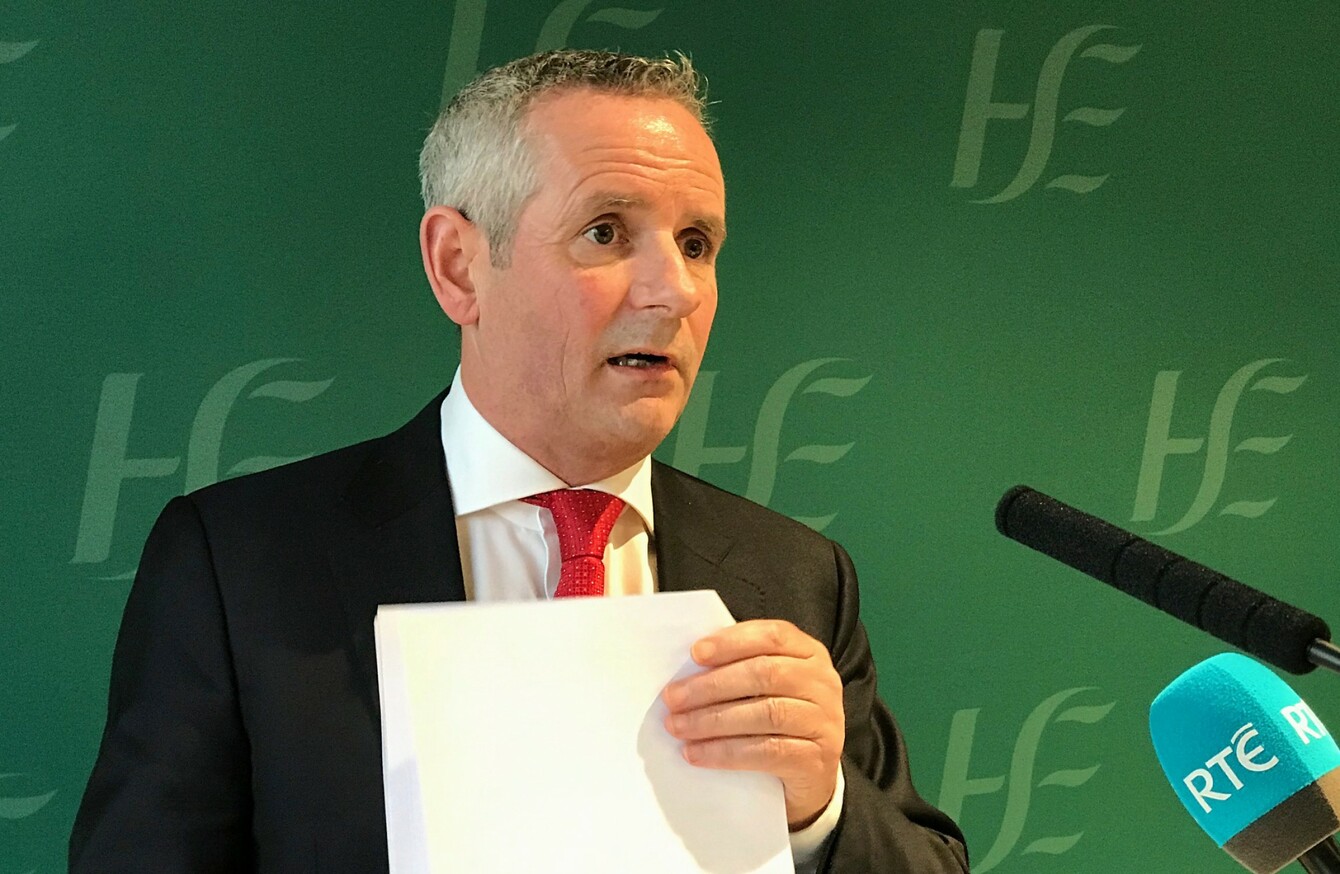 Image: RollingNews.ie
Image: RollingNews.ie
Updated Mar 8th 2020, 5:35 PM
THE CEO OF the HSE Paul Reid has said that he "can't dispute" figures that suggest 1.9 million people in Ireland could contract the new coronavirus Covid-19.
He also acknowledged that "some modeling" that indicates that half of these cases would take place within a three-week period, which would put significant pressure on Ireland's healthcare service.
The figures, first reported in The Business Post today, were based on estimations by Irish health authorities, and suggest that around 40% of the Irish population could contract Covid-19.
As it stands, there are 19 confirmed cases of Covid-19 in Ireland, and seven cases in Northern Ireland, bringing the all-island total to 26. The majority of cases are related to people who have travelled to northern Italy.
Speaking on RTÉ's News At One today, Reid was asked about the 1.9 million figure reported today. Reid replied that the HSE was "building our evidence" based on data from the European Center for Disease Control and the World Health Organization.
The article talks about 40% of the population, and there's ranges, you're talking from 30-50%, and some less. And there are very significant differences in terms of impact. So we're working through that right now. (sic)
He stressed that 80% of people who contract the virus remain well, 15-20% become "more critical", and "a percentage of mortality". 
When pressed on the figures, Reid said that projection research being done by the HSE "will be completed next week", but that he "can't right now dispute" the figures in The Business Post article. 
The National Ambulance Service are running a "very significant operation" by remote testing in people's homes for the virus, to relieve pressure on the hospital system, Reid added.
In the last few days, they've dealt with 300 people in their homes, and you may have seen recently down in Lahinch, the National Ambulance Service established a remote testing in an old Garda station. And again, almost 50 people tested there.
Reid said that the actions the HSE was taking was about trying to ensure that "the impact is reduced", and to have "the surge" of cases spread out over a longer period of time, instead of having 50% of cases in three weeks, as research suggested would happen.
Healthcare professionals
When asked about a directive issued to healthcare workers last night, that said that they didn't need to self-isolate if they had been in contact with a confirmed case but were not displaying symptoms, Reid said it was about assessing clinical risk. 
We have to balance between the clinical risk, keeping the system going and ensuring our staff are safe.
Let me reassure: we want to make sure our staff are safe, make sure the public are safe, make sure patients in our hospital are safe. We're balancing the clinical risk, and the capacity to keep the system function.
Around 100 staff in Cork had been placed into self-isolation as they had been assessed to be in contact with a confirmed case in Cork University Hospital.
When asked if patients would be told that they're being treated by a health professional who was in contact with a confirmed case, Reid said that this was something that the affected hospitals – Cork University Hospital and Limerick University Hospital – were considering, but had not taken a decision on yet.
Reid said that the threat of Covid-19 has been unprecedented, and pledged to take "ever action I need" to protect the public health. He said that this included recruiting public health professionals, and "most likely" bring back retired health workers.
Reid said that a number of measures were being taken to prepare for such an increase in cases, including:
Every acute hospital has a "surge" plan in place, which means a prioritisation plan
A look at all high-dependency units, post-operative units, resuscitation units
A look at private hospital ICU beds, €20 million investment of ICU beds, ramping up capacity of The Mater Hospital.
This evening, trade union Siptu said that it had received written confirmation from the HSE that the embargo on recruitment had been lifted in response to the Covid-19 outbreak. 
Yesterday, a spokesperson for the HSE confirmed that there "will be no barriers to the recruitment of the workforce that is required to support our critical clinical services during the Covid-19″. 
Siptu organiser Paul Bell said: "The fact that there will be no obstruction to the recruitment of essential health workers can only assist in the fight against COVID-19."
"It is essential our members have the appropriate safe staffing levels, resources, including personal protection equipment and training, to ensure they are best placed to fight the threat of coronavirus against our communities," he said. 
Other updates
Cork University Hospital said that it will be reducing and rescheduling some outpatient appointments over the next three days amid Covid-19 concerns.
This comes after a male patient at Cork University Hospital was diagnosed with the new coronavirus – the first case of community transmission in Ireland.
Trinity College Dublin said that the "member of its community" who had been diagnosed with Covid-19 had "made a good recovery", and that no other case had been confirmed.
Most of the Trinity Biomedical Sciences Institute is functioning as normal except for a few rooms on the fourth floor, and the college remains open for classes.
At Vincent's University Hospital, visits to patients have been restricted indefinitely since yesterday, apart from some oncology patient visits.
Meanwhile, a quarter of all Italians have been placed in quarantine, and the UK confirmed an additional 64 cases, bringing their total to 273.
Advice and resources
The HSE's advice page on the coronavirus says that the risk of catching coronavirus in Ireland is still low to moderate. This may change. However, most people may continue to go to work, school and other public places, as usual."
The symptoms of Covid-19 are: a cough, a shortness of breath, a fever and breathing difficulties.
If you have more specific advice, you can search for it in our Q&A article where we ask experts to answer our readers' queries on the coronavirus. If you have a question that isn't included in the article, send it to us: answers@thejournal.ie.