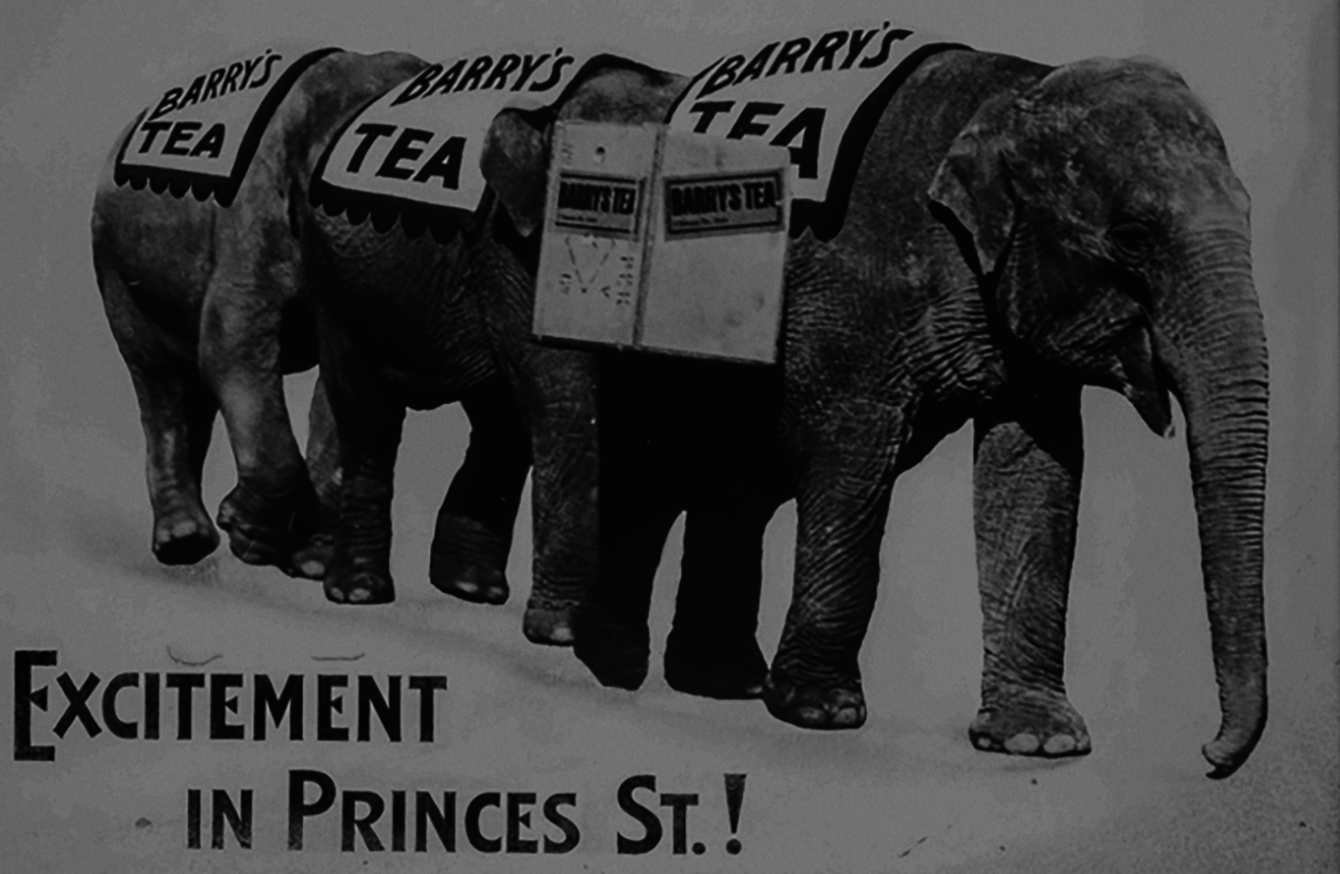 Image: Barry's Tea
Image: Barry's Tea
IN BRIAN MCMAHON'S opinion, old adverts can paint a unique picture of business in Ireland through the decades.
Over a number of years, the collector has compiled a comprehensive collection of iconic ad clippings from stacks of newspapers and magazines for his archive Brand New Retro.
"It's a social study looking at the adverts. For instance there are a lot of adverts from the late-1960s for motorbikes because this was a time when people couldn't afford cars," he tells Fora.
"The 1960s is known for being the golden age of advertising and you see that is true from Irish adverts back then. There was sustained economic advancement and emigration stopped. It was an optimistic time."
According to McMahon, when the 1980s came along there was a sudden drop off in creativity in the Irish advertising sector as technology advanced.
"They started to realise you could send over international pictures instead of producing them here.
"By the end of the 1980s, advertisers started using more desktop publishing tools like computers for design and the standard dropped then. Before that they would have been handcrafted and artists would have mocked up the ads – you can see the difference."
Below are a handpicked selection of iconic Irish adverts from the past 100-plus years:
Power's Whiskey – 1893
Click here for a larger version
The above advert featured in a souvenir booklet distributed at the 1893 World's Fair in Chicago. A team of craftsmen from the John Power & Sons' John's Lane Distillery travelled from Dublin to Chicago to create the life-sized replica of the O'Connell monument in Glasnevin using bottles of Power's Gold Label.
ESB – 1920s
Click here for a larger version
In its early days, ESB advertised heavily to educate the public about the merits of electricity. The firm even welcomed visitors to its Shannon works and established a guide bureau at Limerick to facilitate the crowds.
Barry's Tea – 1935
This advert was circulated in the 1930s to generate some interest for the popular Irish brand Barry's Tea. Up until the 1960s, the firm's teas, which were sourced from India and Sri Lanka, were predominantly sold in the company's shop on Princes Street in Cork.
Tayto Crisps – 1960s
Click here for a larger version
Tayto Crisps has always had an interesting approach to advertising – see Mr Tayto's general election campaign in 2007. This "real" potato in the 1960s became famous when it was the centre of an advertising campaign because it was thought to closely resemble Mr Tayto himself.
Aer Lingus – 1962
Aer Lingus was first set up in 1936 and became the national carrier in the same year. But the outbreak of the Second World War curtailed its expansion until 1945. The above advert perfectly sums up what was a very different era for air travel.
RTÉ – 1963
Click here for a larger version
As the state broadcaster agitates for increased licence fee revenues amid high evasion rates, it's interesting to note that getting people to pay for its services has been a focus for RTÉ for decades.
Brown Thomas – 1966
The Brown Thomas bag has become an iconic marketing tool for the store over the years, but it has clearly undergone a bit of a redesign over the past 50 years.
Dunnes Stores – 1966
Established in the 1940s, Dunnes Stores now has over 150 outlets and has been in the clothing retail space since it started. This advert from 1966 is from a campaign to promote the firm's own brand called St Bernard.
Ulster Bank – 1966
Click here for a larger version
Ulster Bank has been around since the 1830s and is now one of the country's largest lenders. In the 1960s, the bank expanded into the suburbs of Dublin and started to advertise widely after it adopted a new entwined U and B logo.
Yamaha – 1969
As McMahon explained, motorbike adverts in the late-1960s were widespread as people who couldn't afford a car looked for means of motorised transport. The ad copy – "yes, Yamaha make a bike for girls too" – is as clearly dated as the fashion.
Penneys – 1969
Click here for a larger version
One of the most iconic clothing retailers in Ireland, Penneys has grown to over 300 outlets worldwide and is a staple of Irish shopping centres and high streets. This advert is from a simpler time when the company was still taking its baby steps.
Guinness – 1971
Click here for a larger version
As we enter the 1970s, adverts became much more colourised. This from Guinness appeared in a Woman's Own magazine and tries to entice readers to "listen to that soothing gluggle as it fills the glass" after the children have been put to bed.
Silk Cut – 1978
Click here for a larger version
Tobacco marketing has probably gone through the most dramatic change over the past few decades as advertising laws cracked down on how producers showcase their products. The above advert features some notable Irish sites including the Ha'penny Bridge.
Smithwick's – 1980
Another example of a modern advert in the 1980s as industry became more advanced. This ad was released the same year the beer brand started exporting to France.
Ballygowan Water – 1984
It wasn't that long ago when people were skeptical about buying bottled water when they could get it for free from the tap. This advert is from 1984, only three years after Ballygowan Water was founded, and was part of the brand's first big advertising campaign.
Alias Tom – 1984
This advert was for clothing store Alias Tom, the Grafton Street retailer that's still in business to this day. At the time, Eurovision winner Johnny Logan was front and centre of the store's marketing campaign.
Mosney – 1984
In 1984, this marketing material for Mosney was released to promote the Meath-based holiday centre's new computer centre called the Atari Computer Base.
Ryanair – 1988
Click here for a larger version
It seems like the airline has been around forever, but Ryanair only splashed onto the scene in 1985. You can see the Irish airline had a combative approach to its marketing, even in the early days.
Internet Eireann – 1995
Click here for a larger version
And to round it all off, here's an early advert for one of the first internet providers in Ireland – as you can see, it's a case of information overload for the Information Age.
You can view more of the Brand New Retro iconic adverts collection here.
Sign up to our newsletter to receive a regular digest of Fora's top articles delivered to your inbox.
Written by Killian Woods and posted on Fora.ie