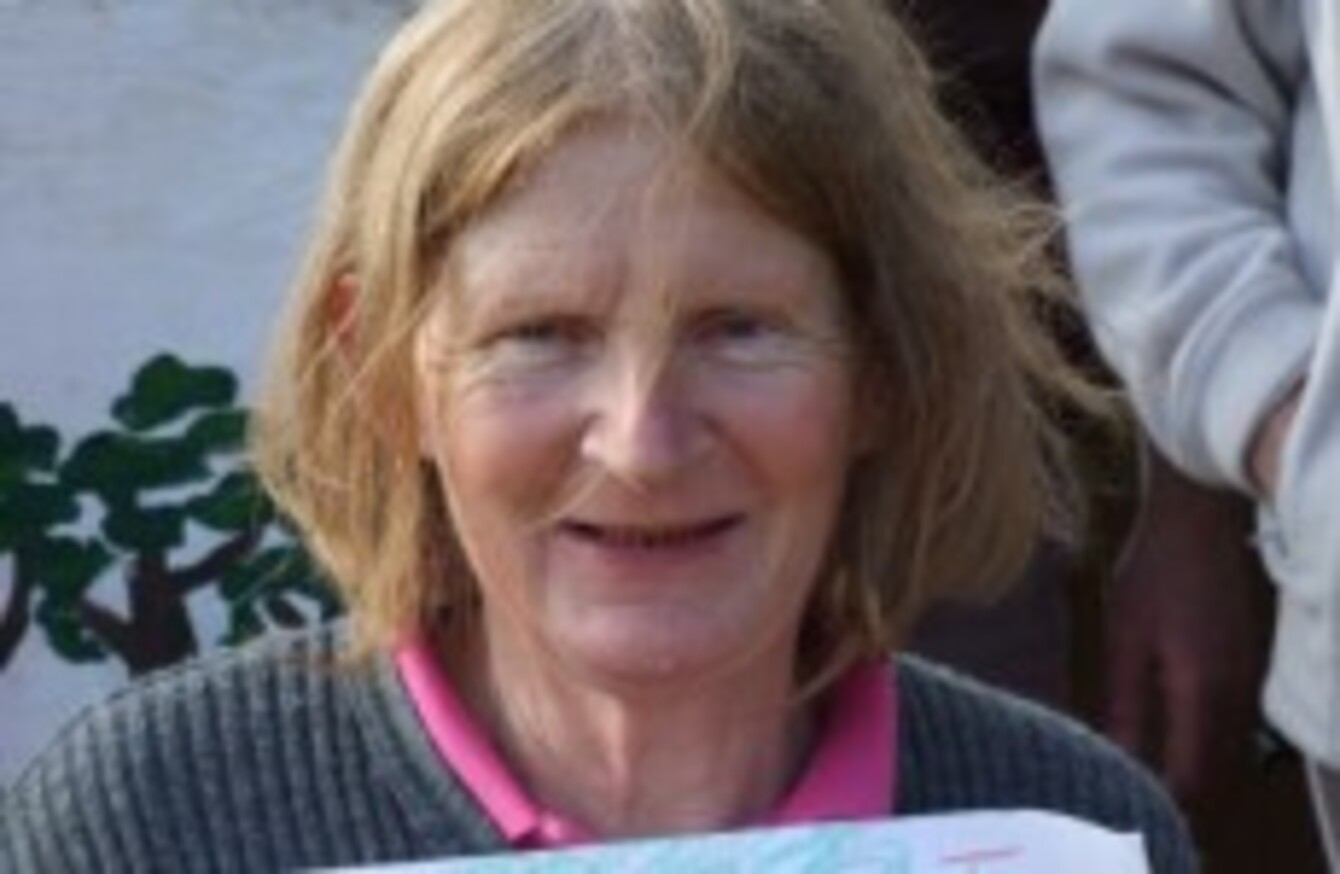 Teresa Treacy
Image: The Teresa Treacy Support Group
Teresa Treacy
Image: The Teresa Treacy Support Group
THREE WEEKS AFTER being released from jail after being found guilty of contempt of court, Teresa Treacy is trying to get her life back to normal.
The 65-year-old spent three weeks in the Dóchas Centre in Mountjoy Prison for contempt of court for trying to stop workers from ESB and Eirgrid laying an overground power line on her land in Co Offaly, and was released unexpectedly on 5 October.
She spoke to TheJournal.ie about her experiences in jail and what she plans to do get her life back to normal.
"I was delighted. It did come as a big surprise because I didn't think I was being let out at all," said Teresa of her release.
She said that she only heard that she was being brought back to the court when two other women in the Dóchas Centre told her they read it on Aertel.
Teresa said that her time in prison was made bearable by the women who were in there with her.
"The ladies in there weren't bad at all to me. They were very good. Life was hard on them."
Every morning Teresa followed the same routine – she would get up, open the blind in her room and look out at the courtyard behind it.
She could see flowers, a path where she could walk later in the day, and the lamps sending their light onto the grass below.
"They were nice lights. It was still dusky and dark and I used to see them and look out," she recalled.
An intensely private person, Teresa had to get used to seeing her face and story on the television.
"I couldn't believe it – it's unbelievable," she said of that time.
The women in prison used to call me and tell me 'I heard you on such a radio show'. They used to tell all that to me, what they'd seen. At the start somebody said to me 'you are on the paper' – I couldn't believe it.
She received cards, letters and other messages of support while in jail, and again on her return home.
"I still don't think it's right, all that's happened. I was very grateful to them," she said of her supporters.
At the beginning, Teresa didn't want to talk about what was happening – she still finds it too difficult to discuss the particulars of the situation.
She says the ESB and Eirgrid have been in contact with her for five and a half years, and that she was taken by suprise when she received the first letter from them.
"That was a terrible thing," she said softly.
I tell you what – that morning I never ate my breakfast or never slept or nothing. I knew what they were doing. It was a terrible letter to have received.
Teresa's response was threefold. "I remember writing down, I made sure I wrote down – no poles, no pylons, no compensation."
The trees were planted on Teresa's land 18 years ago. "They were beautiful to look at… there were beautiful fields as well beside the house".
But after some work was done on the land, the "natural environment was all destroyed" she said. "These pylons took over."
I loved the trees. That was  a great thing…  I remember doing them, I loved doing them. There's a lovely forest here at the back of the house, it's a lovely natural setting. I often sat in it, I'd sit on a sort of a stool, it was just a box turned upside down. There was not a sound inside the area. Nothing only birds inside it. I used to run throught the woods at the side of the hedgerows. It was beautiful. I'd look at at all the hedgerows.
Teresa is now looking to the future. Her way to do this is to focus on how she can replant trees that have thus far been removed.
Work has been done by the ESB and Eirgrid on the land, and Teresa and the companies are in contact about the future.
"I'd like to be able to get it done and over with," she said, adding that she would like to plant oak trees on her land.
She is extremely grateful for the help of the Teresa Treacy support group, and Roseanne Tyrell, Oliver Chisel, Michael Dunne and others who helped her during her time in prison.
I would have preferred to have been left in peace. They caused an awful lot of trouble to me and that's the truth and I'll never forget it . I would have loved that to be left in peace. They didn't do that.
All Teresa wants to do is "to walk around my place and enjoy the land".
She said the situation has shown her how you can stand up for what you believe in.
Teresa and some members of her support group will meet barristers this week about the situation and continue to try and find a solution.
For now, her focus is on trying to get her land back to how it was before.
She wants to lay down top soil, plant trees, and be able to wander around her land, enjoying the views, just as she used to.
"I'd like it to be finished," she said. "I'd like to go back to where I was before it ever happened."