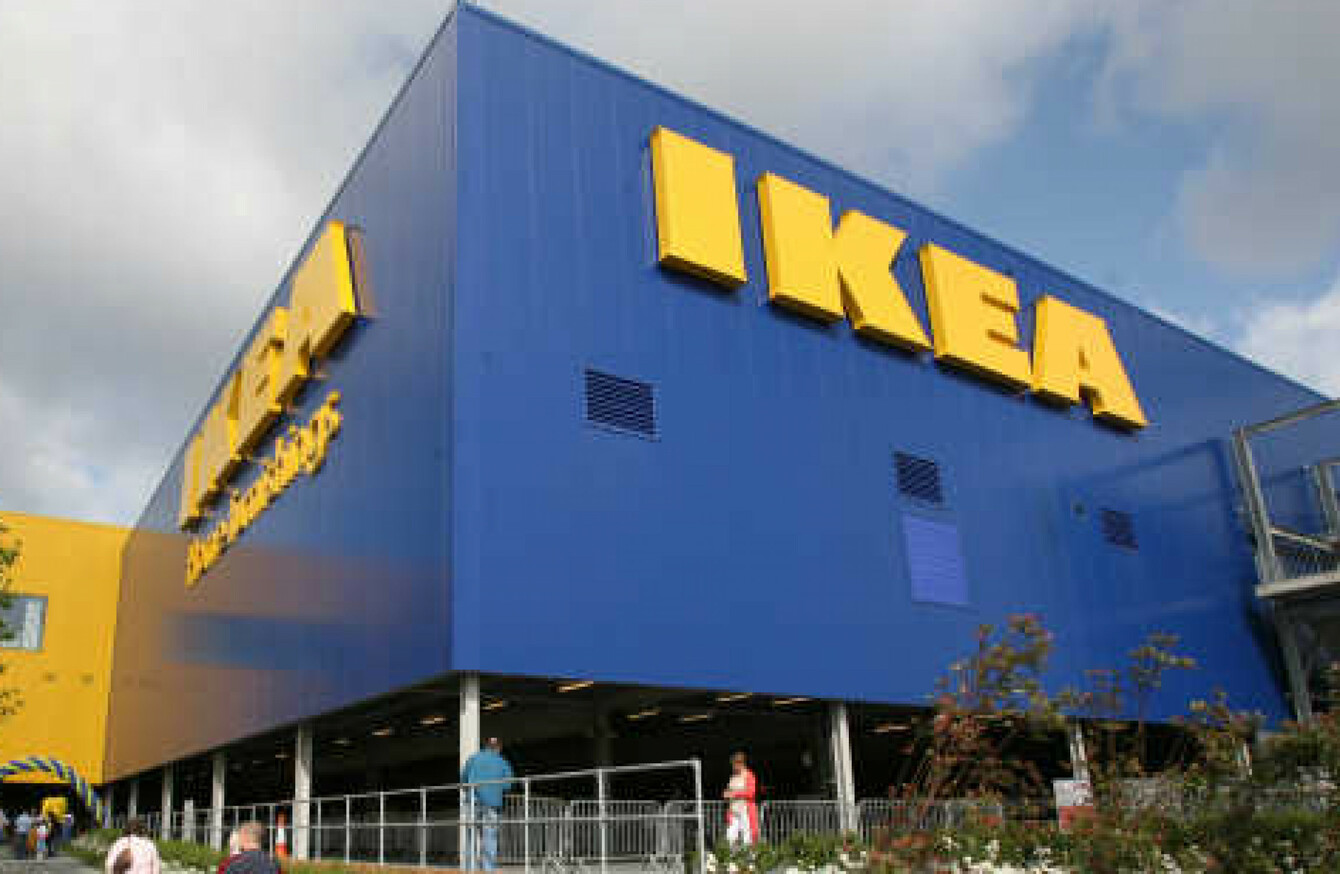 The Ikea store in Ballymun, Dublin.
Image: James Horan/Photocall Ireland
The Ikea store in Ballymun, Dublin.
Image: James Horan/Photocall Ireland
THINK OF CHEAP, handy furniture and Ikea comes to mind.
The Swedish furniture giant is one of the biggest and most profitable retailers in the world.
Founded in Sweden in 1943 as a mostly mail order business, Ikea has since grown to having 355 stores in 29 countries (including one in Ballymun in Dublin and an order and collection point in Carrickmines).
In August, the retailer said its group sales for the financial year were €34.1 billion with 817 million customers walking through its doors worldwide.
The company is known for its cheaper products, with it a commitment to always be striving to lower prices (without compromising quality). However, having a long lasting product is not generally something Ikea is known for.
This is something that the company's sustainability manager for Ireland and the UK Hege Saebjornsen wants to tackle more into the future.
"That's certainly for most of the company and me personally the biggest next issue to tackle," Saebjornsen told TheJournal.ie.
"We are part of consumer society and consumer behaviour impacts how long products last and are used for.
The unattended outcome of having an affordable product is it's thrown away. Not because of quality – the things last if you want them to – but the consumer's behaviour impacts the longevity of the product.
Sustainability at Ikea
The world's population is growing, and with that the amount of waste humans are producing is growing too.
A study last year found that 95% of plastic packaging worth €73-110 billion was lost to the economy after a single use, and that by 2050 there would be more plastic in the oceans than fish.
Meanwhile, man-made change climate change continues to be one of the pressing issues of the modern age, with record world temperatures, shrinking ice fields and surging seas all predominant features of the weather last year.
There are warnings of deforestation happening around the world on a wide scale and global leaders have elected to reducing the amount of fossil fuels used.
Operating in this volatile landscape, massive global companies like Ikea bear a responsibility to maximise their sustainability.
The company uses 1% of the world's annual cotton and wood production for its products.
So how can it say it is sustainable?
"It's an observation that seems to jar with what we are saying," said Saebjornsen. "But our scale helps us to be more sustainable."
We use 1% of the global supply of cotton… Once we can change the supply of that, we can make sure that it's us that is making the sustainable cotton.
The company has the Better Cotton Initiative, which aims to produce more sustainable cotton at every point of its supply chain.
The retail giant prides itself on its image as a sustainable and eco-friendly company.
Initiatives in Ireland and the UK include:
Investing €1.5 billion in renewable energy since 2009 and committing to invest more
Increasing the sale of its products that enable a more sustainable life at home
Sending no waste to landfill in the 2015 financial year
The company also points to 2.3 million LED light bulbs (which use 85% less energy than traditional bulbs) sold over the 2016 financial year across its Ireland and UK stores.
It also has two wind farms (one in the Leitrim and one in the UK).
As of 2017, 61% of all the wood the company uses is from sustainable sources (meaning it is either recycled or from Forest Stewardship Council certified sources) and it says it is on track to make this 100% by 2020.
Ikea has a range of other sustainability initiatives. It pays its Irish workers a Living Wage and creates products out of recycled materials.
For example its KUNGSBACK kitchen fronts are made from recycled plastic bottles.
As well as this, its famous flat pack furniture leads to very little space being wasted in its transport trucks.
Issues 
Despite all this, Ikea has raised the concerns of environmental organisations and others on a number of occasions in the past.
The company had its Forest Stewardship Council (FSC) certificate temporarily suspended in January 2014 when its logging subsidiary – Swedwood – was found to have been cutting down 600-year-old trees in Karelia, Russia, near the border of Finland.
According to a report on sustainablebrands.com, a spokesperson for environmental group Protect the Forest, Sweden said at the time that the company wasn't doing enough to protect valuable old-growth forests in the area.
(Ikea later appealed the FSC decision and had the suspension lifed in March of that year)
The company was also caught up in the horsemeat scandal in 2013, withdrawing its meatballs from sale in over 20 European countries after traces of horse meat were detected.
Questions around Ikea's commitment to sustainability come back to how a giant multinational conglomerate which specialises in cheap, mass produced products can truly call itself sustainable.
A Fortune profile of the company references one of its most famous ads from the past (directed by Spike Jonze) which encourages viewers not to feel sorry for an old, used lamp that is being thrown out, telling them "the new one will be better".
Source: WhitetheDark/YouTube
But according to Saebjornsen, as Ikea moves to becoming more sustainable, this is something it will be focussing on in the future.
"It's a huge focus," she said.
"It's at the core of the future of Ikea.
There have been lots of pilots in lots of countries… From testing second hand products to leasing products… We have a take back service so when someone buys a new sofa we encourage them to bring back the old one.
Saebjornsen said that the company will be launching a new 10 year strategy in 2018 and that the idea of the circular economy (in which products are used and reused as much of possible, rather than disposed of) will be a big part of it.