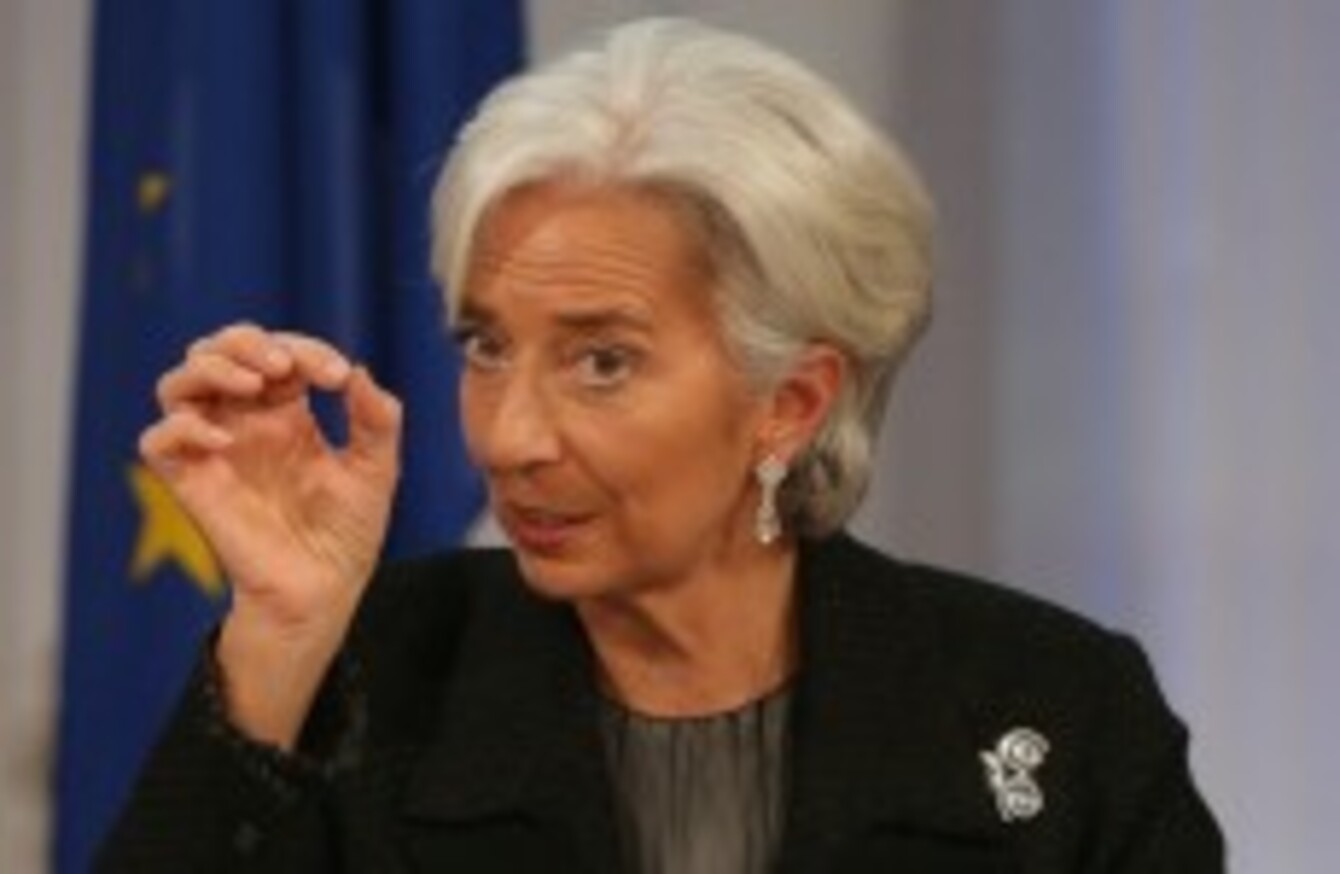 IMF managing director Christine Lagarde during her visit to Ireland two weeks ago.
Image: Niall Carson/PA Wire
IMF managing director Christine Lagarde during her visit to Ireland two weeks ago.
Image: Niall Carson/PA Wire
THE IMF has confirmed the release of almost €1 billion in new bailout loans for Ireland, the ninth time it has lent to Ireland.
The Washington-based Fund said last night it was releasing about €970 million in loans to Ireland following the completion of the ninth quarterly review of Ireland's progress.
The IMF said it was happy to release the loans given how Ireland had comfortably met its deficit targets for 2012, when the deficit stood at 7.75 per cent of GDP – well inside the 8.6 per cent target sent by the IMF and its European lending partners.
The target for 2013 stands at 7.5 per cent, with the IMF suggesting Ireland will actually keep the deficit to within 6.75 per per cent of GDP.
It sounded a warning over the volume of 'non-performing loans' on the books of the banks, however, suggesting that a quarter of all loans at domestic banks were in some kind of repayment difficulty.
Acting IMF chair David Lipton said the Irish authorities had "pursued steadfast policy implementation for more than two years and positive results are emerging".
"Recent economic indicators suggest a nascent revival of domestic demand, Irish bond yields have fallen to pre-program levels, and the government's market access has deepened, as seen in the successful issuance of 10-year bonds."
Lipton welcomed recent moves to encourage banks to work with troubled mortgage holders to restructure their loans, but said Ireland needed to continue its path of rigorously pursuing the targets laid down for it.
He repeated the IMF's wish, however, that European leaders would follow up on their pledges to split banking and sovereign debts.
"Timely and forceful delivery on European pledges to improve program sustainability, especially by breaking the vicious circle between the banks and the Irish sovereign, would go a long way toward Ireland's durable exit from drawing on official support," he said.
Ireland has now been approved for over €20 billion in IMF loans, almost 90 per cent of the total amount. IMF inspectors are due to visit Ireland three more times – in April, July and October – to appraise Ireland's performance and approve the distribution of the remaining €2.43 billion in IMF loans.
Ireland has borrowed €21.7 billion from the European Commission-backed EFSM, and €12.74 billion from the EFSF which is funded by other Eurozone members.
In addition, it has borrowed €2.45 billion from the British government, €300 million from Sweden, and €200 million from Denmark.