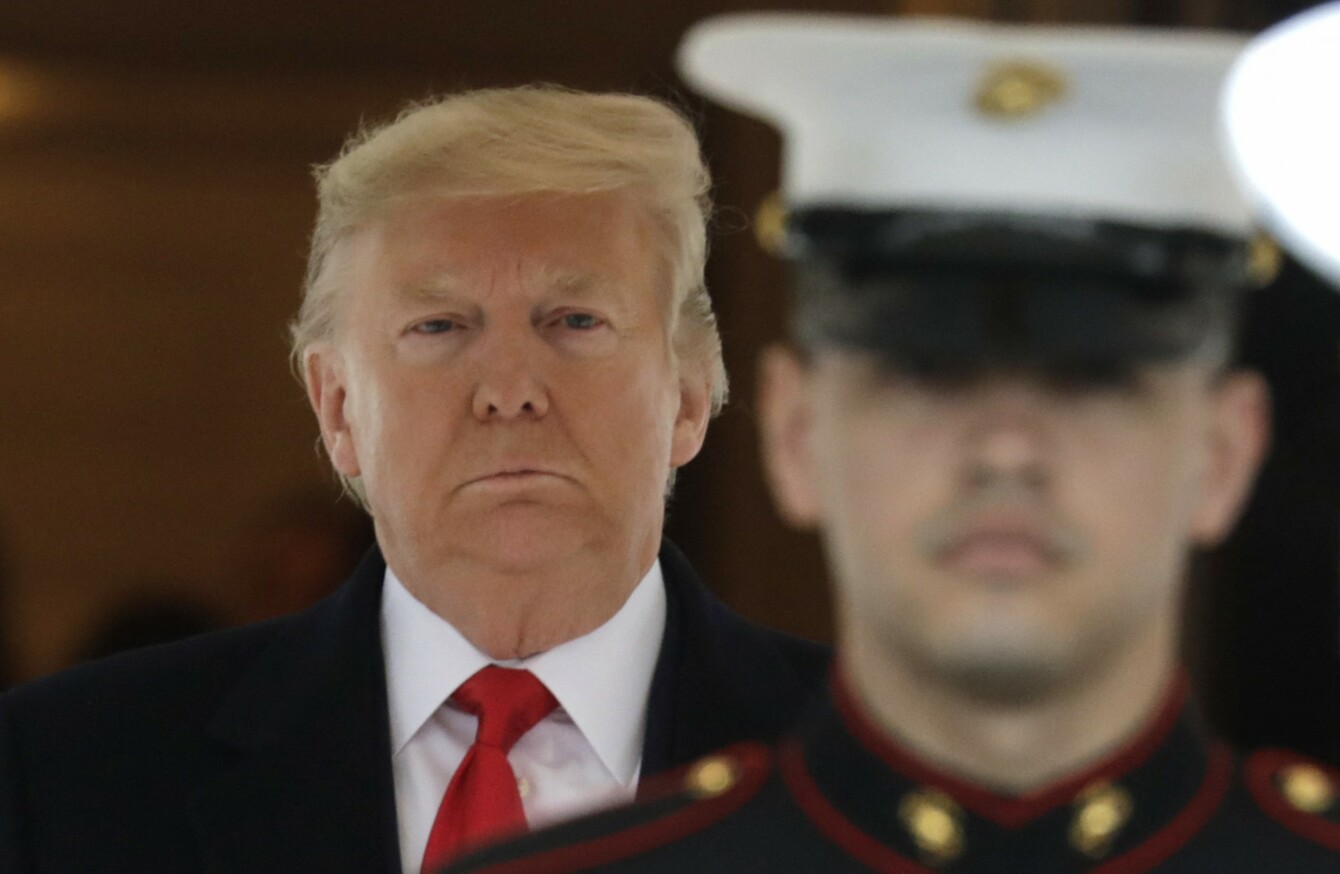 Image: Gripas Yuri/ABACA
Image: Gripas Yuri/ABACA
Updated Feb 5th 2020, 9:24 PM
DONALD TRUMP HAS been acquitted of all charges in the Senate impeachment trial and will remain in office.
A majority of senators expressed unease with Trump's pressure campaign on Ukraine that resulted in the two articles of impeachment. But the final tallies, 52-48 favouring acquittal of abuse of power, 53-47 of obstruction of Congress' investigation, fell far short.
Two-thirds guilty votes would have been needed to reach the Constitution's bar of high crimes and misdemeanours to convict and remove Trump from office.
The outcome followed months of impeachment proceedings, from Speaker Nancy Pelosi's House to Mitch McConnell's Senate.
No president has ever been removed by the Senate.
Trump was charged with abusing his power by pressuring Ukraine to investigate Democratic rival Joe Biden, in what amounted to political quid pro quo for personal political gain, according to Democrat members of the House of Representatives.
Earlier, former US presidential candidate Mitt Romney said he was going to vote to convict Trump at the Senate's impeachment trial. 
Romney called Trump's actions "perhaps the most abusive and destructive violation of oath of office that I can imagine".
Trump was impeached on charges of abuse of power and obstructing Congress.
It all relates to a phone call between the US President and his Ukrainian counterpart Volodymyr Zelensky last July.
During the conversation, Trump and Zelensky discussed Joe Biden, the former vice president who is seeking the Democratic nomination for this year's presidential election.
One key Democrat, Alabama senator Doug Jones announced ahead of the vote that after many sleepless nights he had decided to vote to convict on both charges.
"Senators are elected to make tough choices," Jones said in a statement. He noted the "gravity of this moment,"' and said Trump's actions were "more than simply inappropriate. They were an abuse of power. With impeachment as the only check on such presidential wrongdoing, I felt I must vote to convict".
The verdict, never truly in question since the House of Representatives formally impeached Trump in December, cleared out a major hurdle for the president to fully plunge into his campaign for re-election in November.
Trump had repeatedly dismissed the probe as a "hoax" and a "witch hunt" but argued he had the right as president to pressure Ukraine, while refusing to comply with Congressional subpoenas for testimony and documents.
He took no time in celebrating his victory with a tweet. 
Though doubtful from the outset that they would win support from Senate Republicans, an initial investigation amassed strong evidence to support the allegations.
The evidence showed that from early in 2019, Trump's private lawyer Rudy Giuliani and a close political ally, Ambassador to the European Union Gordon Sondland, were scheming to pressure Kiev to help smear Democrats, including Trump's potential 2020 rival Joe Biden, by opening investigations into them.
Adam Schiff, who led the House investigation, said the fact that it came after Mueller's investigation showed that Trump's 2016 campaign had actively sought help from Russia forced Democrats to act.
"We must say enough — enough! He has betrayed our national security, and he will do so again," Schiff argued on the Senate floor this week.
Trump's defenders were not seen as having undermined the facts compiled by Schiff's probe, and several Republican senators acknowledged he did wrong.
But his lawyers and Senate defenders argued, essentially, that Trump's behaviour was not egregious enough for impeachment and removal. 
And, pointing to the December House impeachment vote, starkly along party lines, they painted it as a political effort to "destroy the president" in an election year — arguing that voters should be allowed to decide Trump's fate.
"Your hatred of Donald Trump has blinded you to the obvious. This is not about protecting the country, this is about destroying the president," Republican Senator Lindsey Graham said before the vote.
"The only way for this to end permanently is for the president to get re-elected."
With reporting by the Associated Press and AFP