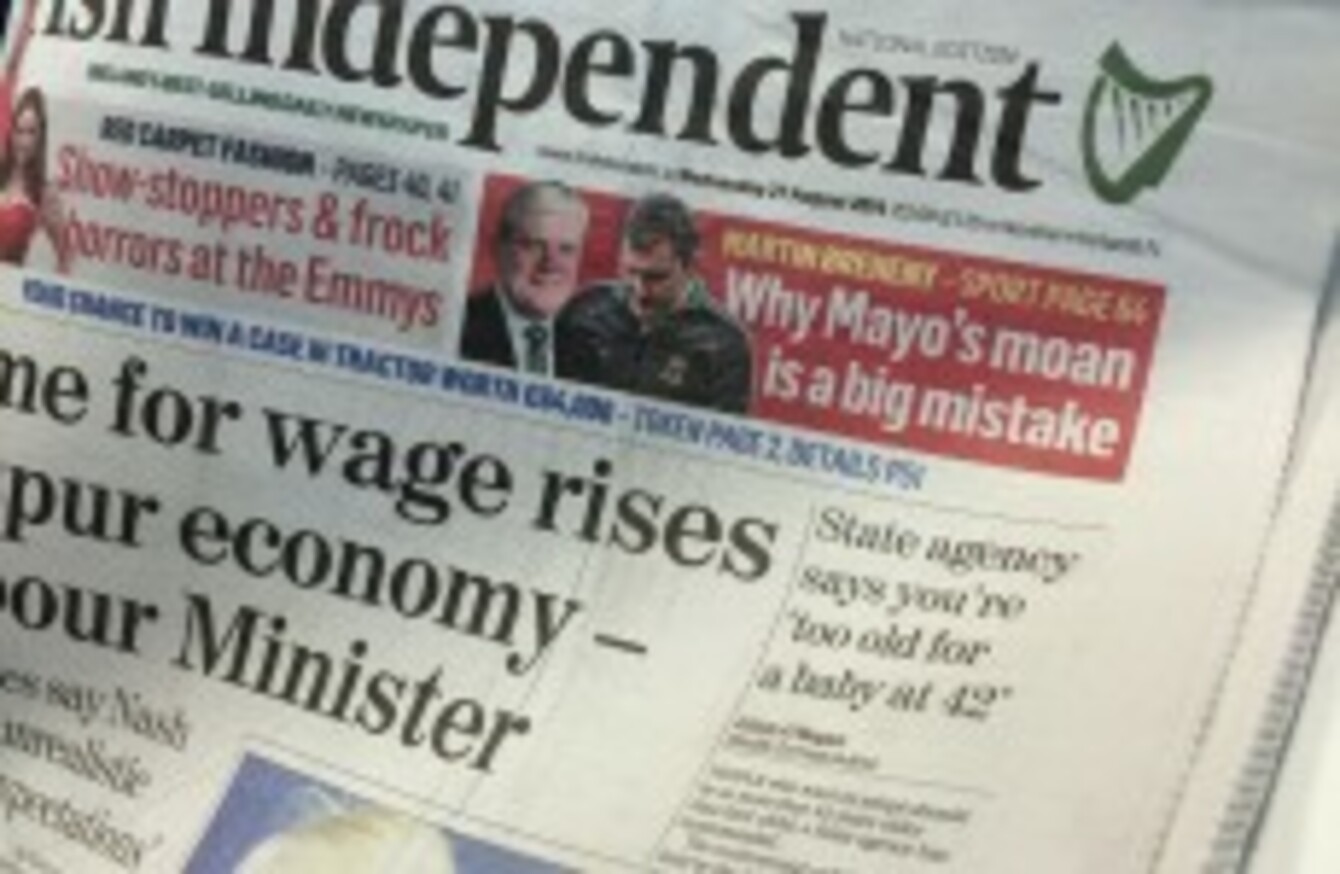 Image: Jack Horgan-Jones/TheJournal.ie
Image: Jack Horgan-Jones/TheJournal.ie
INDEPENDENT NEWS AND Media has doubled its net profit to €14 million before extraordinary items.
Digital advertising revenues at the group grew by 30% to €3.9 million, with unique visits to the independent.ie website at around 9.2 million in July, while page impressions for the month were up 23% year-on-year to 70 million.
INM managed to book the profit despite a €3.3 million dip in revenues to €157.8 million, while print advertising revenues fell by €1 million to €35.9 million. The drop in print revenues was the smallest booked since 2007.
Overall, Davy analyst John Stokes said that results were in line with what the stockbroker was expecting.
"Revenue growth was better than forecast but costs declined at a slightly lower rate than we had expected."
Stokes called the improving trends in advertising "encouraging".
Speaking to TheJournal.ie he said that "the balance sheet is in a much healthier state post the restructuring".
Given the vagaries of the print and online advertising market at the moment, Stokes said that trying to forecast revenues for next year is "difficult", but "the risk reward is pretty reasonable".
Group chairman Leslie Buckley said: "The first half of 2014 showed some further positive signs in our print publishing business, as we experienced strong growth in recruitment and property advertising."
Our market-leading titles are well positioned to benefit from the expected return to growth in the Irish domestic economy.
Yesterday news emerged the Claire Grady, the editor of the Irish Independent, was to step down from her position and leave INM with immediate effect.
Australian loss
Overall, the group booked an on-paper loss of €2.1 million for the first six months of the year, largely thanks to a decision to back off its Australian interests and focus on Ireland.
APN raised equity from investors earlier this year, with INM deciding to stay clear of the funding round. This decision meant that the Irish group's holding in APN tumbled to 18.6%, with the writedown in value of €16.7 million now showing up in half-yearly accounts.
At the time, INM said that it was steering clear of the funding round because its "priority objective at this time is to retain the operational flexibility necessary to reposition its operations for an improvement in Ireland's evolving media market".
Stokes downplayed the significance of the impairment, saying that it was a "technical issue and a non-cash charge".
"It's just down to the vagaries of the accounting."
INM valued its stake in APN at €75 million, although the holding carries a real value of closer to €103 million.