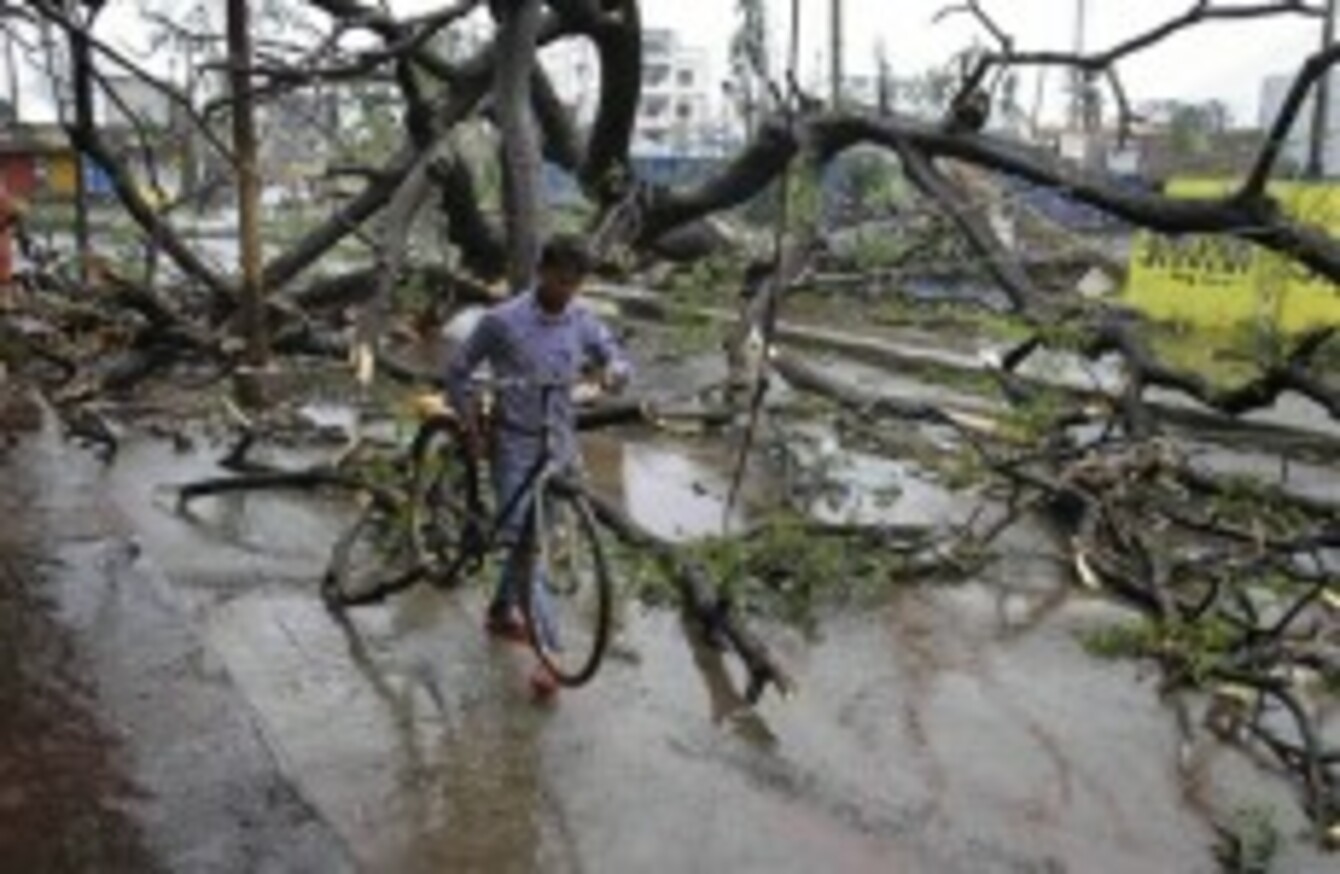 An Indian man with his bicycle makes his way through uprooted trees fallen during Cyclone Phailin on a road in Berhampur.
Image: (AP Photo/Bikas Das)
An Indian man with his bicycle makes his way through uprooted trees fallen during Cyclone Phailin on a road in Berhampur.
Image: (AP Photo/Bikas Das)
INDIA BEGAN SORTING through miles of wreckage today after Cyclone Phailin roared ashore, flooding towns and villages and destroying tens of thousands of thatch homes, but officials said massive evacuation efforts had spared the east coast from widespread loss of life.
More than 18 hours after it made landfall in Orissa state, officials said they knew of only nine fatalities.
The final death toll will almost certainly climb, and parts of the cyclone-battered coast remain isolated by downed communication links and blocked roads, but the evacuation of nearly one million people appeared to have saved many lives.
Damage
"Damage to property is extensive," said Amitabh Thakur, the top police officer in the Orissa district worst-hit by the cyclone. "But few lives have been lost," he said, crediting the mass evacuations.
A cargo ship carrying iron ore, the MV Bingo, sank Saturday as the cyclone barreled through the Bay of Bengal, coast guard officials said. The crew of 18 — including 17 Chinese and one Indonesian — got into a lifeboat but had not been located by midday today.
Port officials were in touch with the crew by radio until 4am Sunday, and the coast guard was still searching for the crew, said guard Commandant Sharad Matri.
The storm weakened significantly after making landfall early Saturday night, with some areas reporting little more than breezy drizzles today, but meteorologists said parts of the region would face heavy rains and winds for the next 24 hours.
People hold each others' hands and cross a water logged road as they return to their respective villages near Gopalpur, Orissa state, India. (Bikas Das/AP/Press Association Images)
"Its intensity is still strong, but after crossing the coast it has weakened considerably," Sharat Sahu, a top official with the Indian Meteorological Department in Orissa, told reporters.
Indian officials spoke dismissively of American forecasters who had warned of a record-breaking cyclone that would drive a massive wall of water — perhaps as large as 30 feet high — into the coastline.
"They have been issuing warnings and we have been contradicting them," said L.S. Rathore, director-general of the Indian Meteorological Department. "That is all that I want to say."
"As a scientist, we have our own opinion and we stuck to that. We told them that is what is required as a national weather service — to keep people informed with the reality without being influenced by over-warning," he said at a news conference in New Delhi, the capital.
Evacuation
The Indian government had faced immense public criticism after its slow response to a series of deadly floods and mudslides in June in the northern state of Uttarakhand, where more than 6,000 people were killed.
But officials took few chances with Phailin, especially given memories of a 1999 Orissa cyclone that devastated the coastline and left at least 10,000 people dead.
Members of Indian Air Force wait for weather to clear up at a sea shore after the Cyclone Phailin, in Gopalpur, in the eastern Indian state of Orissa. (Bikas Das/Press Association Images)
Nearly 1 million people were evacuated from the coast ahead of the storm, including more than 870,000 in Orissa and more than 100,000 in neighboring Andhra Pradesh.
Officials in both states had been stockpiling emergency food supplies and setting up shelters. The Indian military put some of its forces on alert, with trucks, transport planes and helicopters at the ready for relief operations.
Electric utility authorities in Orissa switched off the power in 12 districts in the path of the cyclone after scores of electric pylons toppled from the torrential rain and high winds.
The storm wreaked havoc in Behrampur, a small town about 7 miles inland from where the eye of the cyclone struck, with the wind shattering windows, blowing down trees and electrical poles, and terrifying residents. But only three people died in the town, a security official said.
"The trees and the buildings could not be saved, but the people have been evacuated, so the human toll was contained so far," said Naresh Sharma, a commander with the Indian Central Reserve Police Force.
For the people living along the coast, many of whom live as subsistence farmers in mud-and-thatch huts, the economic toll will be immense.