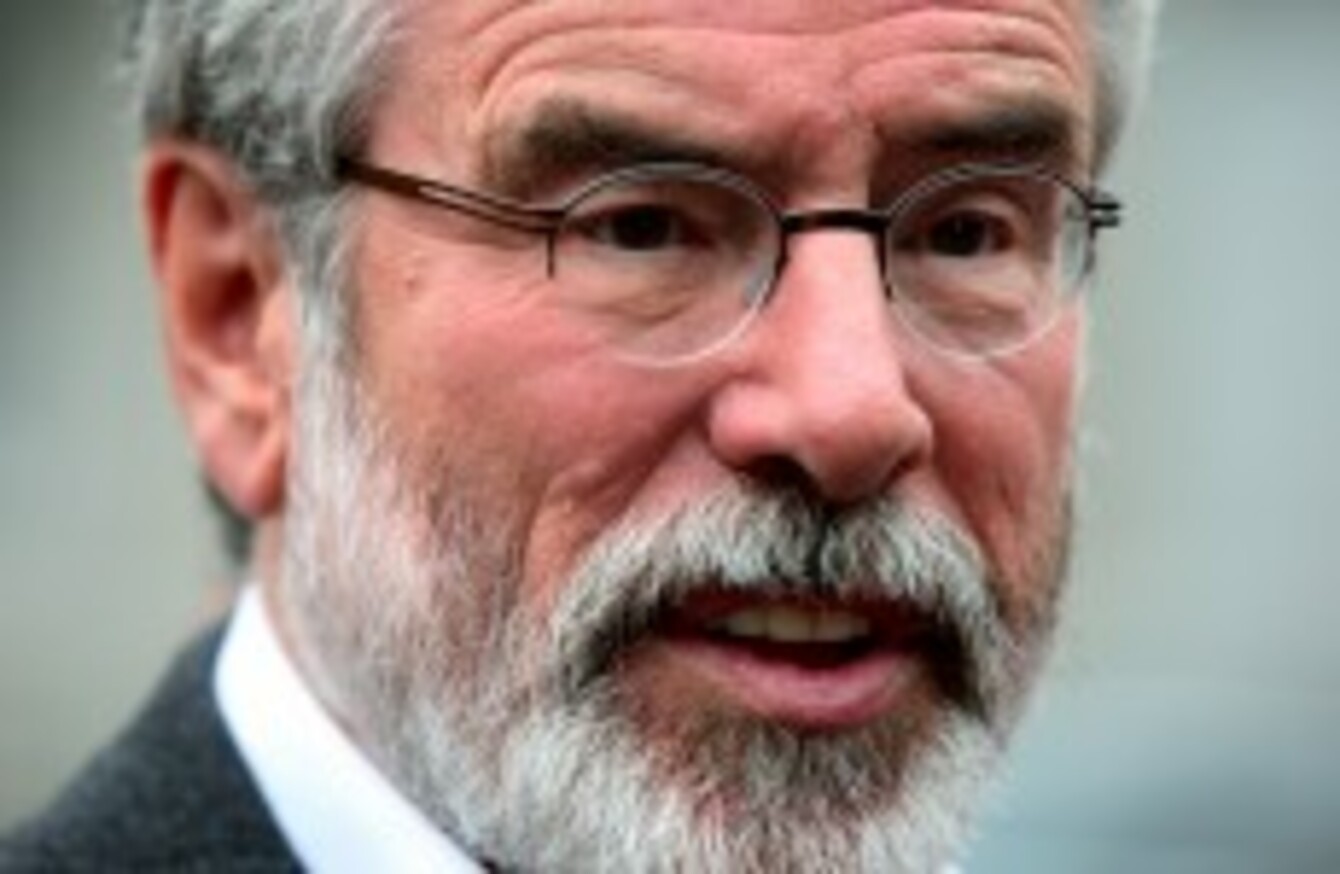 Sinn Féin leader Gerry Adams
Image: PA Wire/Press Association Images
Sinn Féin leader Gerry Adams
Image: PA Wire/Press Association Images
THE CHAIRMAN OF Independent News and Media has hit out against controversial comments Gerry Adam's made at an event in New York last week. 
Speaking at a Friends of Sinn Féin fundraising dinner in the US last week, Adams described how Michael Collins dealt with critical press coverage from Independent Newspapers by holding the editor at gunpoint and dismantling printing presses.
Adams told the audience at the Sheraton Hotel in Manhattan he said:
Mick Collins' response to the Independent's criticism of the fight for freedom was to dispatch volunteers to the Independent's offices.

They held the editor at gunpoint and then dismantled and destroyed the entire printing machinery! Now I'm obviously not advocating that…
The Tánaiste Joan Burton condemned the comments, telling the Dáil that they represented "a barely concealed threat to the modern media of the consequences of interfering with powerful men".
Seamus Dooley, Irish secretary of the National Union of Journalists, said this week that the comments made were "inappropriate" in the context of the daily threats of violence against journalists across the globe.
Careless 
Tonight, INM Chairman, Leslie Buckley said Adams' comments were "careless" and "at worst they were insidious".
I believe this to be a veiled threat by Mr. Adams not only to journalists at INM but the entire free media on this island, whether broadcast, online or print.

The comments of Mr. Adams are all the more concerning because of the murders of two campaigning journalists from Independent News & Media – Veronica Guerin and Marty O'Hagan – to gun violence in the course of their work.

In fact, I am astounded by Sinn Fein leader Gerry Adams' remarks and urge him to reflect on what he has said. It is important that we as a society never forget their courage and bravery and the sacrifice they made.
Buckley added that Tomas Brunegård President of WAN-IFRA, the global body representing 18,000 newspapers and online publishers wrote this week to the Sinn Fein leader respectfully calling on Adams' to retract these comments.
Buckley said he urged the Sinn Féin leader to do the same.
Historical fact 
Earlier this week, Adams said he would not be withdrawing the comments.
"I have no intention of withdrawing my remarks. They were simply referencing a historical fact," he said.
"I was highlighting the hypocrisy of Fine Gael and Fianna Fail leaders who hale [sic] IRA leader Michael Collins as some Gandhi-like figure while condemning modern republicans such Bobby Sands, Mairead Farrell, or Maire Drumm as 'terrorists'.
He said that anyone who read the script for the speech will "understand the absurdity of the Independent Group's campaign".