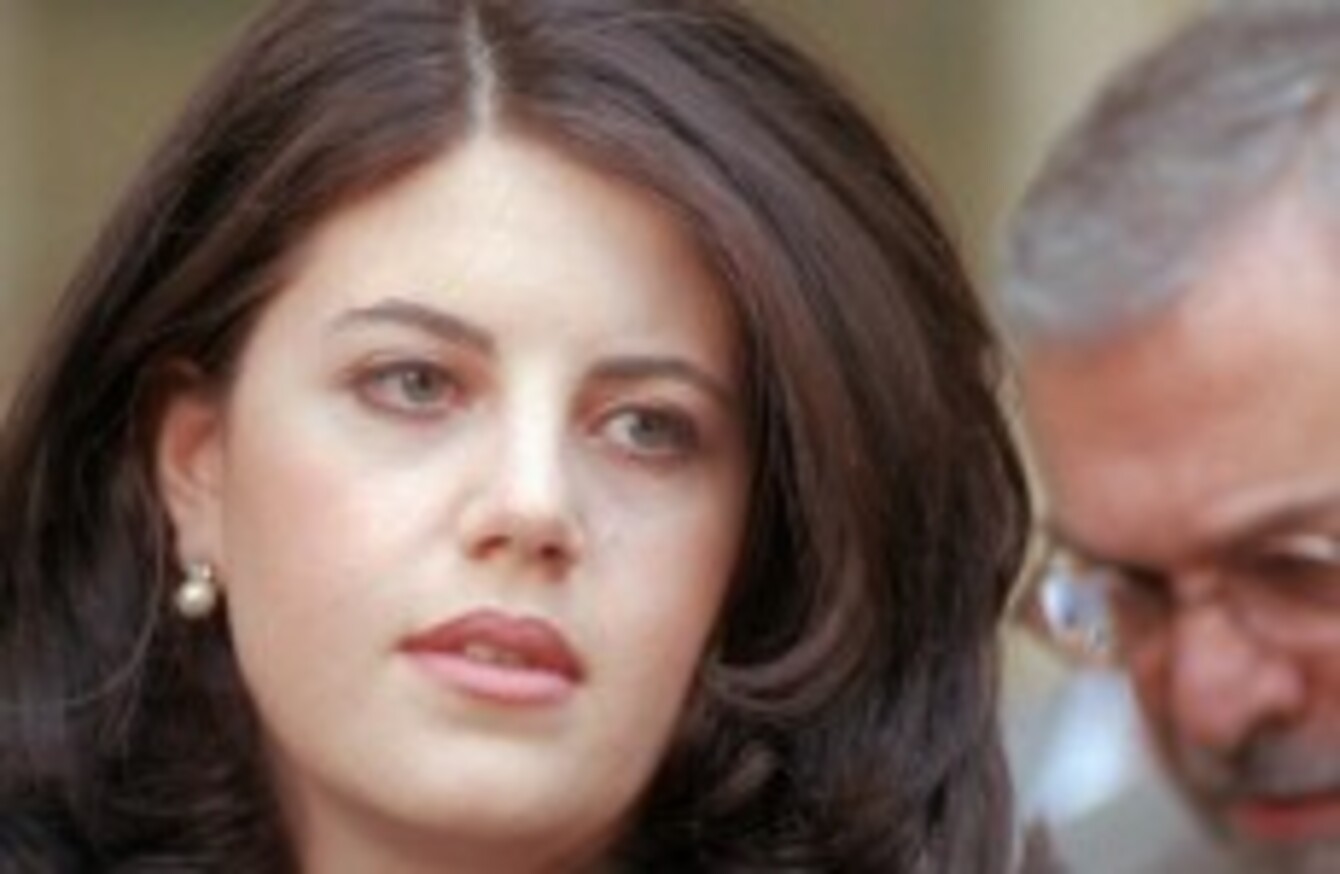 Former White House intern Monica Lewinsky
Image: Dan Loh/Press Association Images
Former White House intern Monica Lewinsky
Image: Dan Loh/Press Association Images
WHEN IT WAS revealed that an intern was responsible for an American television station broadcasting fake racist names for the pilots of the crashed Asiana flight, the unnamed summer hire was fired, which raised the genuinely plausible question: Were they the worst intern ever?
Maybe they were, but there's some pretty stiff competition out there.
We've rounded up some of the best — or worst? — examples of bad interns.
The intern who fabricated sources for her articles.
The intern who allegedly wrote about startups in exchange for MacBooks.
A 17-year-old TechCrunch intern was fired from the website in 2010 after it was alleged that they had asked a startup for a MacBook Air in exchange for writing a post about the company.
The company later confirmed that they had also received at least one other computer from a company he wrote about.
The intern who pooped all over NBC.
To her credit, the intern apparently showed up the next day and continued her internship.
The intern who threw glitter at Mitt Romney.
University of Colorado Denver student Peter Smith was fired from his 2012 internship with Colorado Senate Democrats after he attempted to "glitter bomb" Mitt Romney by throwing glitter at the then-presidential hopeful.
Mitt Romney glitter-bombed by gay rights activists in a separate incident. (Image Credit: Gerald Herbert/Press Association Images)
The intern who tried to sell a meeting with a senator
The intern who lost more than 800,000 social security numbers
Jared Ilovar, a computer intern working for the state of Ohio, was on the receiving end of some bad luck when a sensitive data tape was stolen from his car.
The tape contained the names and Social Security numbers of more than 800,000 Ohioans, leading to Ilovar being fired and later claiming he was a "scapegoat".
The intern who confirmed fake racist names to a TV station.
After the crash of Asiana Flight 214, an intern with the National Transportation Safety Board erroneously confirmed four fake racist names of the pilots to television station KTVU, which subsequently read them live on-air.
The NTSB intern was fired for his action
The intern who was the least of Anglo's worries.
In 2007, an intern at the now defunct Anglo Irish Bank told his boss that he had to miss work because he was going home for a family emergency.
When his boss saw Facebook photos of the intern at a costume party during the time he was supposed to be at home, he sent an email to his fairy-dressed intern saying "Cool wand!," Gawker reported.
But sure, there were some more worrying goings-on at the bank around that time.
#Open journalism No news is bad news Support The Journal

Your contributions will help us continue to deliver the stories that are important to you

Support us now
The intern who made up a drunken MySpace rant from Roseanne Barr
Although some people write this off as a cover story, in 2007 Roseanne Barr fired the intern who ran her MySpace profile after a seemingly drunken ramble appeared on her page when the comedian was vacationing in Hawaii.
The intern who got Bill Clinton impeached
Maybe the most famous intern of all time, Monica Lewinsky was a recent Lewis & Clark College graduate in 1995 who had just started an internship at the White House. Three years later, Lewinsky's sexual relationship with her boss — then President Bill Clinton — became public knowledge, and led to his impeachment by Congress.
Former White House intern Monica Lewinsky displays a copy of her book (Image Credit: Nick Ut/Press Association Images)
Peter Jacobs