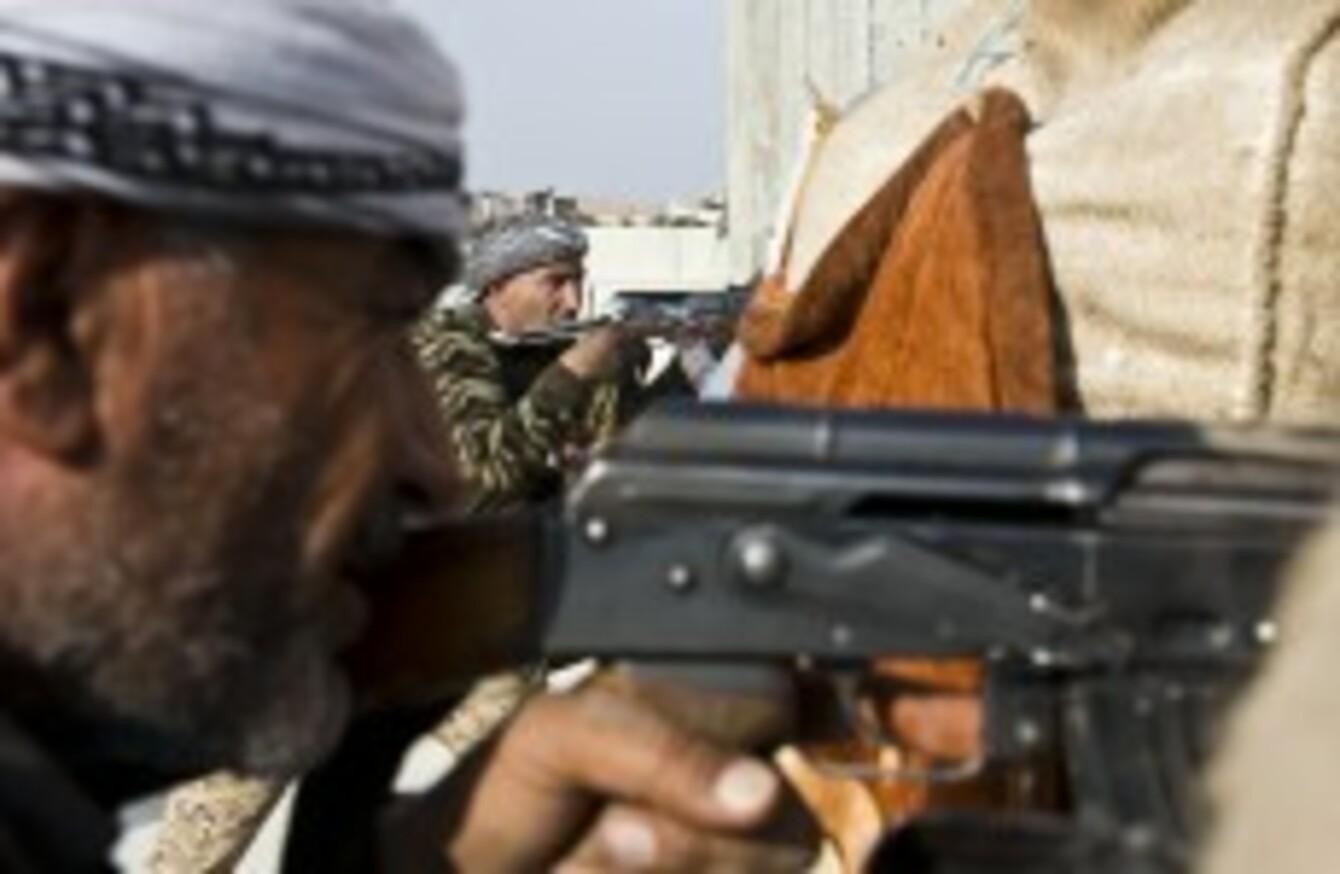 FILE: Fighters from the Free Syrian Army, left, and the Kurdish People's Protection Units (YPG), center, join forces to fight Islamic State group militants in Kobani, Syria
Image: AP/Press Association Images
FILE: Fighters from the Free Syrian Army, left, and the Kurdish People's Protection Units (YPG), center, join forces to fight Islamic State group militants in Kobani, Syria
Image: AP/Press Association Images
A FORMER ISIS operative claims that there are around 40 Irish fighters with ISIS in the Middle East.
The man, 'Abu Omar' (not his real name), spoke to Newstalk's Shona Murray at the Turkish-Syria border.
He told her he had been a group leader in the Free Syrian Army, then forced to fight with ISIS for a time before defecting.
In the interview, he said:
All the countries around the earth, the Western countries, have fighters with ISIS inside Syria now. There was some of UK people, Irish, French… the Irish fighters are perfect snipers. Every place they need snipers they move the Irish there.
But the Irish fighters they was around 40.
They know them from them names as Abu Omar er Irlandie, Irish, Abu Omar Irish.
They walk in with the British every time, and they see them together.
Murray said Omar told her the European fighters see themselves as part of the formation of the caliphate. Omar said that some Irish were involved in beheadings against local people and local militias, though he did not have video evidence.
Omar told Murray that the whereabouts of 'Jihadi John', the ISIS member seen in its execution videos, are tightly sealed and no one knows where he is.
Executions
He said that in the case of executions, most videos are made the week before they are released by ISIS.
Omar also said there is "much talk" about attacking Western soil. But priority is to expand their control over Syria and Iraq and the Levant region.
He claimed that there are members in Europe and the US who could make a bomb inside any country they wanted, but they are waiting a decision.
America, Britain, France, Denmark could be first to be targeted because they make cartoons about Mohammed, he said. "So they focus about it and they promise the fight in a few years, big thing will happen there."
Listen to the full interview on Newstalk.