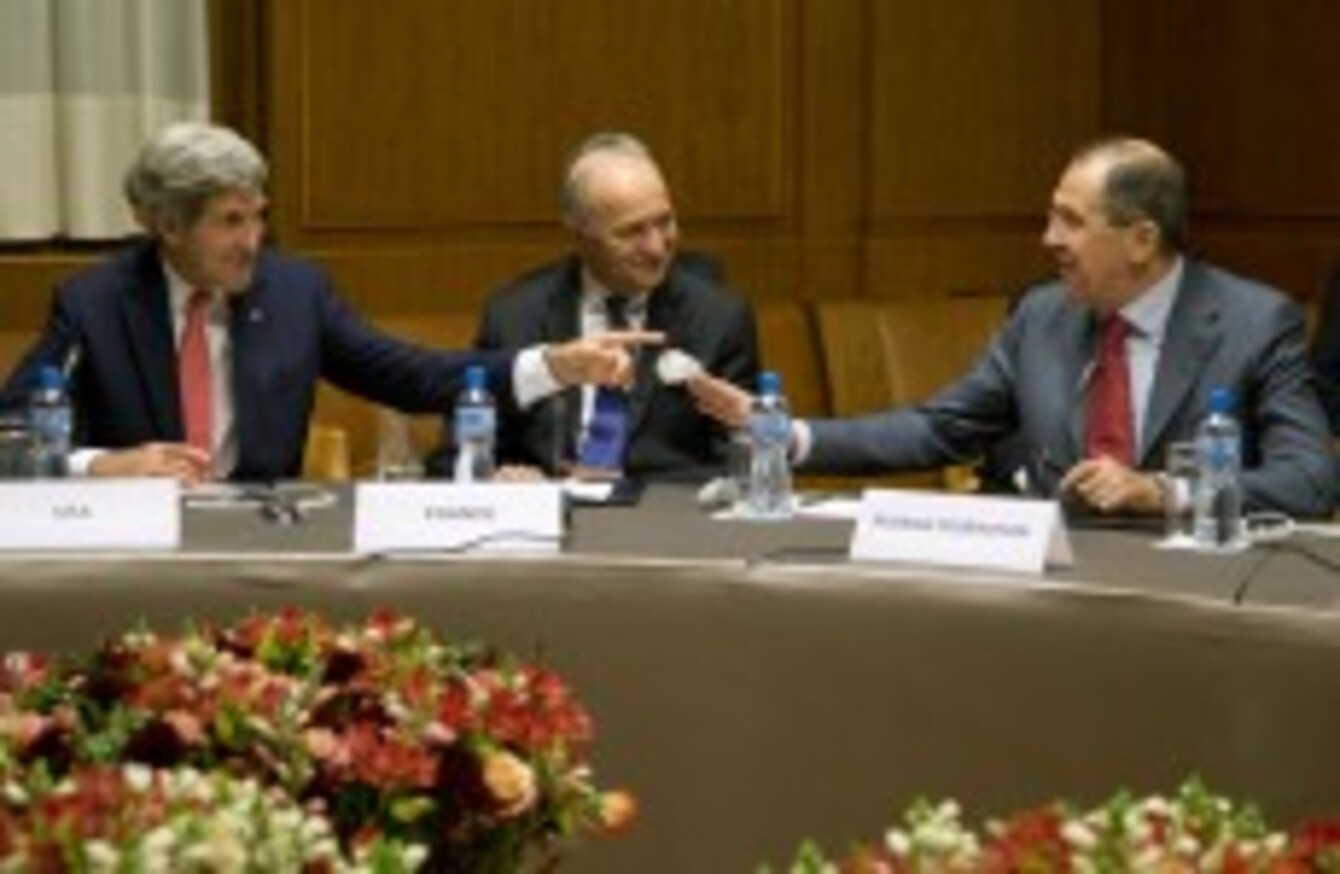 Image: Carolyn Kaster/AP/Press Association Images
Image: Carolyn Kaster/AP/Press Association Images
ANALYSTS HAVE PRAISED a ground-breaking interim deal with Iran to rein in its nuclear program in return for sanctions relief, but warned negotiations for a full agreement will prove even tougher.
"The interim deal is a strong one, which achieves a broader array of constraints and verification on Iran's nuclear program than ever previously contemplated," said Suzanne Maloney, senior fellow with the Washington-based Brookings Institution.
She stressed that the six-month accord tied Tehran "to an ongoing diplomatic process whose primary rewards remain deferred until a far more ambitious agreement can be achieved."
After almost a decade of stalemate in negotiations between Iran and the so-called P5+1 group — Britain, China, France, Germany, Russia and the United States — things have moved at breakneck speed since Iran's President Hassan Rouhani took office in August, and was hailed by some as a moderate.
Three rounds of negotiations since September led to a pre-dawn deal in Geneva.
Effective
"I think this has been a hard fought, effective and meaningful negotiation and has provided the kind of assurances that the negotiators need to have a legitimate, comprehensive discussion with Iran about the entirety of its nuclear progam," said Joel Rubin, director of policy for the non-governmental Ploughshares Fund.
The deal had put "time back on the clock" as the world tries to stop Iran getting to a so-called breakout capability where it could deploy a nuclear weapon, Rubin said, adding that Tehran's acceptance of daily inspections of by UN inspectors of its Natanz and Fordo plants was "unprecedented" as was an accord to stop work on its heavy water reactor at Arak.
"It's quite remarkable. If you had told me a few months ago that Iran would agree through diplomacy to eliminate its 20 percent stockpile, to stop construction and any progress of Arak, to allow for intrusive and daily monitoring, I would tell you that that is an achievement for our security," Rubin told AFP.
Caution
But there was also a note of caution that the next round of negotiations towards a fully comprehensive deal could prove even tougher.
Kenneth Pollack, senior fellow for the Saban Center for Middle East Policy at Brookings, said it was "plausible" to think that Iran and the international community could now work out a full deal over the next six months, but "we should recognize that that step may prove far, far more difficult than the agreement just negotiated.
"The complexities are far greater. The concessions that both sides will be required to make will be far more painful," he cautioned.
Hailing the deal as a breakthrough, French expert Bruno Tertrais from the Foundation for Strategic Research, warned however it remained a "limited" agreement.
"This deal says nothing about its militarization activities, its studies and research and the experiments Iran may have carried out for developing a nuclear device," Tertrais said.
"In some ways that is the most important thing… because the heart of the problem is not the enrichment, it's what you do with it."
Anger from Israel, an arch-foe of Iran, as well as from skeptical US lawmakers eager to press ahead with more sanctions on the Islamic republic, may also signal trouble for the negotiators going forward.
Handshakes all round… [Carolyn Kaster/AP/Press Association Images]
In terms of political reaction, US President Barack Obama said the deal was an "important first step" toward a comprehensive solution.
Russia's Vladimir Putin described it as a first step "on a long and difficult path," while UN Secretary General Ban Ki-moon said it "could turn out to be the beginnings of a historic agreement for the peoples and nations of the Middle East region and beyond".
Tánaiste and Foreign Affairs Minister Eamon Gilmore described it as an "important agreement for global peace and security".
"A road map for resolving diplomatically this vital international issue and preventing the possible further proliferation of nuclear weapons has now been set out and will hopefully result in a comprehensive agreement in the coming months."
This article includes reporting from AFP.