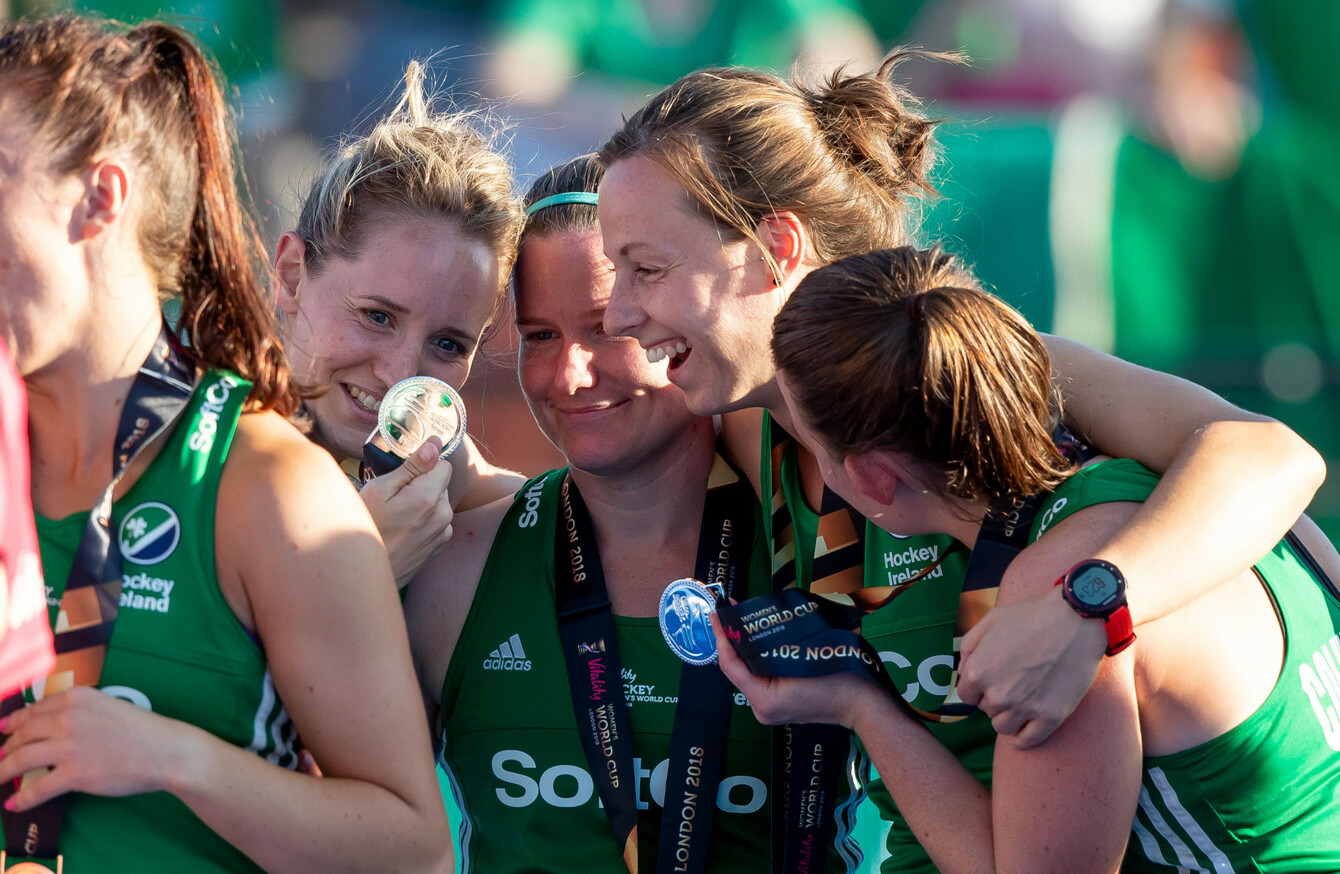 Members of the Irish women's hockey team celebrate with their silver medals following the World Cup earlier this month
Image: Morgan Treacy/INPHO
Members of the Irish women's hockey team celebrate with their silver medals following the World Cup earlier this month
Image: Morgan Treacy/INPHO
HOCKEY IRELAND IS set to receive a €500,000 grant as part of a €1.75million tranche of additional government funding for high performance sport.
Details of the grant were announced by Minister for Transport, Tourism and Sport, Shane Ross this afternoon, with Hockey Ireland receiving the highest allocation out of 17 different organisations.
It follows the success of the women's side earlier this month, when they defied the odds to reach the World Cup final, a run which has seen them move to eighth place in world rankings.
The board of Sport Ireland agreed to release the funds to bodies to assist athletes' preparations for the Tokyo Olympic and Paralympic Games in 2020.
"Hockey Ireland is absolutely delighted with today's announcement of additional funding of €500,000," Hockey Ireland CEO, Jerome Pels, said.
This is a great addition to the already substantial high performance funding we have received for 2018, which included a special grant for World Cup participation.
In 2016, when the men's national team qualified for the Rio Olympic Games, €530,000 was provided in State funding. According to Ross, total funding so far in 2018 for Hockey Ireland has been €900,000, which is on par with 2017 funding.
He said this included specific allocation support athletes – €45,00 for the Word Cup campaign and €60,000 in special grants.
Horse Sport Ireland and the Olympic Council of Ireland each received €175,000, Paralympics Ireland received €100,000, while Gymnastics Ireland and Swim Ireland were both awarded €75,000.
Meanwhile, Athletics Ireland and the Irish Athletic Boxing Association were each allocated €50,000, while the Confederation of Golf in Ireland, Cricket Ireland, Cycling Ireland, the Irish Sailing Association, and Rowing Ireland all received €40,000 each.
Triathlon Ireland, Badminton Ireland, the Irish Judo Association and the Irish Taekwondo Association all received between €20,000 and €30,000.
A further €250,000 for high performance equipment will also be allocated to Rowing Ireland and the Irish Sailing Association from savings in the Sports Capital Programme.
Announcing the funding, Ross paid tribute to the women's hockey team following their World Cup silver medal, and praised other recent performances by Irish rowers, sprinters, para-cyclists and gymnasts.
He said: "As I indicated previously, a significant proportion – some €500,000 – of this funding is being allocated to Hockey Ireland and I have no doubt that they will continue to build upon their remarkable successes of recent years."
Ross also singled out the "consistently excellent performances" of the O'Donovan brothers, and suggested the department would increase support for Irish athletes ahead of the Olympics in two years' time.