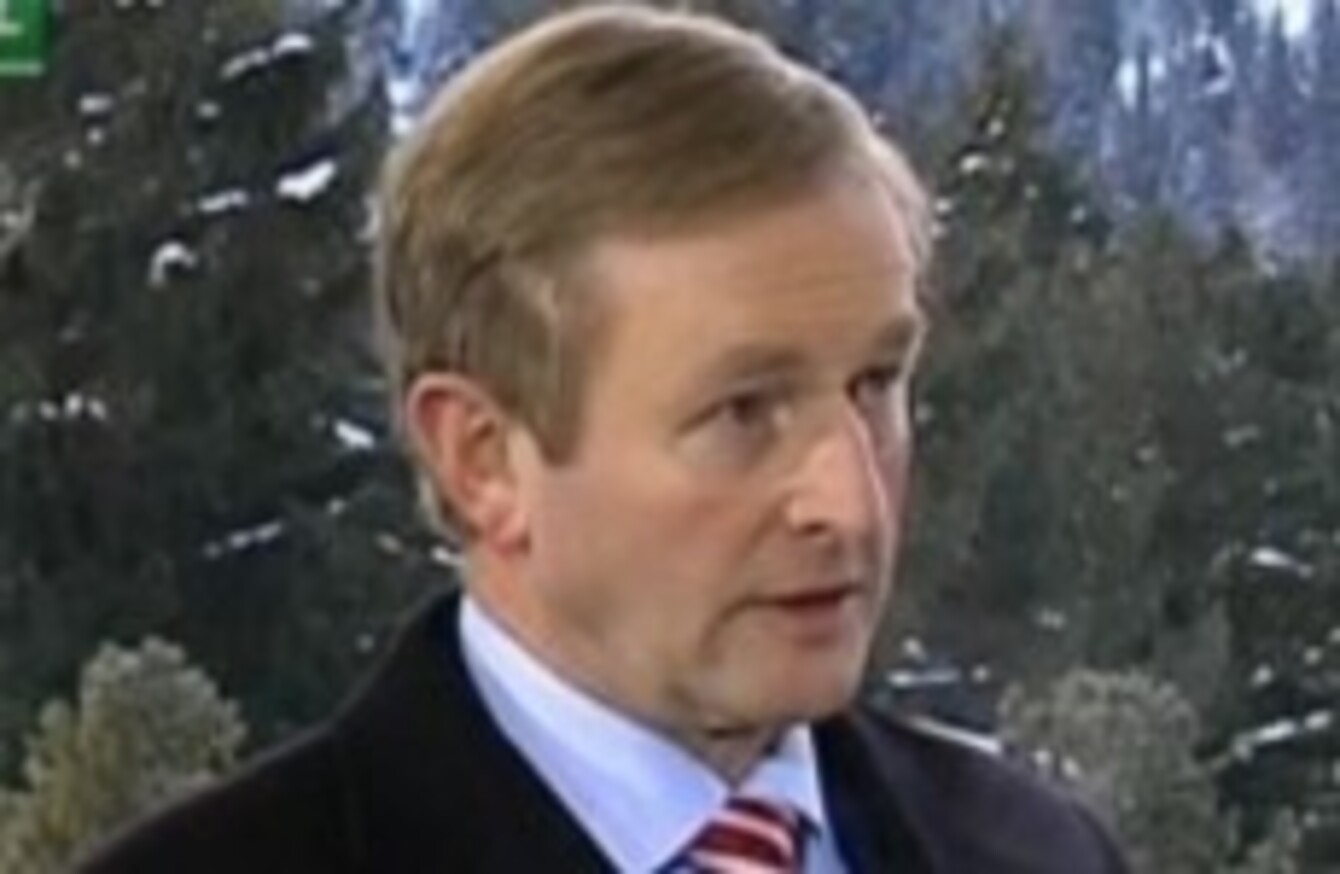 Enda Kenny
Image: screengrab CNBC
Enda Kenny
Image: screengrab CNBC
TAOISEACH ENDA KENNY said in an interview with CNBC today that although Ireland has exited its bailout programme, the country still has hills to climb.
He told the American network that the single biggest crisis facing the European Union is youth unemployment, adding that the EU has got to make decisions that will help the single market "rise to its potential".
Commenting on Ireland specifically, Kenny said that there is a huge "talent pool" in the country.
"Many leave to get experience, many leave and go to places around the world and come back with that experience," he said, outlining the government's aim to "recover all the jobs that were lost during economic crisis by 2020″.
World Economic Forum
Meanwhile, when the Minister for Finance Michael Noonan, who was also questioned by the American network, was asked whether he could categorically deny that Irish banks would need a so-called bail-in, he answered: "I can".
Noonan said that the banks do need need capital, but that extra provisions needed have been put in place.
Speaking in Davos, Switzerland, where they are both attending the World Economic Forum, Kenny said he agreed with the President of the European Central Bank, Mario Draghi, that Europe still had a way to go, stating:
… We must not be complacent, and we will not be complacent in Ireland  -  we recognise fully the challenge still facing our people, still facing the government in terms of rectifying our public finances, restructuring our banks…
He went on to say "just because we have exited the bailout doesn't mean we still don't have hills to climb, we have – many of them are really challenging for our people, but we know we have the capacity to do that…"
Young people
The Taoiseach said it was important to maintain "the momentum we have had, keep to our targets, keep steady hand on the tiller here, open the doors for business… and do not tax work out of existence, give young people opportunity to have careers…".
He added that there was a need to grow indigenous industry – "which means the further fixing of our banks and we want to eliminate the concept of mortgage distress which is so important for people".
Hard work
Listing off Ireland's traits, he said: "We have always been pragmatic, productive and never afraid of hard work – the story of the last three years is the story we intend to continue for the time ahead."
When asked how Ireland is doing, the Finance Minister Michael Noonan said that Ireland is "doing okay", highlighting that the country has returned to strong credit ratings and that the "prudent" growth targets are likely to be achieved.