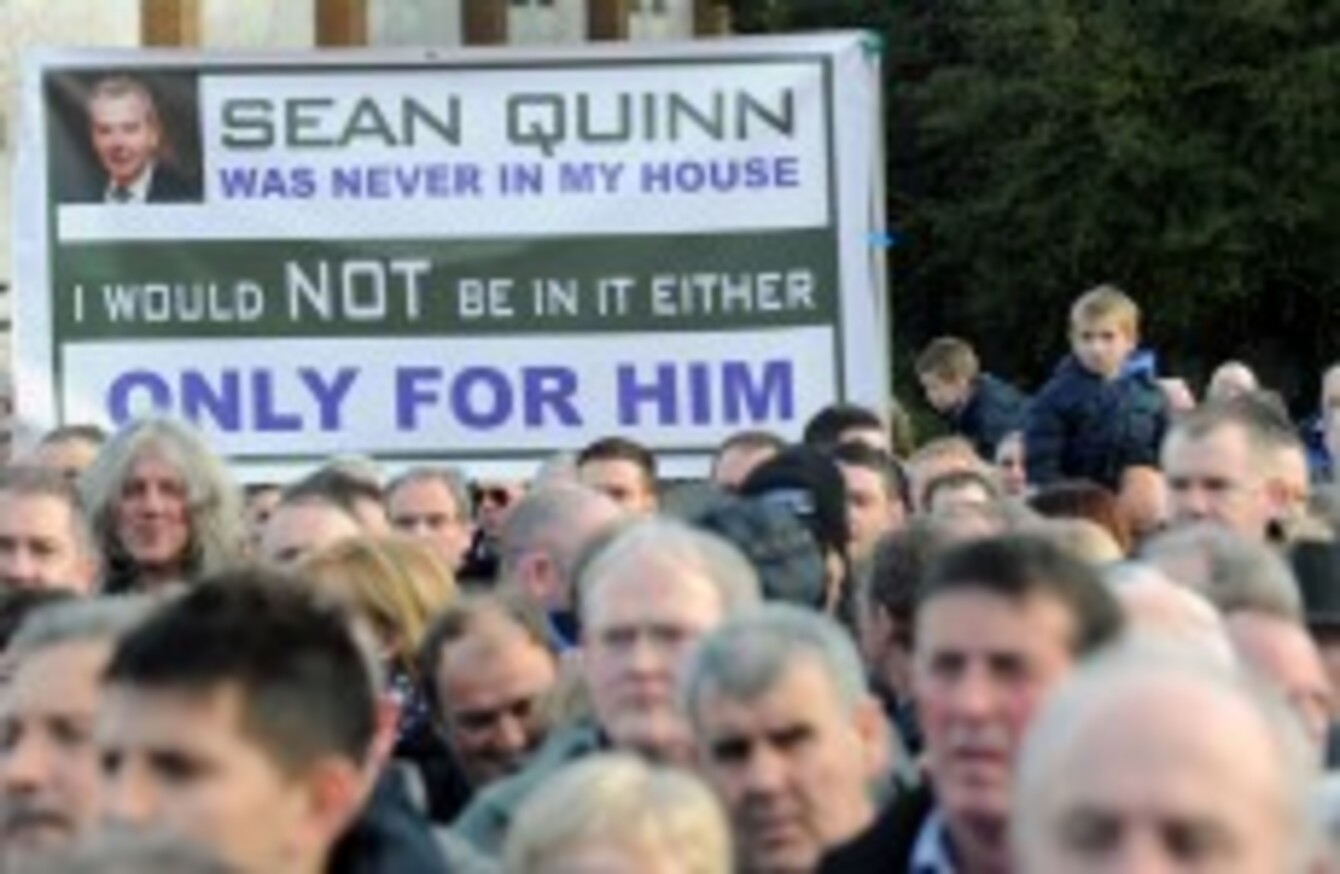 Image: Photocall Ireland archive
Image: Photocall Ireland archive
HOW WILL WE remember the post-boom years in time to come?
Donal Conaty of TheMire.net has been chronicling the fall of Celtic Tiger Ireland through daily spoof news posts since 2009.
Extracts have been gathered into a new book, Ireland In The Bailout Years: Tall Tales from Ireland in The Mire, available to buy here for Kindle or in paperback.
Each weekday until Friday, TheJournal.ie brings you a taste of the book's savage satire, year by post-boom year.
Today: 2013
Seán Quinn released from prison without heed for his welfare
Friday, 04 January
The persecution of Seán Quinn continued yesterday when he was forced to leave prison without any training on how to adapt to the outside world.
"Where will he go? What will he do? How can they expect him to cope with the hardship of life outside prison?" a Quinn supporter asked.
In an interview with BBC Newsline Mr Quinn said he had tried to "fit in" to jail life.
It is not clear if this means he spent the entire period of his incarceration proclaiming his innocence.

Visitors to Ireland dismayed at having to have abortions
Wednesday, 09 Jan
Visitors to this country arriving at Dublin airport have been dismayed to find that they may have to have an abortion during their stay.
"But I've come from England, I had one only this morning," a woman said.
"I hope the hospital has cable. This could take a while," a man from Texas said.
Meanwhile on Henry Street, a middle-aged woman said it was a sign of the times.
"Sure you can't do anything without getting an abortion these days," she said. "I wouldn't mind but I only came out for a litre of milk."

Government pledges to discover how nutrients got into food chain
Thursday, 17 January
The Government has pledged to act swiftly to discover how nutrients got into the food chain.
Random tests by the Food Safety Authority found nutrients in a small number of foods sold in Irish supermarkets.
"It's hard to understand how this could happen," a government spokesman said.
"We have worked closely with suppliers, processors and supermarkets to eradicate nutrients in food," he added.

Pope's beach towel already on sunlounger in Gran Canaria

Wednesday, 13 February
Irish holidaymakers in Gran Canaria have been outraged to find the Pope's beach towel is already on a poolside sun lounger there.
"He's not retiring until the end of February and his towel is already on the sun lounger closest to the pool, "A disgusted Derek from Crumlin said.
"We're going home on the 21st so we'll never get to lie on it."
"Feckin' Germans, I'm going to the bar," he added.
Smart Economy passes away in Leinster House
Thursday, 07 March
Condolence messages came from as far afield as Silicon Valley today after the Smart Economy passed away in Leinster House.
The death occurred as an Oireachtas Committee held a hearing on the dangers of social media.
#Open journalism No news is bad news Support The Journal

Your contributions will help us continue to deliver the stories that are important to you

Support us now
Eyewitnesses said the Smart Economy died despite the best efforts of members of the Oireachtas to save it.
"They tried to resuscitate it by putting their feet in their mouths but it was all in vain," a witness said. "It had lost the will to live."
Snow falling in threesomes causes traffic chaos

Wednesday, 27 March
Snowflakes falling in threesomes have added to the traffic chaos caused by the unseasonable weather.
Some motorists have been forced to close their eyes to avoid seeing the overtly sexual snowflakes.
"Unfortunately this has led to an increase in snow-related accidents on the N4," a Garda said. "Few Irish drivers can manage snow conditions even with their eyes open."
Mayo TD Michelle Mulherin said the snowflakes were sleazy and inappropriate. "I will be taking this up with Met Éireann," she said.
European finance ministers poised to make latest mistake

Friday, 12 April
European finance ministers and central bank governors will meet in Dublin Castle today to decide on their latest mistake.
The move comes after an IMF official admitted the emphasis on austerity in Ireland's bailout was, in fact, a mistake.
"We need a new mistake now," a European finance minister said. "Everyone knows about the old one."
The ministers and bankers posed under a banner that said "People across Europe think we're working" before going into the fun-filled meeting.
Donal Conaty is a former Irish Times London correspondent and author of the IMF bailout comedy, The Eighty-Five Billion Euro Man. He has been blogging on his satirical site TheMire.net since 2009.