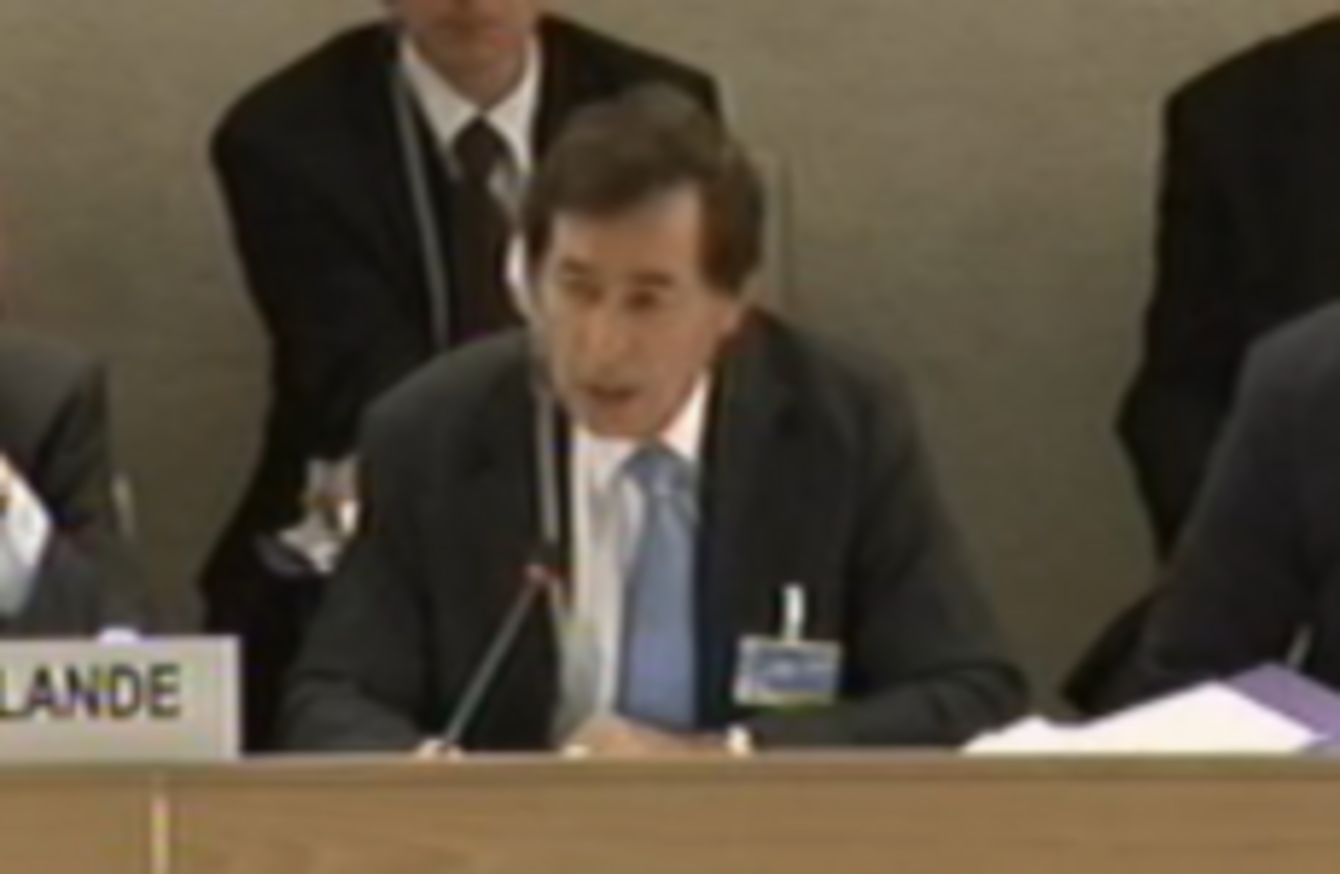 Justice minister Alan Shatter addressing the UN's UPR in Geneva last week.
Justice minister Alan Shatter addressing the UN's UPR in Geneva last week.
Updated, 16.49
THE UNITED NATIONS has published its draft outcome report following the Universal Periodic Review of its human rights record in Geneva last week.
The report reveals that while Ireland has accepted the majority of the recommendations made by other UN member states, it has rejected some 15 of those recommendations.
Among those recommendations are calls from the UK to introduce legislation implementing last year's ruling of the European Court of Human Rights in the case of A, B and C versus Ireland.
Ireland did commit, however, to "expeditious implementation" of the ECHR ruling and said it would appoint an expert group on the matter next month "with a view to making recommendations to government on how this matter should be best addressed".
Slovenia's request that Ireland allow abortion in cases "when pregnancy poses a risk to the health of the pregnant woman" was also turned down.
Other recommendations which "did not enjoy the support" of Ireland include bringing its abortion laws in line with the International Covenant on Civil and Political Rights, and revising laws on abortion in cases where the pregnancy is a result of rape or incest.
Requests of six countries to ratify or come party to the International Convention on Migrant Workers and Members of their Families were also turned down, as was a request to introduce a law allowing refugees to work and attend family reunions.
Ireland agreed to follow 62 recommendations made by other member states, and said it would examine a further 49, with a decision on the latter recommendations to be made by March 2012.
Many of the recommendations to which Ireland agreed included addressing prison conditions and acceding to UN conventions and protocols.
Among those being considered by Ireland are gender parity laws and proposals to enact laws enhancing the legal status of children ahead of the referendum on children's rights.
Your Rights Right Now, a coalition of NGOs, welcomed the report, saying Ireland was either accepting or considering around 90 per cent of the recommendations made of it.
"This is a remarkably high 'strike rate' and testament to the seriousness with which the Universal Periodic Review process has been taken by Government and civil society," Mark Kelly of the Irish Council for Civil Liberties said.
Kelly said Your Rights Right Now would "continue to campaign for the Government to take on board some of the small handful of recommendations that it has yet to accept."
The Pro-Life Campaign welcomed the government's decision to oppose the recommendations on abortion law, saying the calls "fly in the face of the UN's own recent research showing that Ireland, without abortion, is a world leader in terms of safety for women in pregnancy".