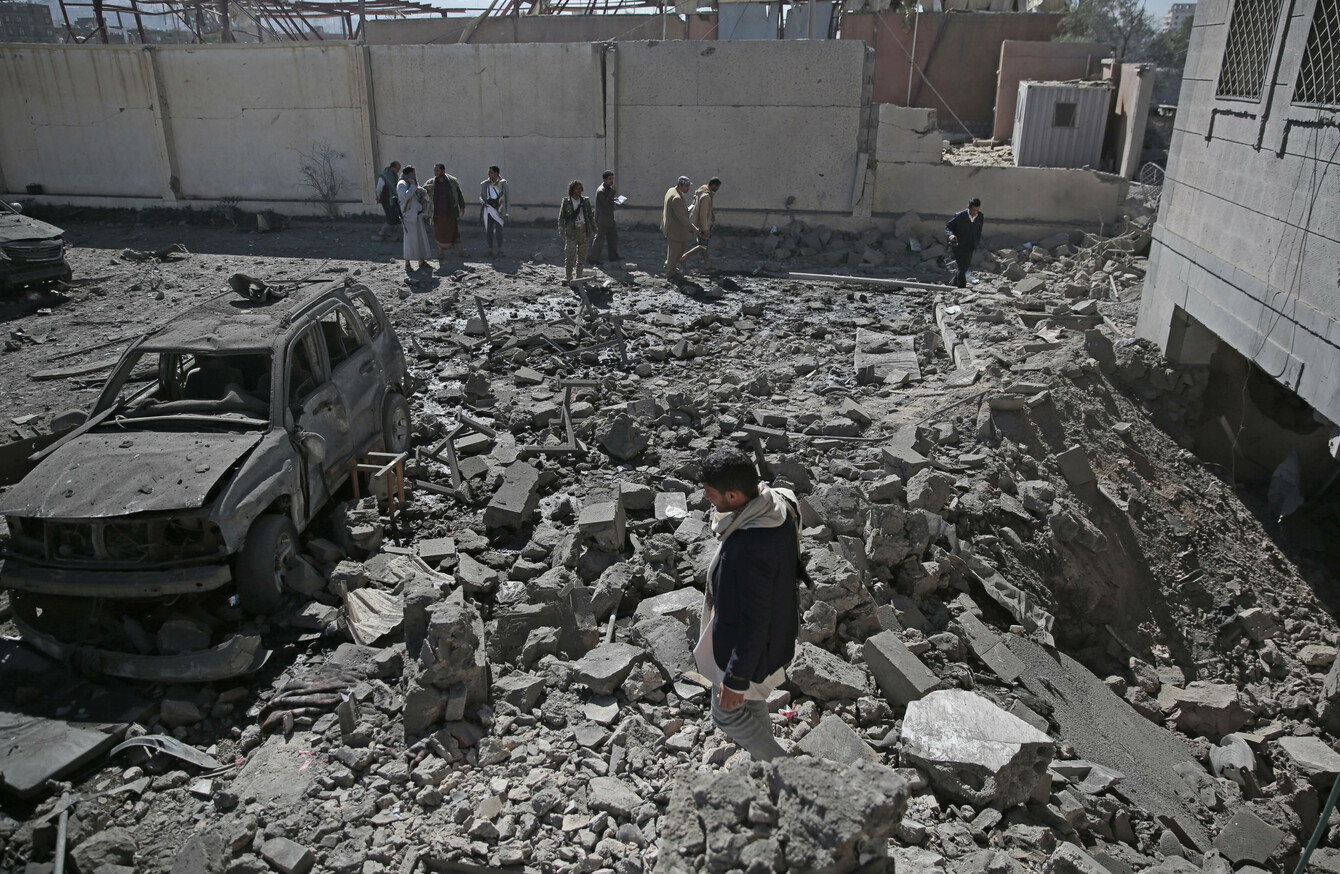 People inspect the rubble of a Houthi-held detention center destroyed by Saudi-led airstrikes in Sanaa, Yemen earlier this month.
Image: Hani Mohammed/PA
People inspect the rubble of a Houthi-held detention center destroyed by Saudi-led airstrikes in Sanaa, Yemen earlier this month.
Image: Hani Mohammed/PA
IRELAND IS TO give additional funding of €500,000 towards the crisis in Yemen where over 20 million people are in need of humanitarian assistance.
This new funding is in addition to €750,000 provided last month and brings Ireland's total direct humanitarian support to the crisis in Yemen to over €5.3 million this year.
In total, Ireland has and nearly €12.5 million since 2012.
The funding will go to the UN-managed Yemen Humanitarian Fund, which ensures food, shelter, health and protection is given to the most vulnerable.
Tánaiste Simon Coveney said the scale and severity of the humanitarian crisis in Yemen is overwhelming.
"The suffering of the Yemeni people is increasing every day. A staggering 22.2 million people, or 76% of the population, are in urgent need of humanitarian assistance, an increase of 1.5 million people since June 2017 alone," he said.
The UN has warned that Yemen is now the world's largest man-made humanitarian crisis, with 17.8 million people food insecure and 8.4 million people at risk of starvation.
Basic public services are on the brink of collapse, and there is a cholera outbreak on an unprecedented scale.
Following the launch of a missile from Yemen towards Riyadh on 4 November, the Saudi-led coalition imposed restrictions on humanitarian access in Yemen.
Tánaiste condemns attack
The Tánaiste said Ireland unreservedly condemns missile attacks which endanger civilian lives, including the attack on 13 December.
"Ireland has also consistently highlighted, in bilateral contacts and at EU level, that humanitarian and commercial access to Yemen is necessary to avoid tragedy on an appalling scale. At the Foreign Affairs Council on 11 December, I myself urged stronger EU action in this area, and I am personally committed to following this issue closely," said Coveney.
Minister of State Ciarán Cannon said Ireland remains committed to responding where needs are greatest, adding that Ireland will continue to provide supports to the people of Yemen in 2018.
Speaking to TheJournal.ie this week, Coveney said one of his biggest priorities next year is expanding Ireland's aid programme.
Irish aid programme
He said he will be looking for a budget to do this in the new year, adding that he will me making some "very ambitious new asks of government".
Taoiseach Leo Varadkar said this week that by the middle of next year the government will have carried out a review of Ireland's international development aid commitments.
He added:
Ireland has fallen back quite a lot first because of the recession and secondly more recently because of a very fast growing economy. Our contribution to international development is now only about 0.3% of our GNP or GNI, whichever you prefer to use.
We had been around 0.58% at one stage so the time has come I think for Ireland as a country to start increasing our spending on international development again and that will be part of our plans for Ireland's contribution to the world and also for our foreign policy and we'd hope by the middle of the year to be able set out a schedule as to how that can be done in the years ahead.