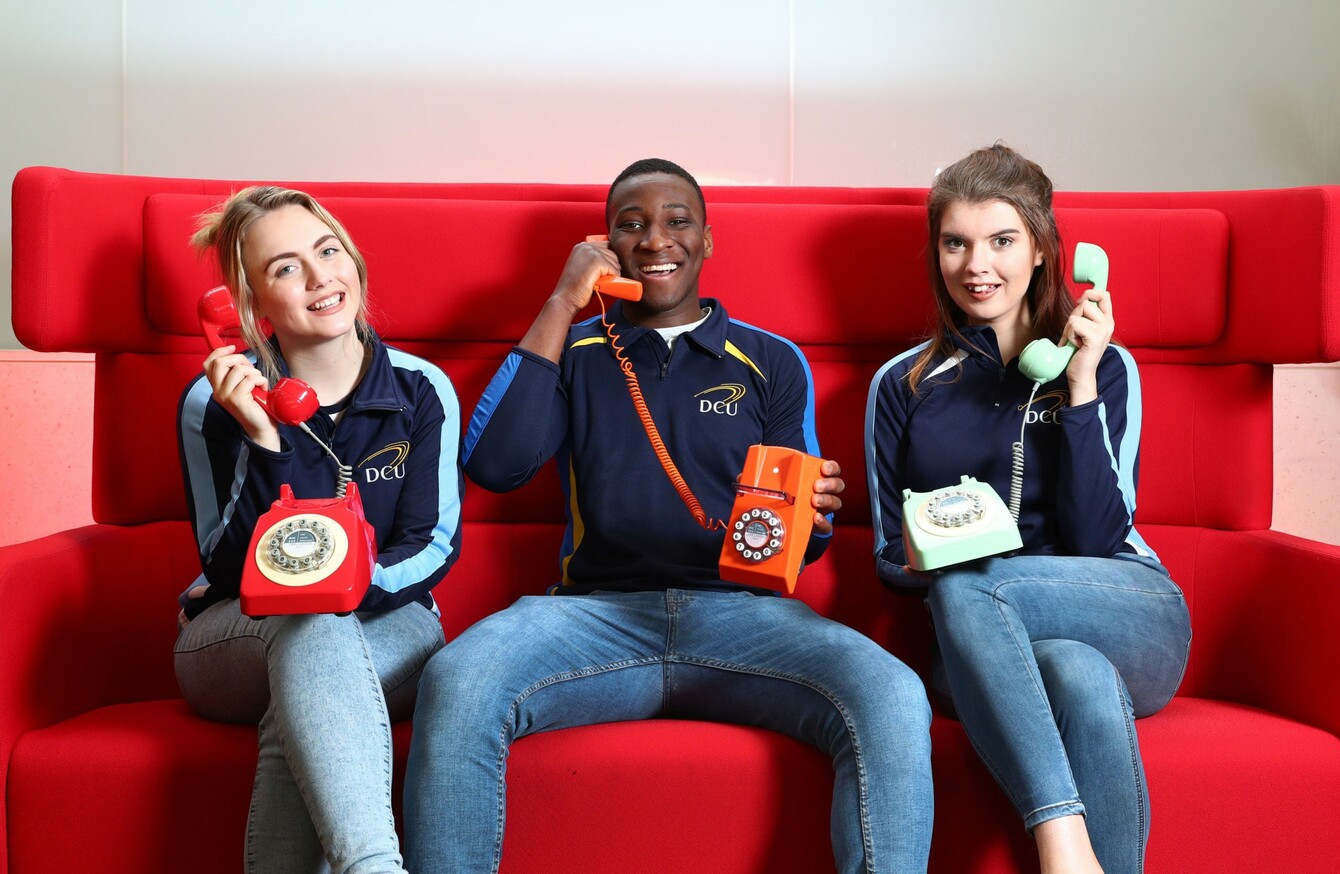 Image: Daire Hall/DCU
Image: Daire Hall/DCU
DURING THE 1980s, university was a pathway open to the elite, upper-middle class and those academically fortunate to win a scholarship. Free fees were still a few years away and programmes for young people traditionally locked out of third-level education were non-existent.
In 1990 – a year after being officially recognised as a university – DCU decided to create an Access programme. There were six people in the first intake.
Today, it has welcomed its 3,000th is student.
Even with no official third-level fees, many students in 2017 are not be in a position to choose college and require external financial assistance.
DCU was the trailblazer in terms of access programmes. It still aims to provide college places to students from disadvantaged socio-economic backgrounds, as well as supporting them once they begin. The scheme includes an annual scholarship, an orientation week, additional tuition, personal development workshops and health and counselling services.
A number of other universities – including Trinity College Dublin, NUI Galway and Dublin Institute of Technology - now run similar programmes,
DCU's senior Access officer Cathy McLoughlin told TheJournal.ie that the programme was launched in 1990 due to DCU's location within disadvantaged neighbourhoods.
"The governing board recognised that DCU was placed in a very unique geographic area. It was sitting in the middle of a very disadvantaged area of North Dublin. You've got Finglas, Ballymun, Darndale and Coolock," McLoughlin said.
It was decided that they could not have a university that could not take young people from the local areas.
Located in inner city Dublin, DIT was next to launch the Access programme. Soon, Trinity College followed suit.
"At that time, Trinity wouldn't have been seen as attainable for these groups of people. It was what they needed to do because it was the fairest thing to do," McLoughlin said.
"That's the reason it has widened out. The recognition was made that in order for a university to thrive it has to truly represent the population of the country.
"If you just have all the same type of people together in one lecture hall they're not really expanding and developing their knowledge because they're all of the same mindset. You're not getting anyone that comes from a different mindset," she said.
Access students
There are currently 1,285 Access students enrolled at DCU while 3,037 students have been supported by the programme since its inception.
Laura Cunningham suffers from Crohn's disease and the support of the Access programme helped her complete a degree in Engineering at DCU.
"If I were to travel from my home in Drogheda to DCU every day it would have put a lot of stress on my body and make me relapse and get sick again quite easily," Cunningham told TheJournal.ie.

"I would have been at a really high risk of getting sick. My disease is pretty severe and because I was able to stay on campus and have that security every year knowing I would be able to afford it was a big weight off my shoulders and my family's shoulders," she said.
Coming from quite a large family, with four siblings, Cunningham said that her parents just weren't in a position to help her financially.
"I was lucky enough to avail of the half-price accommodation through the scholarship, so I was able to afford accommodation that way," Cunningham said.
Otherwise, because my family is so big, it would have been very difficult for me to afford it.
Another student in a similar financial situation, Michael Akingbade, told TheJournal.ie that before seeking help from Access, he faced a yearly international tuition fee of €12,000.
Akingbade didn't qualify for the Student Universal Support Ireland (SUSI) grant.
"It was really scary to have to start college thinking that I would be staying there for a lengthy amount of time with that to pay," he said.
#Open journalism No news is bad news Support The Journal

Your contributions will help us continue to deliver the stories that are important to you

Support us now
Akingbade planned to defer his first year and save up before returning the following year.
I know a lot of people that have taken a year out and some of them did come back to college, a lot of them didn't though
"It's very easy to get comfortable in a job when you're making money when you're that age and just not go back to college."
After talking to the Access programme in DCU about his situation, Akingbade received a financial scholarship.
"It was three or four weeks into the academic year. I remember the first few weeks were really stressful and nerve-wracking because I just didn't think I would be able to stay."
Celebrations
CEO of DCU Educational Trust, Nathalie Walker, said figures from the Higher Educational Authority have shown that geography can have a dramatic impact on the likelihood that a student will attend university.
"99% of students in Dublin 6 progressing to third level education compared with 15% in Dublin 17 and 16% in Dublin 10," Walker said, citing the most recent data.
Dublin footballer Johnny Cooper, who works with DCU as a Schools Liaison Officer says he visits schools in many communities where young people believe a university education is not possible for them.
Our Access programme does great work in encouraging young people from these communities to not only apply to attend university but also to succeed in their studies once here," he adds.
As well as Access schemes, students in a position of financial difficulty can also apply for the SUSI (Student Universal and Support Ireland) grant. SUSI offers funding to eligible students in the approved third-level institutes in Ireland.
Likewise, the Student Assistance Fund offers assistance for full-time higher education students who are experiences financial difficulties whilst attending college. The fund provides a further source of funding for students in addition to the SUSI grant.
To celebrate assisting more than 3,000 students, DCU Access and DCU Educational Trust are holding 'Access Telethon' from 22 May to 10 June. They are calling on alumni and members of the public to raise money for the programme.