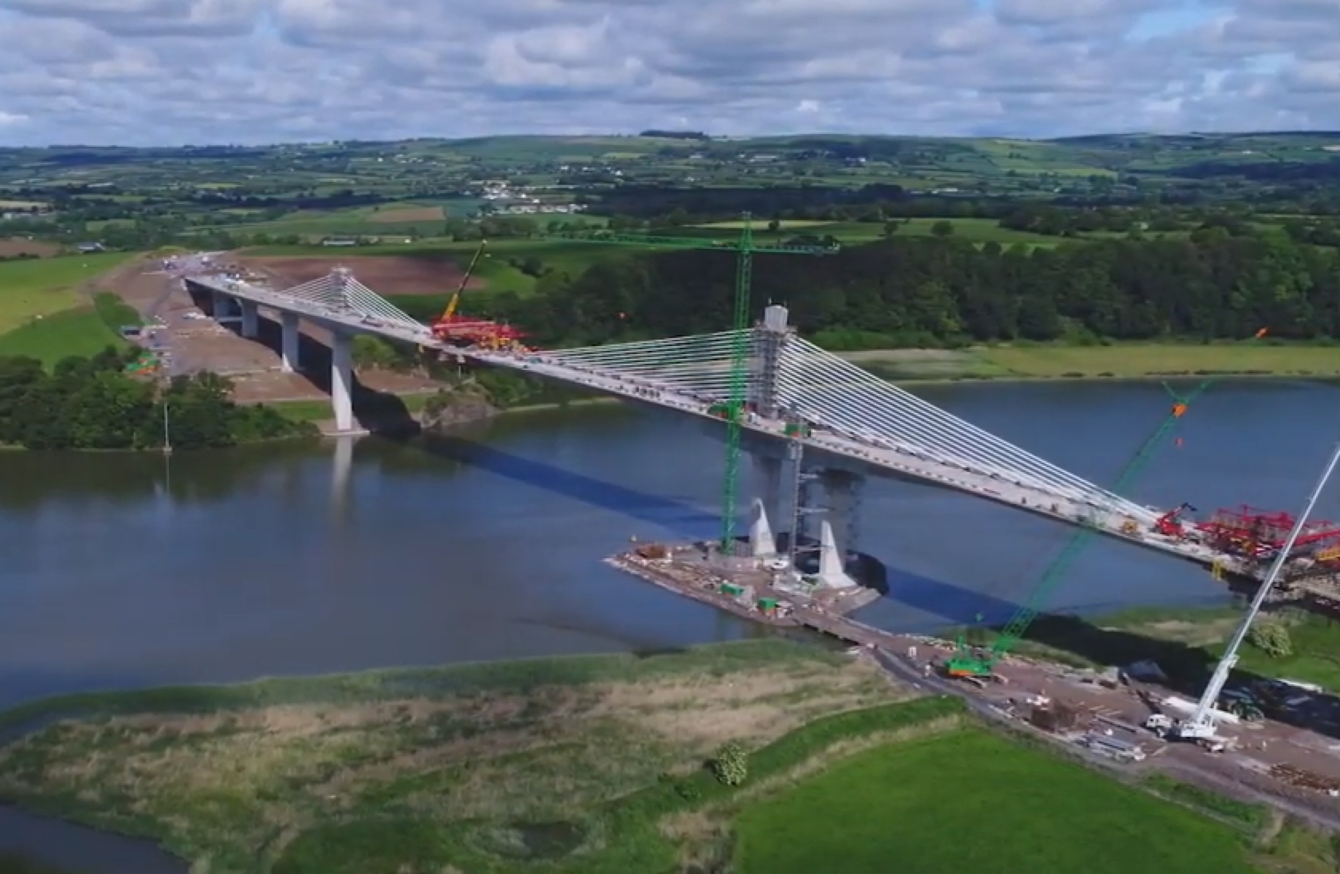 Image: Tramore/N25 New Ross Bypass Project
Image: Tramore/N25 New Ross Bypass Project
Updated Jan 29th 2020, 9:14 PM
IRELAND'S LONGEST BRIDGE has been officially opened at a ceremony in Co Wexford today.
The Rose Fitzgerald Kennedy Bridge crosses the River Barrow between Wexford and Kilkenny and is part of a €230m upgrade to the N25 New Ross bypass.
At 887m, it overtakes the 230m River Suir Bridge in Co Waterford as the longest in the country.
The bridge is located near the townland of Dunganstown, the ancestral homestead of former US President John F Kennedy. It is named after Kennedy's mother, Rose Fitzgerald Kennedy, whose ancestors came from the area.
Taoiseach Leo Varadkar and Rose Katherine Kennedy Townsend – grand-niece of the late president – officially opened it this afternoon. 
Townsend, a great-granddaughter of Rose Fitzgerald Kennedy, said she felt very grateful to be there.
"It's a wonderful occasion, it's a wonderful tribute and I feel very lucky to be representing my entire very large, very global family who all wish that they could be here," she said.
"But I think that they are here in spirit and we're all very grateful for this gorgeous bridge."
Taoiseach Leo Varadkar said that the structure represents Ireland's increasing connectivity and was an investment in the region's future economic security.
"It's about strengthening connectivity between different parts of our country, and strengthening our communities," he said.
"Thanks to the hard-work and sacrifices of the people in the south east, backed by investment and the right policies we are seeing a remarkable comeback story for this area."
It is expected to shave up to 30 minutes off peak journey times between Cork and Rosslare.
- Additional reporting from PA