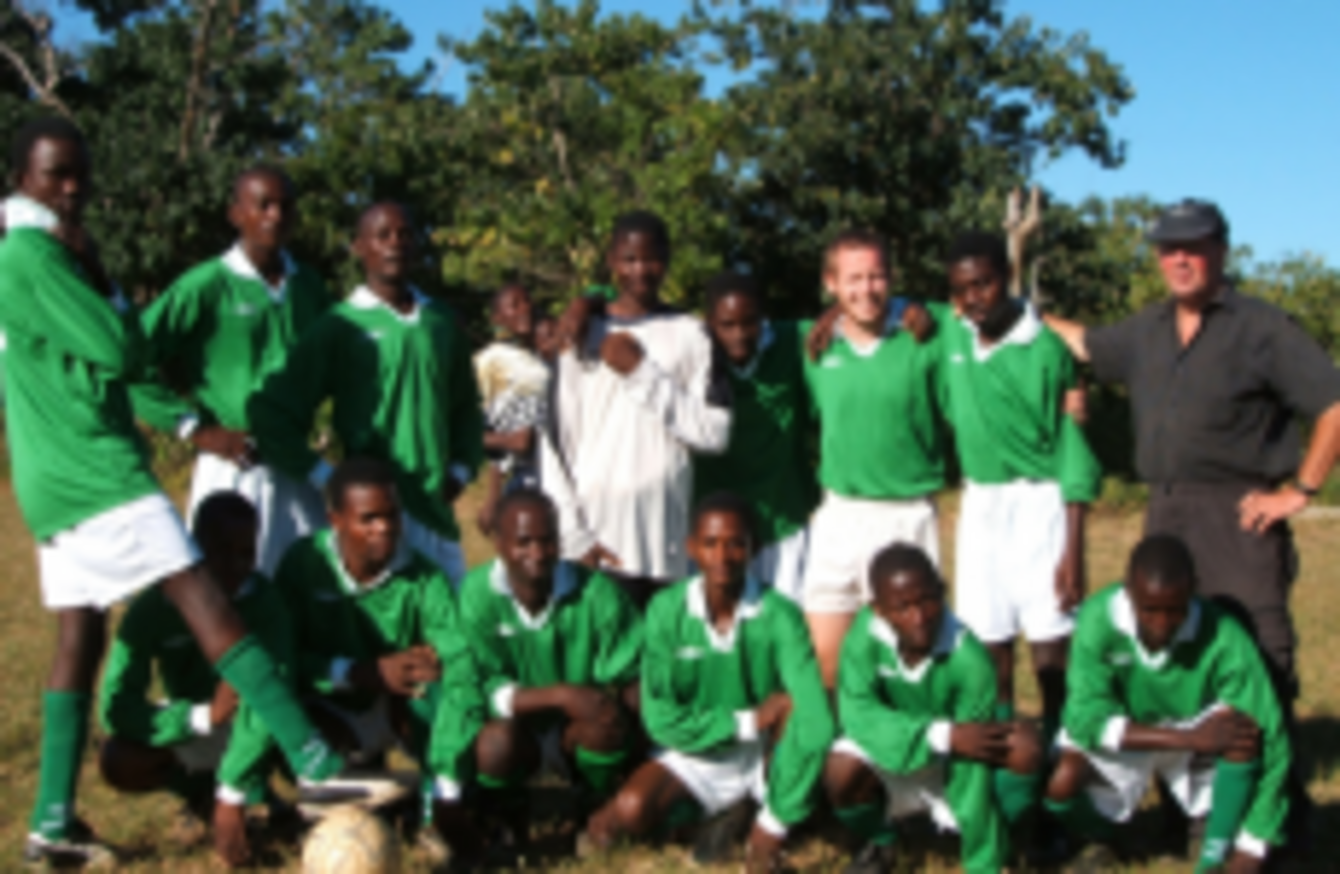 Volunteer Donncha O'Donnchadha with a local football team in Malawi.
Image: Comhlámh
Volunteer Donncha O'Donnchadha with a local football team in Malawi.
Image: Comhlámh
TWO REPORTS TO be released today by volunteer development group Comhlámh examine in unprecedented detail the work of Irish volunteers abroad.
The first report, compiled by VOSESA, identifies different models of international volunteering, emerging trends and growth areas.
The work of 90 volunteer sending agencies (VSAs) was analysed, and showed that while the traditional model of sending young people and professionals abroad is still active, there is a growing level of innovation in the sector.
The second report, 'New Evidence on Overseas Volunteering from Ireland', is the result of a survey circulated to 78 VSAs, 95 per cent of which operate on a not-for-profit basis and, together, placed more than 2,000 volunteers overseas last year.
Of the 2,120 volunteers who responded to the survey, there was an even gender split, most had attended third-level education, and the majority of their trips abroad lasted for less than one month.
The report, complied by economist Dr Pat McCloughlan, hints that public support for overseas aid programs is strong , as the level of donations for projects remains high and 60 per cent of organisations noted an increase in interest in volunteering abroad, despite the difficult economic conditions at home.
Good for Ireland too
The study found that an estimated 4,500 Irish volunteers were sent overseas in 2012. As much as €10 million was contributed to the Irish economy as a result of these activities, or 0.01 per cent of Gross Domestic Product (GDP) and supported between 411 and 481 jobs.
However, this still ranks Ireland lower than other countries such as Netherlands and Sweden, whose citizens contribute more than four times that amount.
Estimated shares of GDP by overseas volunteering in Ireland and other countries (Image Credit: Comhlámh)
The report also shows that volunteers are predominately in employment, contrary to the belief that it is mostly students who take part in overseas aid schemes. Forty-four per cent of all overseas volunteers from Ireland in 2012 were employed, 4 per cent more than students. This popularity is put down to the "short-term nature" of the work.
The popularity of overseas volunteering among employed people, as well as students, ties in with the short-term nature of the majority of overseas volunteering from Ireland and the popularity of individual volunteering [...] this accords with anecdotal evidence that more people in work are combining voluntary work abroad with their holidays or short trips away (e.g. house-building in South Africa).
Distribution of overseas volunteers by employment status before departure (Image Credit: Comhlámh)
Responding to the report's findings, Minister for Trade and Development Joe Costello confirmed that he will be launching a civilian volunteer corps in October this year, which follows on from the findings of the 2006 White Paper on Irish Aid.