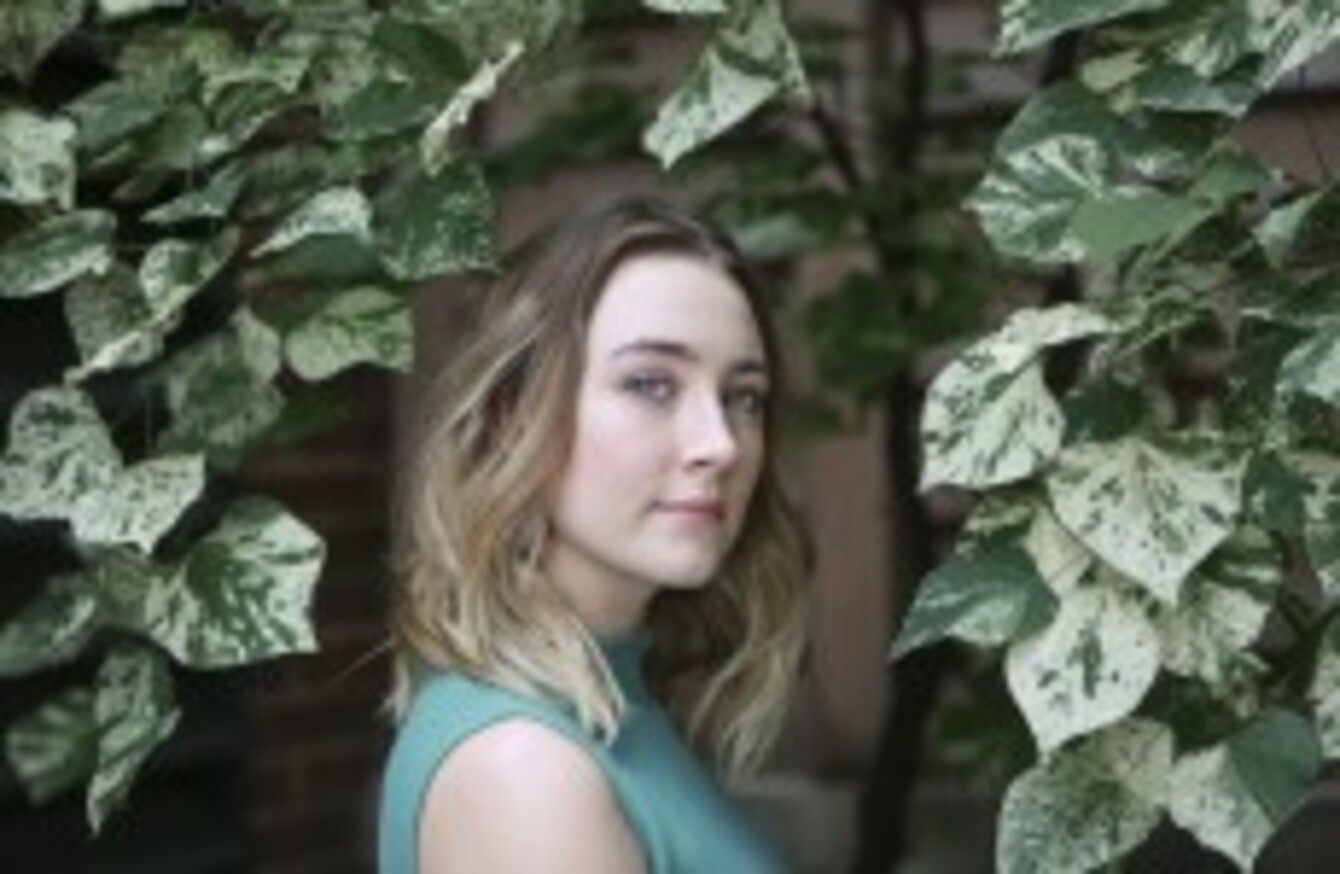 Saoirse Ronan
Image: AP/Press Association Images
Saoirse Ronan
Image: AP/Press Association Images
TAKE A TRIP to the cinema this weekend and you'll see Irish fingerprints all over many of the current releases.
There's Brendan Gleeson playing an anti-terrorism policeman who faces off with Carey Mulligan in Suffragette; there's Kerry (in particular the area around Parknasilla Hotel) taking a starring role alongside Colin Farrell in The Lobster; watch as Saoirse Ronan plays the role of a lifetime in Brooklyn; and enjoy Panti's rise to fame in Queen of Ireland.
Then there's the Irish film Room, an adaptation of a book by Irish writer Emma O'Donoghue, which is doing fantastically at the US box office.
The Irish Film Board estimates that the 'audio-visual content production sector' in Ireland – which employs 6,000 people – is worth over €550 million. The country's awards shelf is laden with Oscars, BAFTAs, Golden Globes and Emmys, and our landscape has been utilised by directors who are based far from our shores.
It has been 20 years since Neil Jordan's film Michael Collins, and it seems now is a good time for an even more solid recognition of the Irish film industry on an international stage.
The momentum is building, said Grainne Humphreys, director of Dublin International Film Festival (DIFF). "It's a long time coming."
Humphrey's job involves trawling through hundreds of films to choose the best for the annual festival, and she says that 2016 has even more exciting work to come.
"I said a few years ago, when Calvary came out, that it would be a classic year for Irish film," she said. "There was a whole range of third, and fourth, and fifth films from directors launched and coming back to success on the domestic front."
Ones to watch
Humphreys said that there are about 26 new films coming out next year which will continue to show how Ireland is punching above its weight in the film industry.
She noted that ones to watch out for include Alan Gilsenan's film Unless, which was shot in Canada and stars Catherine Keener; Whit Stilman's film Love and Friendship; and the newest feature from Catalyst, the Irish Film Board's debut feature project.
"There's a chunk of films [coming in 2016] – that's at least two to three a month," said Humphreys. "And I'm sure we'll probably have some nominations in terms of acting nominations for the Oscars. Maybe Stephen Rennicks might get in [to the Oscar nominations] for the soundtrack to Room."
To what does she think we owe the current success? "There are a number of different things. One of the things that is interesting is for many years there was a sense of Irish film being trapped between British film and US film."
This was no more obvious than with the "miniscule" budgets on offer here, compared to those two massive move hubs. We're no longer beholden to feeling trapped between the two, with directors working both here in Ireland and abroad. Room, for example, was filmed in the US by an Irish director.
Then there is the fact that Irish people are now among Hollywood's acting elite, like Michael Fassbender, Farrell and Ronan.
Maybe six or seven years ago we had 10 Irish [Hollywood] actors you could name. You could easily double, if not triple, that now – we have people who have prominence in Game of Thrones and True Detective, to people working in mainstream films, as well as smaller cult films and indie films.
Humphreys also sees Irish cinema as great at dealing with fringe or unusual stories.
"We don't do mainstream cinema but we do very well-written, very well-acted, quirky stories. Stories with heart and emotion and great dialogue."
Challenges
That's not to suggest the film world is a utopia. There are challenges, too. Producer Simon Carty, writing in TheJournal.ie, suggested there was a "skills shortage" in the sector, and called for a more flexible and simple investment structure for the Irish film industry, to encourage and attract more people.
There are challenges posed by the digital revolution. The world of cinema isn't what it used to be, since the advent of the age of internet. This has led to IFB being rebranded as Screen Ireland, a nod to the changing face of the industry.
The IFB's funding budget, meanwhile, has been cut by 39.5% since 2008. This poses a challenge to both the IFB and filmmakers who depend on its funding. The overall IFB 2014 budget was €14.03 million, representing a cut of 5.7%.
The IFB noted that in 2012, for example, it invested in 30 film and TV projects, which led to €118m being raised in foreign direct investment.
There's a gender imbalance, too. Writing in TheJournal.ie, director Rachel Lysaght noted:
With little industrial regulation or governance in place, these personal judgments are at increasing risk of unconscious bias.
As a consequence, we find fewer women are working as film and television directors and screenwriters today than there were two decades ago. Pat Murphy remains the only Irish woman to have directed three feature films, despite finishing her last fiction film fifteen years ago.
You can read her full column here.
Then there is the new breed of filmmakers. Earlier this year, the graduates from the National Film School at IADT showed off their work.
This week, Warner Bros Ireland – which produced the aforementioned Michael Collins – awarded a scholarship to one of them, Ciarán Dooley, an MA Screenwriting student at the college. This is the second year of the scholarship, and will see Dooley (pictured above) being given postgraduate funding support and a paid placement at Warner Bros Ireland's Dublin offices.
Looking ahead
So while there are – like in any industry – challenges, there are many positives for Irish film.
James Hickey, CEO of the Irish Film Board, commented: "We are very excited about current and upcoming IFB-supported cinema releases, such as The Lobster, Queen of Ireland, and Brooklyn, and we look forward to seeing how they are received by Irish audiences, and by audiences around the world."
"2015 has been a remarkable year for Irish film, beginning with Brooklyn being sold for $9 million at Sundance. Other highlights have included The Lobster taking away the Jury Prize at Cannes, and Room winning the People's Choice Award at Toronto."
The hope for the IFB is that "these exceptional films continue to be applauded during the upcoming awards season".
Not only do we have Room to look forward to in January, but in the centenary year that it is on the way, the IFB will be releasing its new programme of short films After 16, which will commemorate the 1916 Rising.
It's not just those in the industry who are hopefully that 2016 will build on the current momentum – those of us who pay to watch homegrown films wait with bated breath for what's next to hit our screens.
What have your favourite Irish film moments been this year? Tell us in the comments.