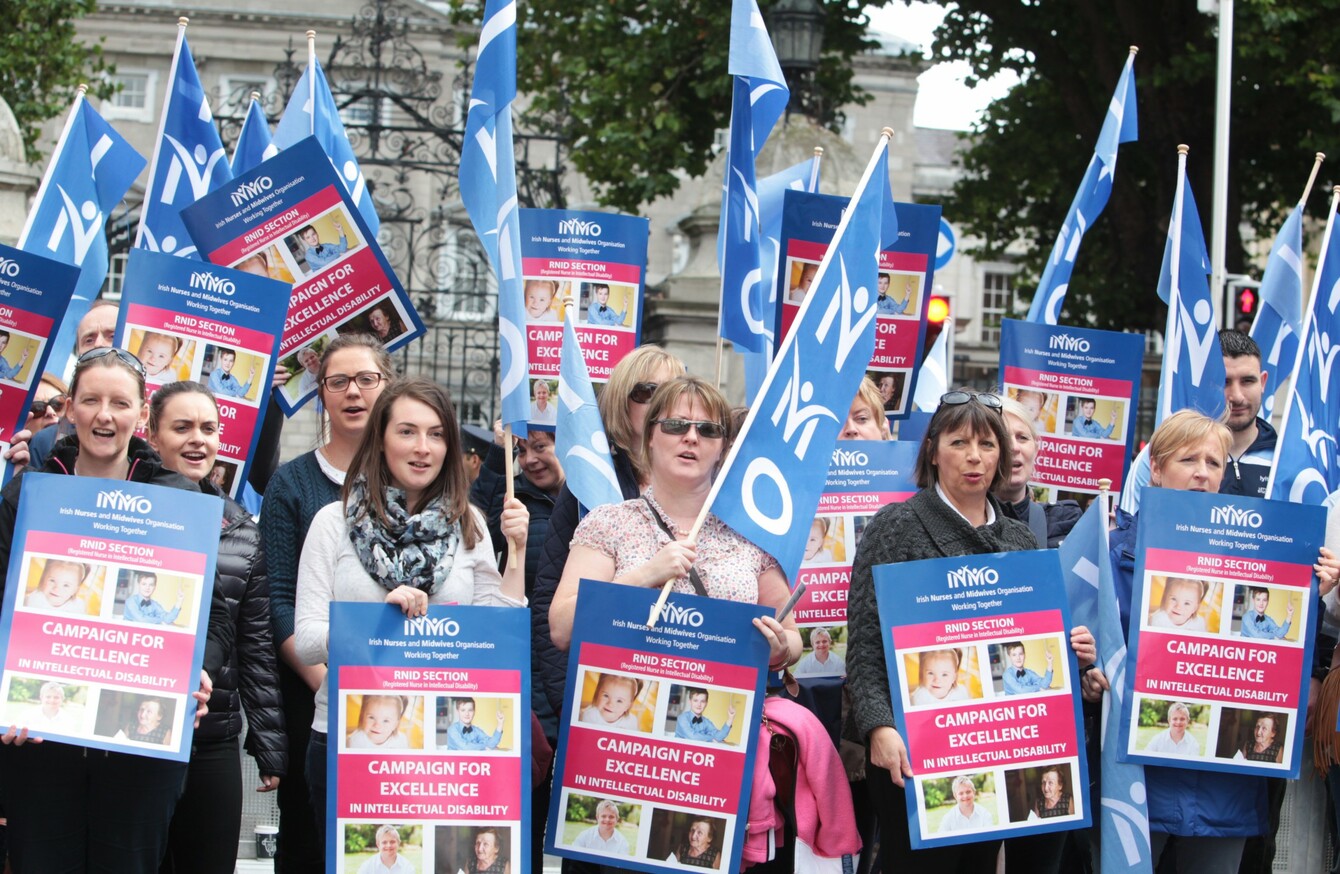 Image: Leah Farrell/RollingNews.ie
Image: Leah Farrell/RollingNews.ie
NEARLY 14,000 Irish-qualified nurses and midwives have left Ireland for other health services since 2010 as morale within the sector has been described as one of "dejection".
The figure was derived by the number of certificates of verification handed to nurses and midwives. This is a document which is given to foreign healthcare providers to prove they have received the appropriate qualification.
The figure means the nation is losing, on average, 2,000 highly-qualified healthcare workers every year.
And according to the heads of the Irish Nurses and Midwives Organisation (INMO) and the Irish Medical Organisation (IMO), the mass exit comes as no surprise.
General Secretary of the INMO, Liam Doran, told TheJournal.ie that the disrespect shown to his members by management has forced the hand of thousands of people.
"There has been cut after cut here. In all my time here, I have never seen such low morale and dejection than what we are seeing now. It's been a cumulative effect. We've had the recruitment embargo for one. That's forcing people to do more work with fewer resources.
People are burning out and saying 'I can't do this anymore' and you can't blame them. Nurses and midwives are durable people but there's only so much they can take.
The INMO announced last month that 90% of its members had voted in favour of industrial action. The turnout was 62%.
Nurses and midwives say that they are understaffed and overworked, and that these conditions make it impossible to care properly for patients.
Doran attacked hospital management and the Department of Health for what he described as the "abject failure" of the system to protect and value its staff. Nurses, according to Doran, can leave Ireland and get snapped up by a foreign recruiter in an instant.
An Irish nurse is highly sought after due to the four years of education they receive prior to receiving their degree. Most nations have a three-year course.
"In the UK, for example, they're offering at least the same pay, bonuses are better, working hours are better, so are the staff levels," Doran added.
John Duddy, who is president of the IMO, said he is seeing a number of experienced nurses leave hospitals due to the poor conditions.
Duddy, who is a neurosurgeon at Cork University Hospital, gave en example of a nurse who just had enough.
He was working in the intensive care unit in CUH with "a very experienced nurse who had worked in the US and who is very knowledgeable".
#Open journalism No news is bad news Support The Journal

Your contributions will help us continue to deliver the stories that are important to you

Support us now
The nurse was talking to a patient and had said in passing that it was her last day. Duddy enquired as to whether she was going on holidays. She turned to him and said 'no. This is it. I'm leaving. I've had enough'.
Duddy added: "You see this more often these days and it's always the same couple of issues. The first one is that they have to arrive 45 minutes early so they can queue up and get a car spot. Then the other major complaint is that when they have an idea which can improve the service, they tell management and management completely ignores it. It becomes far too frustrating for them and I can understand that."
Offers 
While the country loses its best and brightest to other shores, Liam Doran believes more concessions must be made to Irish nurses to firstly keep them in Ireland and secondly, keep them in the public sector.
At the moment, Irish nurses who work in private hospitals and clinics can earn substantially more than their public counterparts, according to Doran.
"The health service should write to every fourth year nursing student and offer them a permanent job. They should send the message that the nurses and midwives are valued. Offer them security straight away. That's what I think. The disrespect has gone on too long and it needs to stop. The cuts went too deep and the country is paying for that now," Doran added.