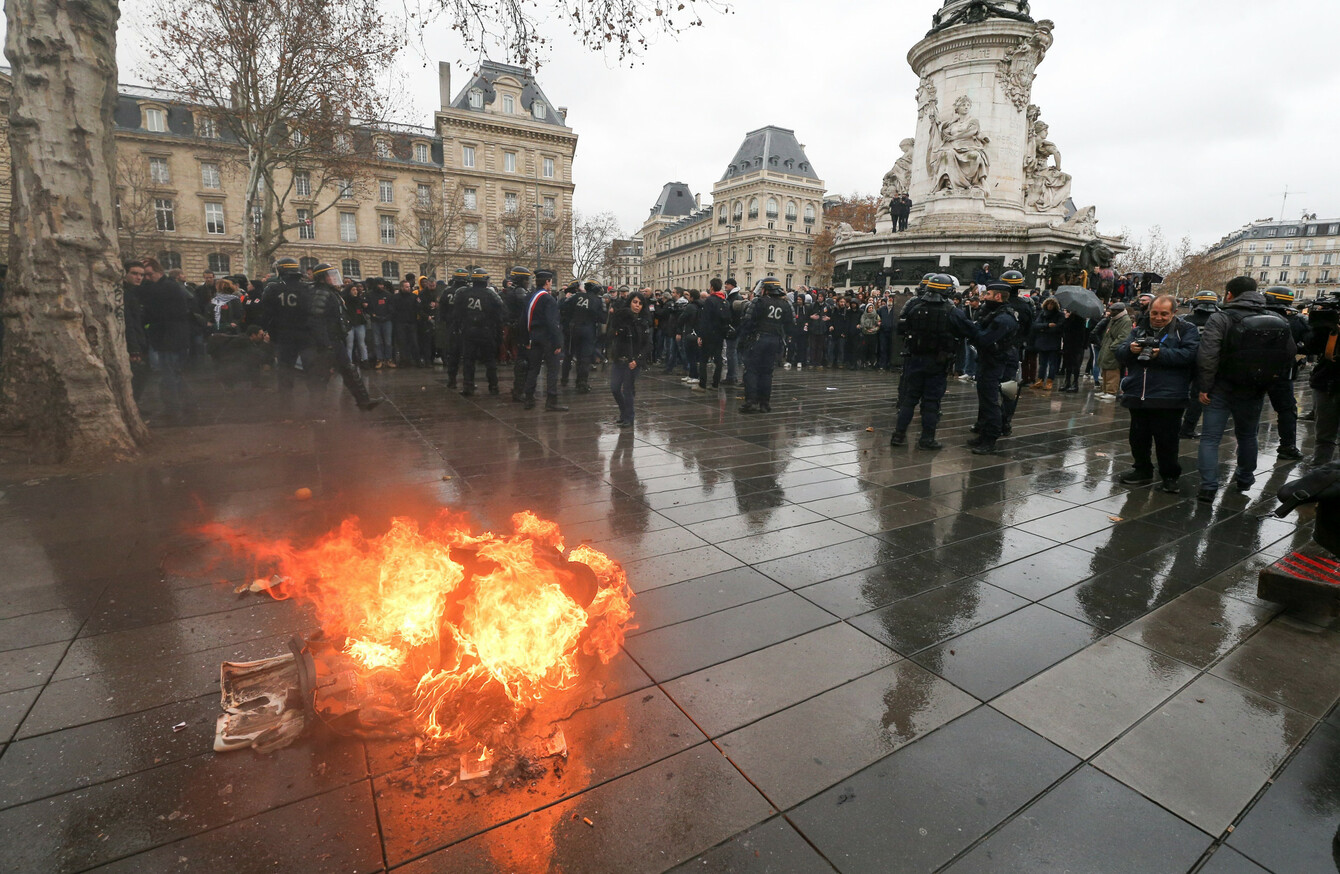 Riot police in Paris had their hands full with a school demonstration today.
Image: SIPA USA/PA Images
Riot police in Paris had their hands full with a school demonstration today.
Image: SIPA USA/PA Images
THE DEPARTMENT OF Foreign Affairs has urged Irish citizens in Paris to "exercise a high degree of caution" and avoid areas where protests are taking place as France braces for another day of major demonstrations tomorrow.
French officials have already announced the closure of major tourist sites in Paris including museums and art galleries such as the Eiffel Tower and the Louvre- and told shopkeepers on and around the Champs-Elysees to stay shut tomorrow.
Around 8,000 police officers will be on duty in Paris – 5,000 more than last weekend when rioters caused extensive damage at the Arc de Triomphe and around the Champs-Elysees.
A dozen armoured vehicles will also be deployed in the capital for the first time.
Irish authorities are among dozens of other countries that are warning its citizens to take care this weekend.
A travel alert on the DFA website said: "We recommend you:
- Avoid areas where protests are taking place;- Check for transport disruptions and closures before setting out;

- Exercise a high degree of caution and stay informed of what is happening around you by monitoring local media, as protests may move quickly;

- Follow the advice of local authorities.
This was echoed by the US embassy, which issued a detailed travel alert.
"Demonstrations may become violent, resulting in damage to property, including overturning vehicles and setting them on fire," said the embassy statement.
"Police responses may include water cannons and/or tear gas."
The alert counselled Americans to keep a low profile, avoid crowds and to move vehicles away from places where demonstrations were expected.
A statement from Britain's Foreign Office also warned that Saturday's demonstrations could turn violent.
"Motorists travelling through France may also experience delays or blockages caused by demonstrators at motorway toll booths," it added.
"In all cases, you should avoid any demonstrations if at all possible and follow the advice of the local authorities." It gave similar advice for expected demonstrations in Brussels.
Belgium meanwhile advised its nationals to postpone any trips to Paris if at all possible.
The Dutch, German, Italian, Norwegian, Swedish and Turkish authorities all warned of possible violence, particularly in Paris, and advised their nationals to stay away from any demonstrations.
The embassies of Saudi Arabia, the United Arab Emirates and Bahrain also warned their nationals to be extra cautious and avoid protests.
Some embassies spelled out which parts of Paris to avoid. The Danish embassy advised its nationals to avoid the Champs-Elysees area – the scene of violent clashes last weekend – and other areas.
With reporting from AFP