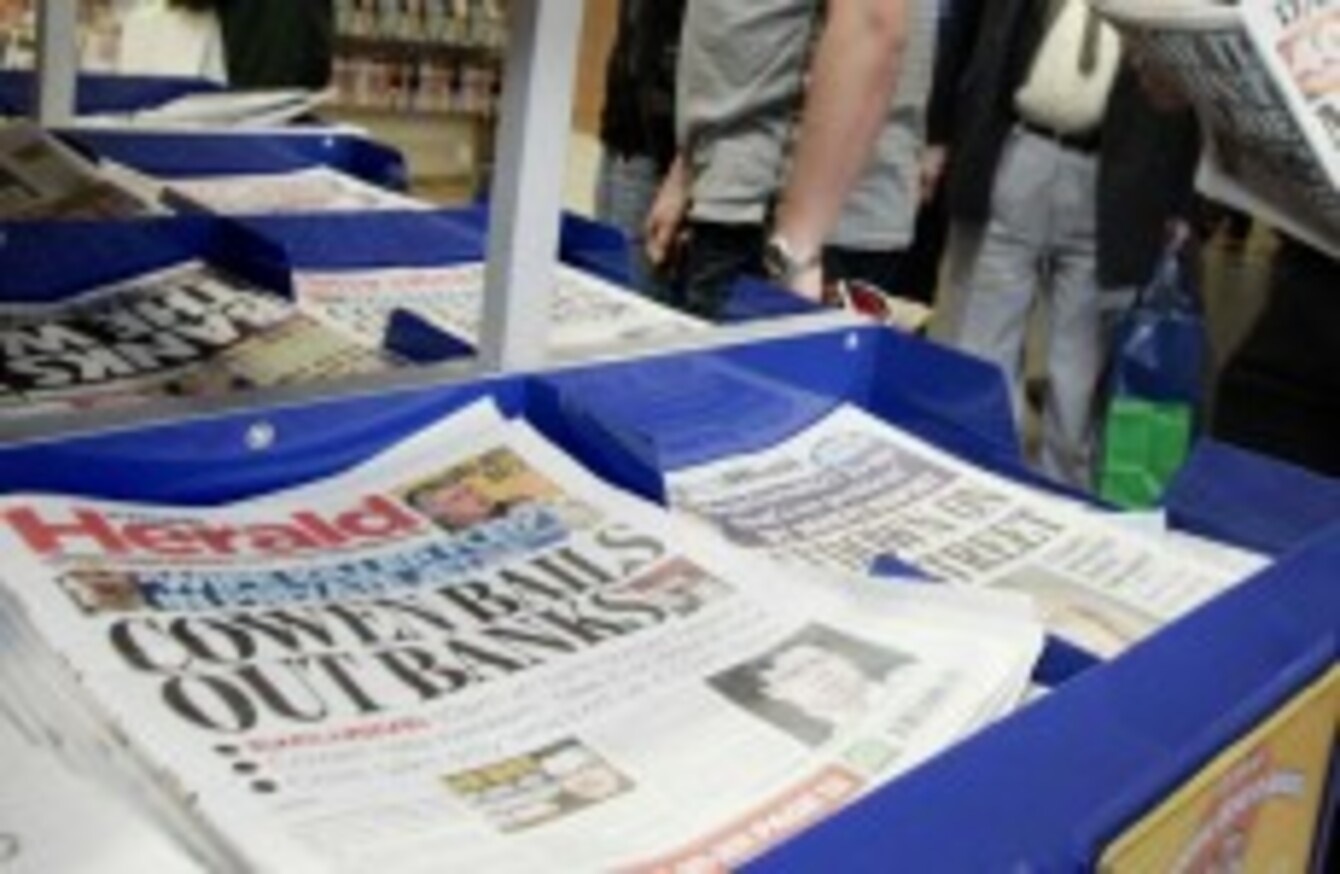 Image: Mark Stedman/Photocall Ireland
Image: Mark Stedman/Photocall Ireland
THE IRISH NEWSPAPER industry has shown another fall in sales, with all of the country's native papers showing declines in the year to June.
The figures, carried in today's ABC reports, show a loss in sales across the board for Irish papers.
The one-time paper of record leads the declines in national papers, with sales of The Irish Times dropping an even 9 per cent on last June's figure, averaging 84,201 sales per day.
Almost 10 per cent of that number is not actively purchased, meaning that they are given away in places such as hotels and cafes.
Almost one in eight copies of the Irish Independent fall into this category, with 87.6 per cent of their sales classed as actively purchased.
The Independent reported an average daily sales figure of 121,120, down 3.9 per cent on the year. That is despite the paper carrying arguably the year's biggest story, the Anglo Tapes.
The Herald, the sister paper of The Independent is also down, losing 4.3 per cent of its sales and coming in at 58,545 per day.
Sales of the Irish Examiner, whose parent company Thomas Crosbie Holdings went into receivership earlier this year, is down to 37,897 sales per day, a drop of 5.8 per cent.
Sundays don't fare much better, as the Sunday World and Sunday Business Post recorded losses of 6.9 and 6.7 per cent of sales respectively.
The Sunday Independent remains the biggest selling paper on Sunday, with 232,494 sales. However, this is a drop of 2.6 per cent and only 95 per cent are active purchases.
Corrected for active purchases only, there is just 2,700 copies in the difference between the Sunday Independent and the Sunday World.
In Cork the Evening Echo, which was also part of the Thomas Crosbie stable, has lost nearly an eighth of its sales, with 15,397 people picking it up.
The figures for British papers in Ireland were released last month and showed a fall in sales for the Mirror, Sun and Sunday Times. The Daily Mail grew by 0.7 per cent.