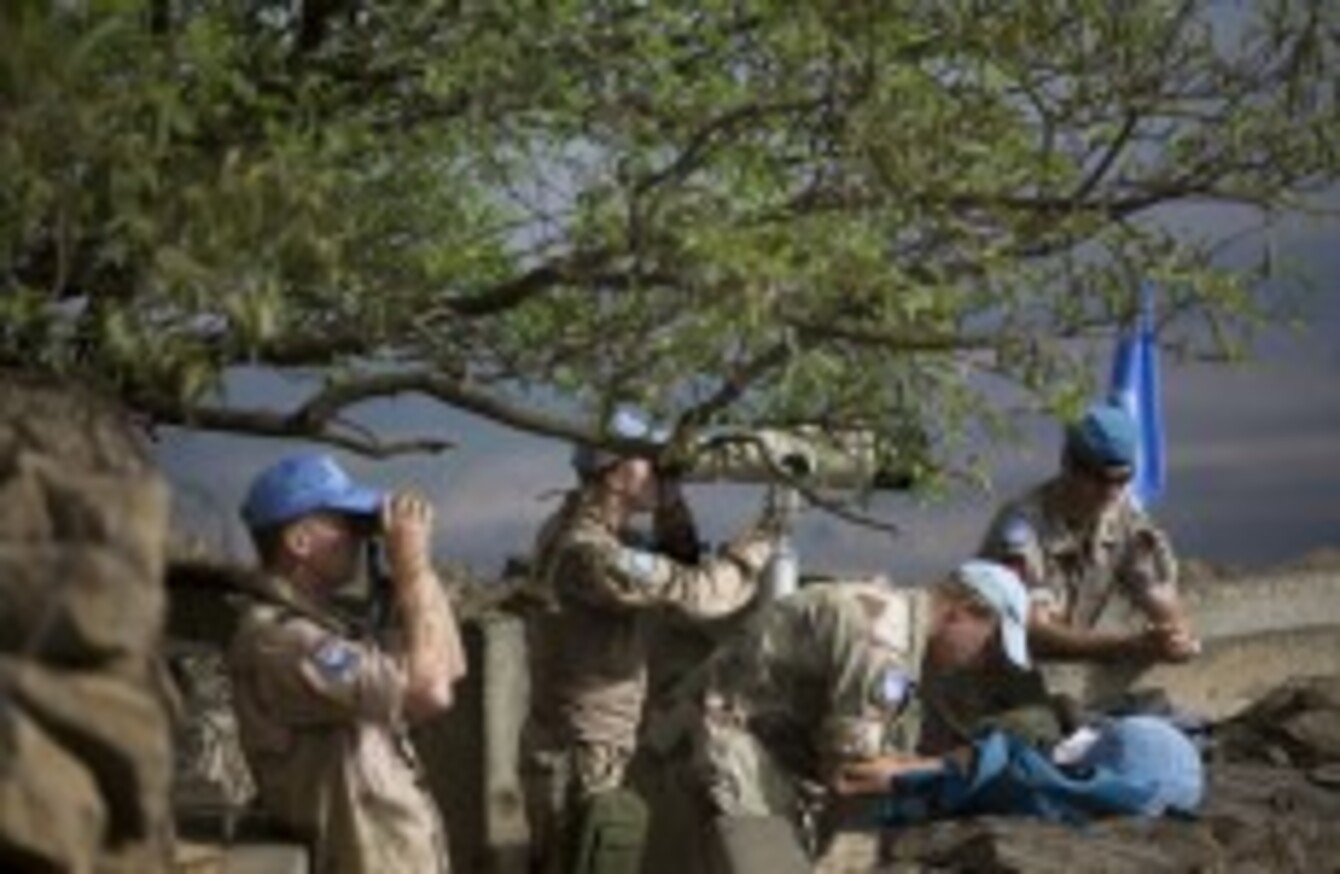 UNDOF troops in Golan Heights
Image: AP/Press Association Images
UNDOF troops in Golan Heights
Image: AP/Press Association Images
Updated 10.55pm
130 NEW IRISH peacekeepers are getting ready to head to Golan Heights in Syria to replace the country's troops that are already over there.
The troops who are currently at Golan Heights, the 44th Infantry Group, were involved in the 'great escape' of dozens of Filipino UN peacekeepers from Syrian rebels last month.
It was confirmed this evening that these troops have been redeployed following the clashes.
The group had become involved after the rebels captured the Filipino troops and demanded their weapons.
Meanwhile, the troops replacing them were supposed to be deployed on 28 September, but this has been delayed for at least another two weeks.
The 44th Infantry Group had been in the region since March of this year.
They have been moved to the Israeli side of the area due to the clashes with armed rebel groups in Syria.
UNDOF
Today, the Minister for Defence, Simon Coveney, TD, reviewed the members of the 46th Infantry Group, who are planning to leave later this month for service with the United Nations Disengagement Observer Force (UNDOF) in Golan Heights.
The Minister told them:
I applaud the diligence of the preparation of the 46th Infantry Group for deployment to UNDOF, under Lt Col Denis Harrington given the uncertainty over the future of the mission.
He said that "the civil war in Syria has demanded changes to the manner in which UNDOF carries out the mandate it has received from the UN".
There has been fundamental realignment of the mission over the weekend reflecting the situation on the ground.
Coveney added that the UN Security Council will be briefed on Thursday next on UNDOF and how the mission can respond to the changed circumstances.
Commenting on the future of the UNDOF mission, the Minister said he has personally discussed the review of UNDOF with the Under Secretary General in the UN Department of Peacekeeping Operations.
He added that UNDOF has been a successful mission "in supporting the efforts of the international community both in the Golan Heights region and also in the in the broader Middle-East region".
First published 6.49pm