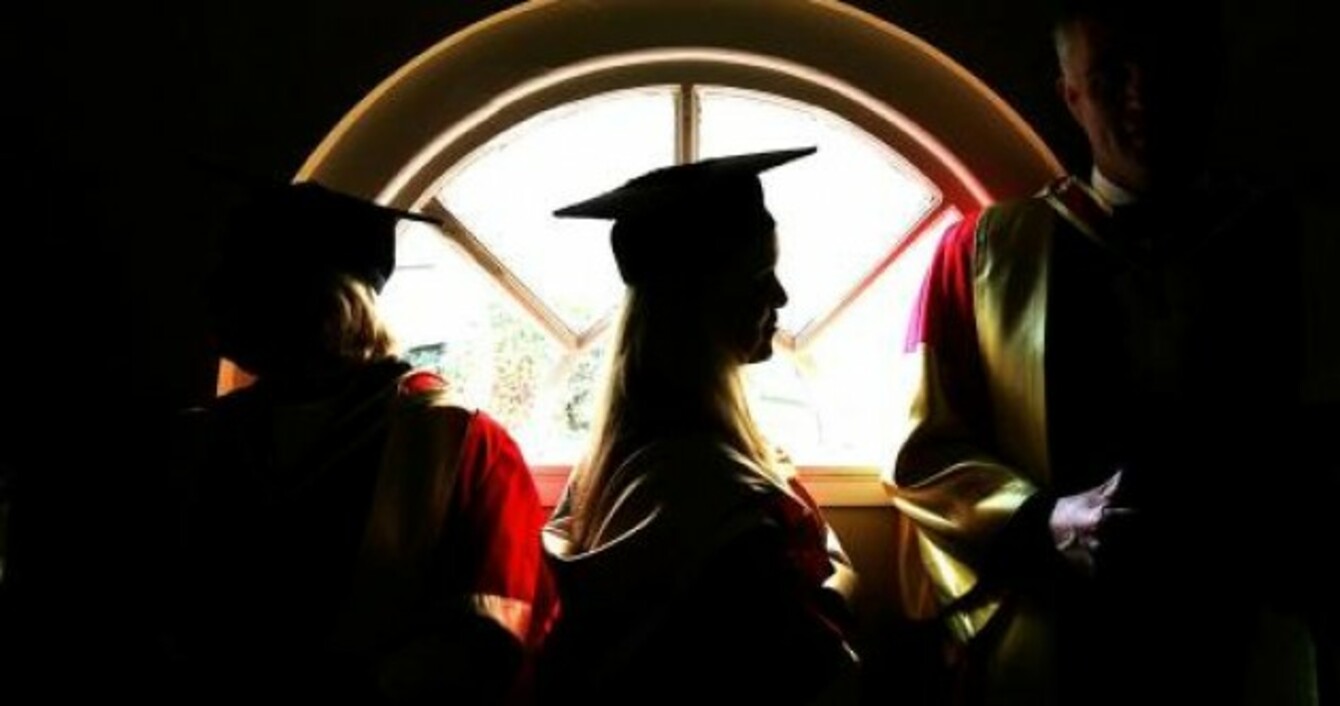 Image: PA Archive
Image: PA Archive
EVERY FEW WEEKS, a bus carrying well-dressed Chinese students draws into Kildare Village.
The luxury outlet centre offers a hefty discount to members of the Chinese Students and Scholars Association, the global organisation for overseas Chinese students – as well as a free return bus service from Dublin.
The society has grown to include 17 third-level branches with over 6,000 registered members since launching in Ireland back in 2004.
Partly funded by the Chinese embassy, it holds regular social and networking events for the new wave of Chinese students now studying here.
Source: Trinity College Dublin/YouTube
Source of revenue
The CSSA's growth is just one strand in the story of how Irish higher education has internationalised in recent years.
Higher Education Authority statistics show a gradual rise in the number of Chinese students in full-time third-level education here – from 1,596 in the 2012-13 academic year and 1,706 in 2013-14 to 1,745 in 2014-15.
Most are from the country's rapidly expanding middle class and can afford to pay full tuition, making them an important source of revenue for cash-strapped Irish universities.
With rising youth unemployment in China, ambitious students understand the advantage of holding a degree from a European or US university once they enter the country's crowded graduate job market.
The big appeal of Irish institutions, however, is their relatively low admission requirements.
Students whose grades fall short of Ivy League or Oxbridge requirements can study here before applying to higher-ranked institutions that are more likely to recognise Irish qualifications than Chinese.
Recruitment strategies
For Trinity College Dublin, which hopes to at least double its Chinese student numbers by the 2018-19 academic year, recruitment strategies include partnerships with Chinese universities and selected education agents, visits to key schools and presentations at education fairs.
Social media has also been used to attract potential students on popular Chinese platforms such as Youku and Weibo, where the university shares campus news and Chinese-language videos about Dublin.
UCD, too, has its own Youku profile, as well as a Weibo page followed by over 61,000 users.
Of all Irish universities, it has been the most aggressive in recruiting Chinese students, who now make up about 10% of its non-EU student population.
Its new Chinese campus, UCD Yantai – which is due to open in the Shandong Province in 2016 – will cater to up to 10,000 students.
The university also announced plans to launch a new global centre in Beijing last year, while over 500 students are now enrolled at the Beijing-Dublin International College, an institution it established in 2012 with the support of the Beijing University of Technology.
#Open journalism No news is bad news Support The Journal

Your contributions will help us continue to deliver the stories that are important to you

Support us now
Forging links with China
However, the relationship between Chinese authorities and Irish universities seeking to attract international students has not been without controversy.
UCD's Confucius Institute, which is overseen by Chinese government body Hanban, is part of a global network of cultural organisations that have been accused of operating as a propaganda arm of the Chinese state.
In America, several have been closed by universities concerned about the infringement of academic freedoms.
But despite some unease about its opening, UCD's own institute will be housed in its own dedicated campus building from next year, thanks in part to Irish government funding.
Source: Confucius Institute for UCD/YouTube
As for the increasing number of Chinese students who come to Ireland, the majority will return home after their studies.
The Chinese government scholarships that support most Chinese postgraduates studying here stipulate that sponsored students must return to work in China for at least two years after college.
Others stay on, often finding work with the growing number of Irish-based companies looking east for new opportunities.